Corporate investors have been part of $3bn worth of AI deals so far this year, with June particularly strong. There has also been a uptick in exits.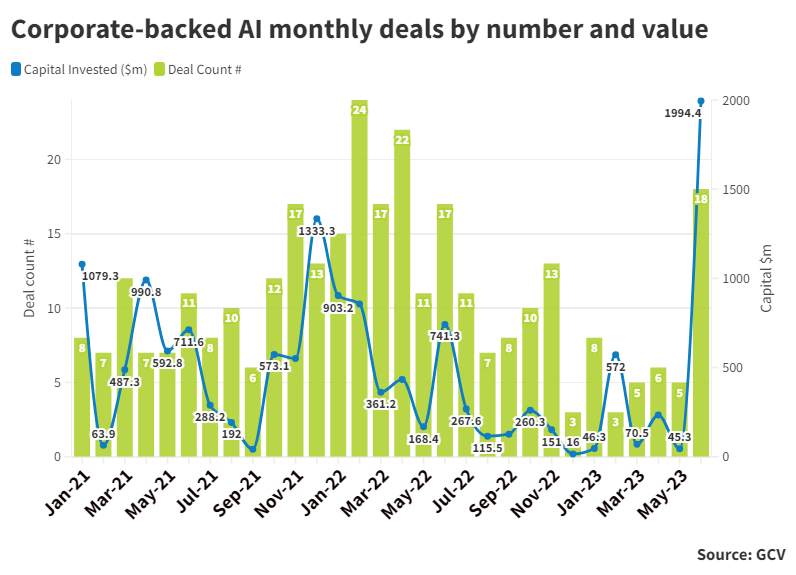 Corporate interest in generative AI has been all over the news, and is now showing up in the investment numbers, with June seeing a strong leap in the number and value of funding rounds for startups in this area.
The June generative AI deal total was boosted by the $1.3bn fundraise by language model software developer Inflection AI, led by Microsoft and Nvidia, but with everyone from Reid Hoffman to Bill Gates and Eric Schmidt jumping in. But other large deals included a $270m round for AI developer Cohere and a $100m raise by enterprise AI content creator Typeface.
This is particularly dramatic against an investment climate that is otherwise in the doldrums. The number of corporate-backed deals during the first half of this year is down 28% from the same period in 2022, and down 56% in terms of the value of deals, although the decline has slowed since the start of this year.
Take out the generative AI numbers — 46 deals with a value of $2.96bn for the first half of the this year — and that plateau might still be looking more like a downward slope.
We must note that the numbers on AI corporate investments do not reflect the alleged massive investment by Microsoft in OpenAI, the developer of ChatGPT. The size of OpenAI´s latest reported round from January was not officially disclosed. Fortune Magazine had reported that, according to a person familiar with the matter, Microsoft had cumulatively committed $10bn over multiple rounds throughout the years.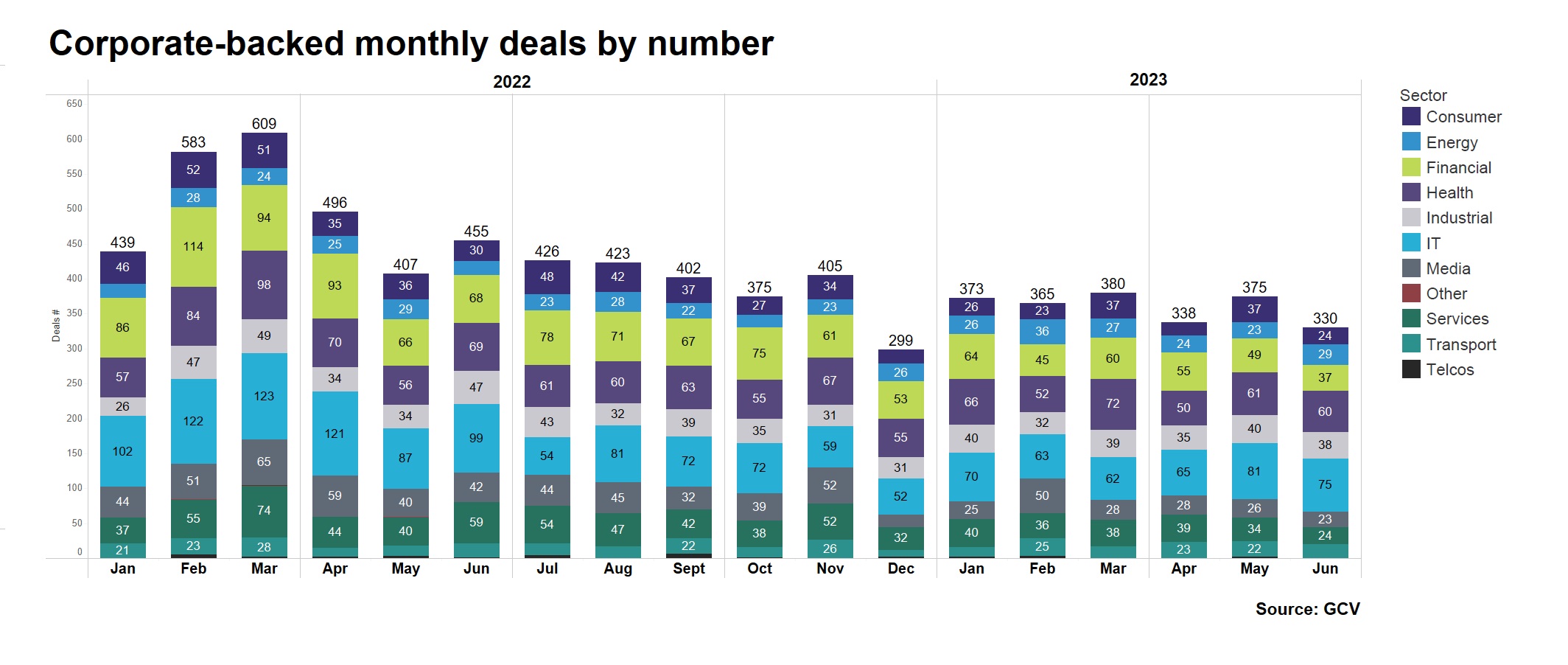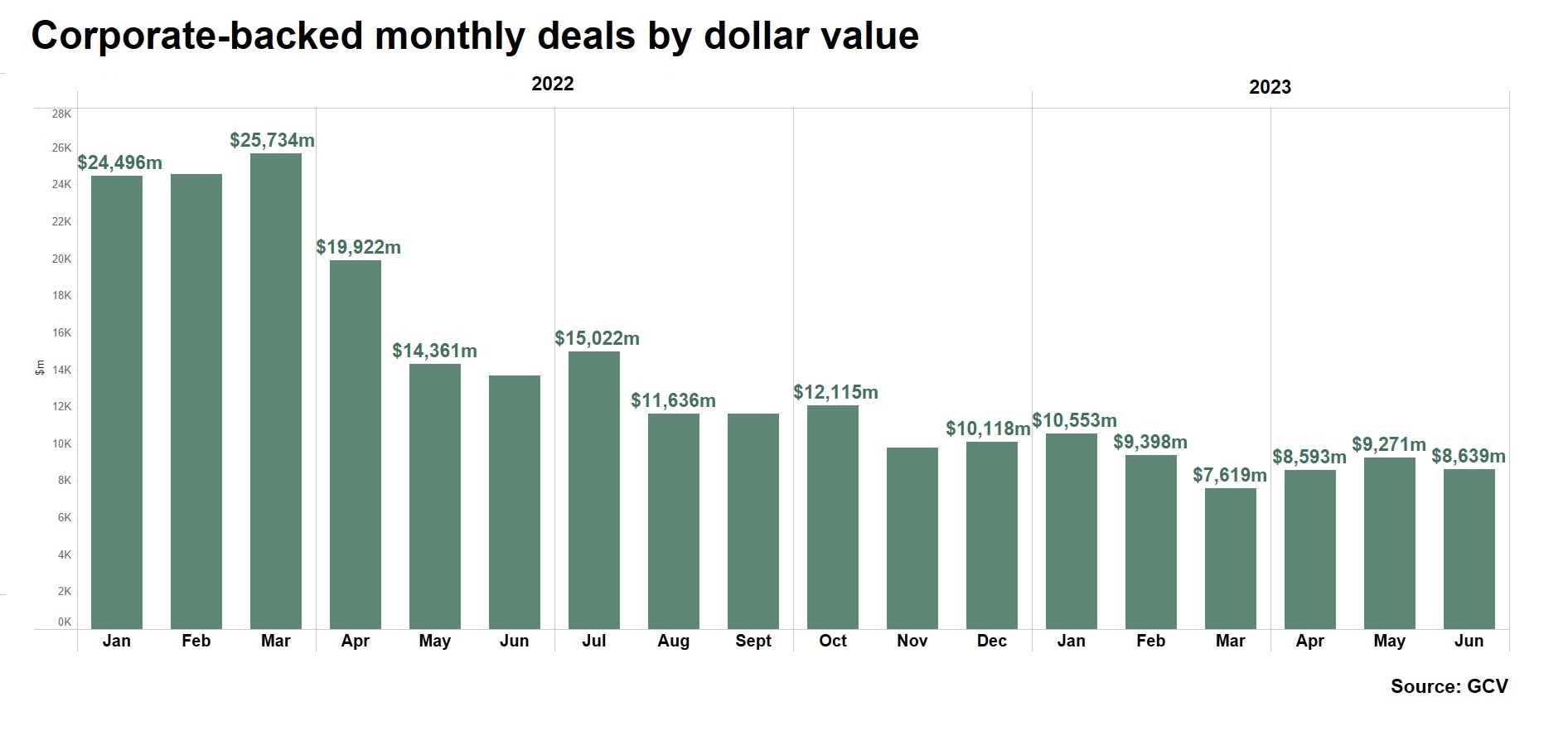 The return of exits
Another surprise in the first half was a sudden spike in exits in June. AI was a factor in some of these as well, with MosaicML's $1.3bn acquisition by Databricks the biggest of the transactions, and with Chinese shopping platform Meituan spending $234m on AI developer Guangnian Zhi Wai.
While acquisitions dominated the exits, the number of public market exits — nine — is higher than has been seen for some time. Indonesia's logistics company J&T Express filed to go public on the Hong Kong Stock Exchange, aiming to raise up to $1bn. That would create a decent payoff for backer Tencent. Canadian biotech company Turnstone Biologics, which counts Takeda Pharmaceuticals among its backers uses oncolytic viruses to attack cancers, filed for a $86m IPO. Indian drone maker IdeaForge, counting Qualcomm, Tata and Infosys on its cap table, also filed for $69m flotation.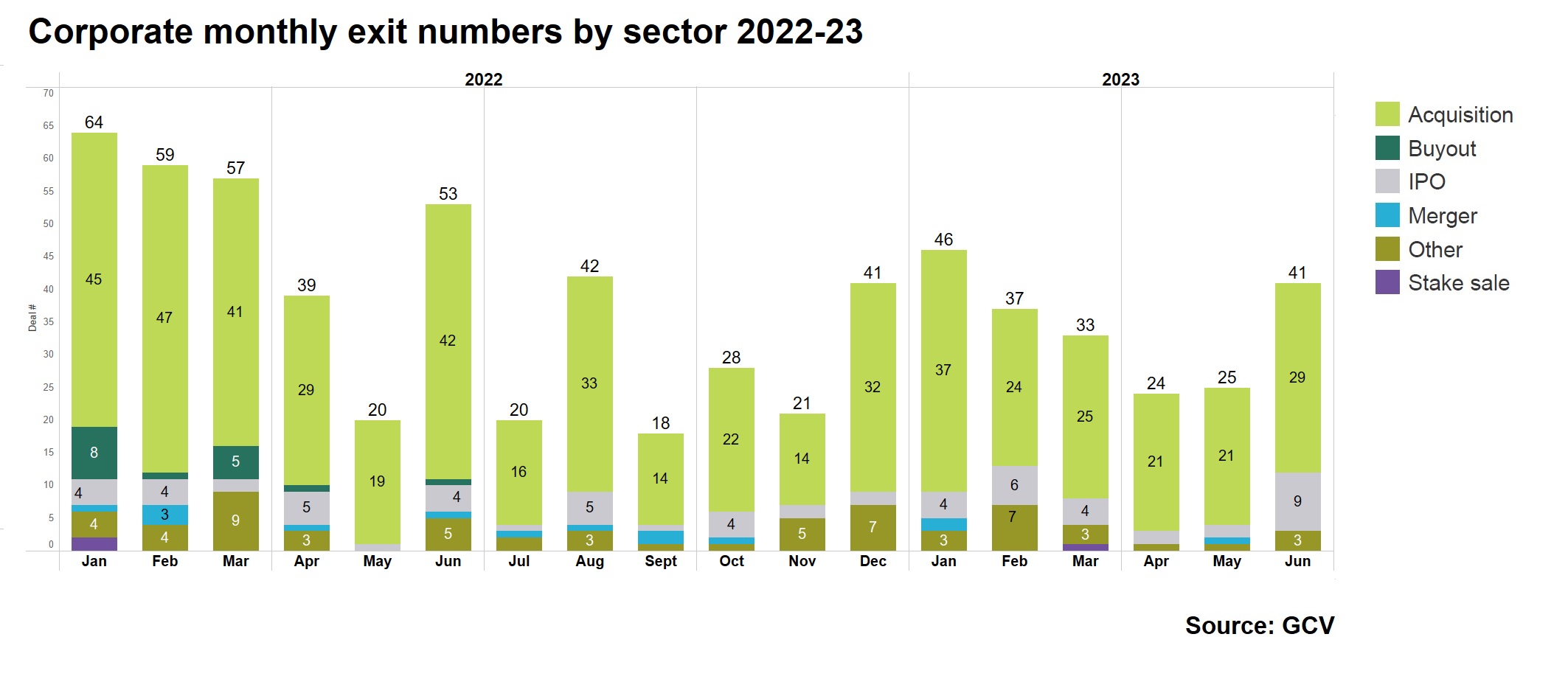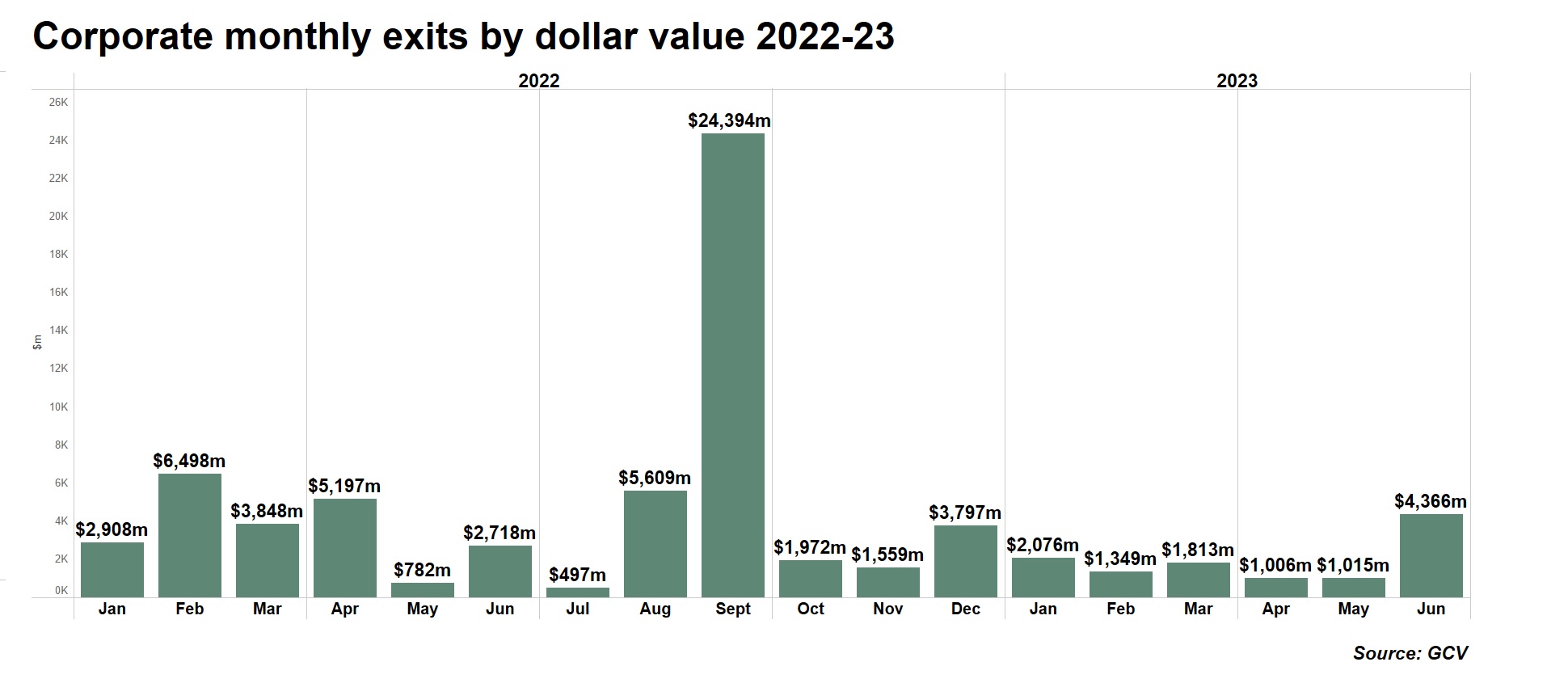 Overall, exit numbers are down dramatically last year, but the June uptick could be a first sign of improving markets.
There are some good reasons to believe in a potential recovery of M&A and public markets. Major stock indexes in the US are just a few percent away from their all-time highs seen back in 2021, while some European indexes are already at all-time highs.
Recently US private equity firms recorded their first significant jump in exit value in more than a year, according to a PitchBook report. While we may not see memorably megadeals, a healthier level of mid-market deals is expected to keep the M&A space afloat, according to consulting firm PwC.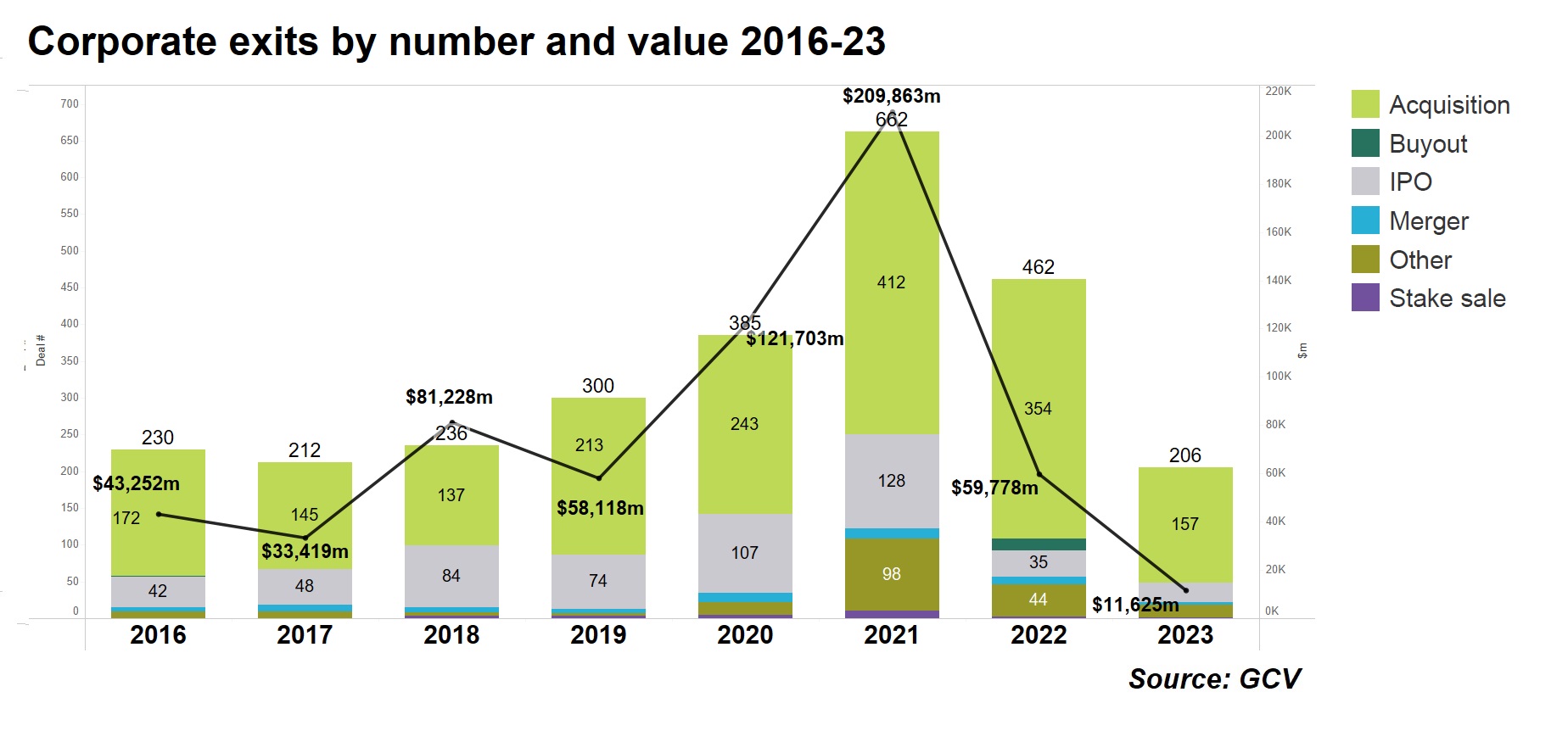 Top investors
It is also interesting to see how the list of the top investors has shifted over the past year. SoftBank has ceded its place as the most prolific investor, as losses and setbacks have caused the investment company to slow down its pace of deals. Alphabet, the parent company of Google, is now the most active investor by some margin. Salesforce Ventures, which has been investing aggressively into generative AI opportunities and which launched a AI-focused fund in March, has risen up the ranks to be the second most active investor.
A few notable names have dropped off the list of top investors, including Tencent, Naspers, Citigroup, Bertelsmann and Shell. And we have seen some new arrivals among the most-active cohort, including Nvidia, which is riding the wave of AI-enthusiasm, and Stellantis Ventures, the investment arm of the carmaker formed from the merger of Fiat Chrysler Automobiles and the French PSA Group, which emerged from stealth mode recently with 11 investments into sustainable mobility.
Healthcare real estate manager Alexandria, pharmaceutical firms like Eli Lilly and the US-based Merck, defence technology maker Lockheed Martin are also among the top investors so far this year.
But what stands out above all is just how much all units have slowed down their pace of investments from a year ago. The top four investors all did more than 90 deals in H1 2022, whereas this year they have done anywhere from 25 to 60.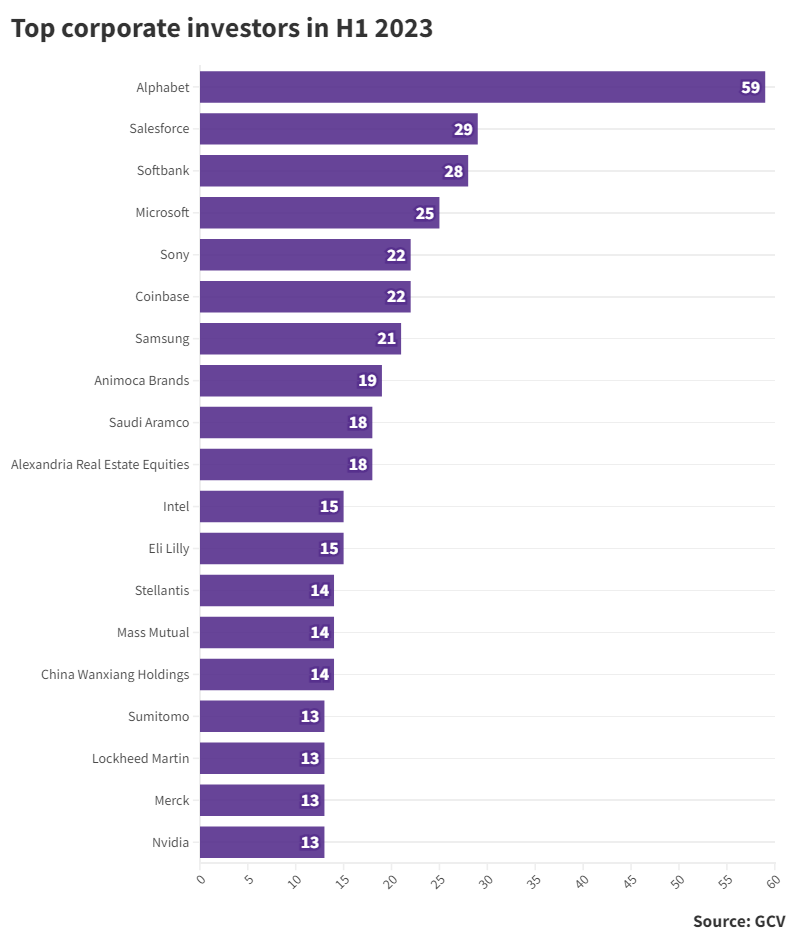 Other trends:
Deals fall most in the US, China and India
Corporate investment numbers in China, the US and India have seen the biggest falls, whereas Japan, Europe and Singapore have seen somewhat less of a decline, relatively speaking, when comparing with the first half of last year.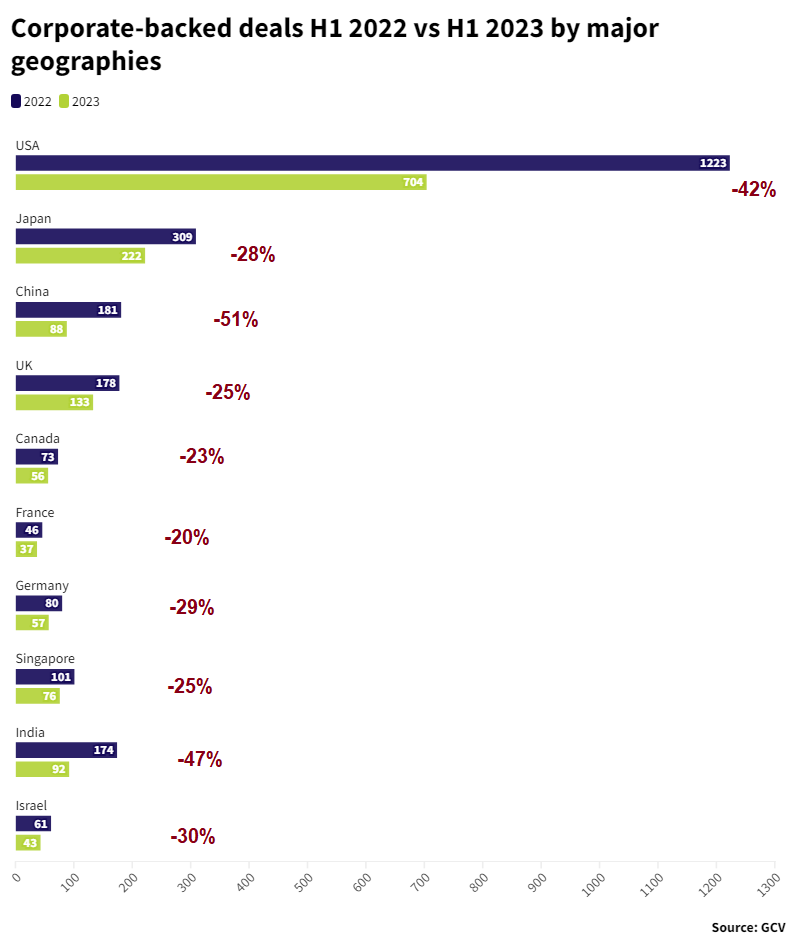 This appears to be a broad reflection of a trend which has seen venture capital reorienting to different geographies. VC firm Andreessen Horowitz (a16z), for example, decided to open its first office outside of the United States this year.
Energy, transport and industrial are the most stable sector
At the same time, while there has been a noticeable drop in deals in sectors like IT, consumer industries, media and healthcare, three sectors — industrial, energy and transport — have seen deal volumes staying relatively stable from last year.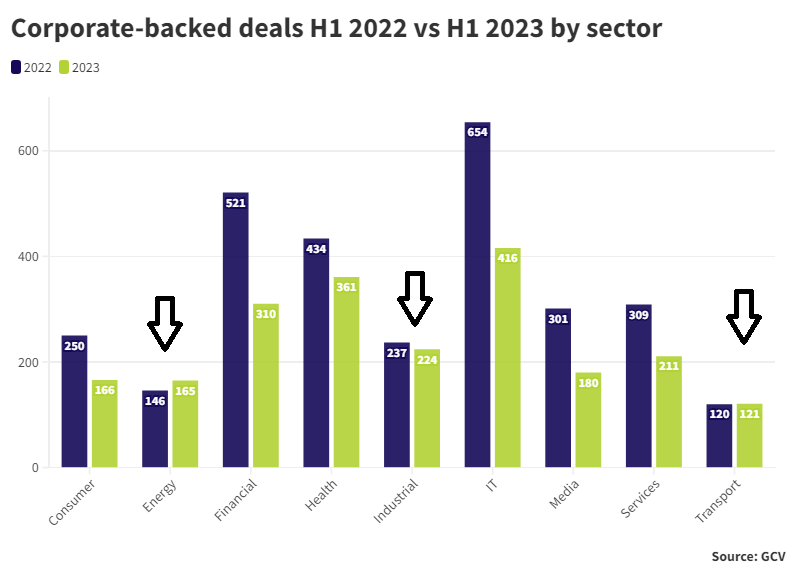 Shift to smaller and earlier deals
We are also continuing to see a trend towards corporate investing in early-stage deals. Seed funding rounds made up 18-19 % of all the corporate-backed startup funding rounds we counted in the first six months of the year. That compares with about 8%-10% of deals in 2019. The growth of seed stage funding rounds began last year but only seems to have strengthened in 2023.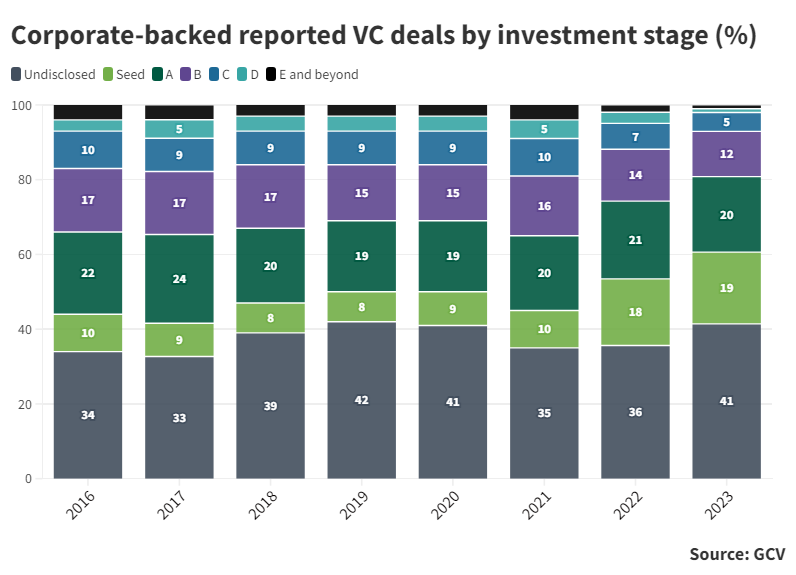 In general corporate investors are migrating to smaller deals. The relative share of large deals, above $100m in size, continued shrinking in H1 2023, standing at just 7% of total deals in the second quarter. It is giving way to small ones ($10m or less) that now constitute an estimated 43% of corporate deals with disclosed size.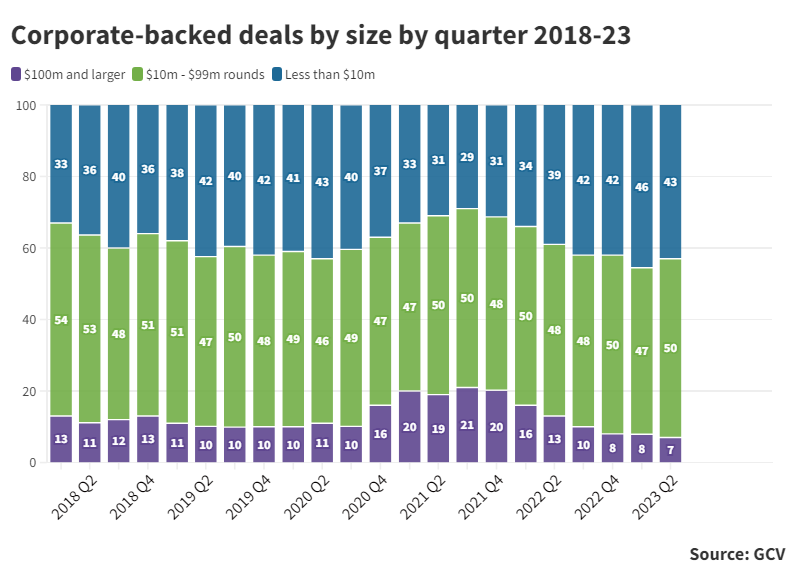 Corporate investors stay committed
Historically there has always been a question over whether corporate investors will remain active during more challenging economic conditions. Right now, we are seeing many corporate investors remaining very steady. Roughly six out of every 10 (63%) of those that participated in at least one minority stake round last year returned as investors in H1 of 2023.
In some sectors, the proportion of returning investors is actually higher – telecoms (79%), financial services (72%), IT (64%), transport (63%) and industrial (62%) and energy (61%). This indicator can be considered a reasonable proxy of the longer-term commitment of corporate investors to venture investing.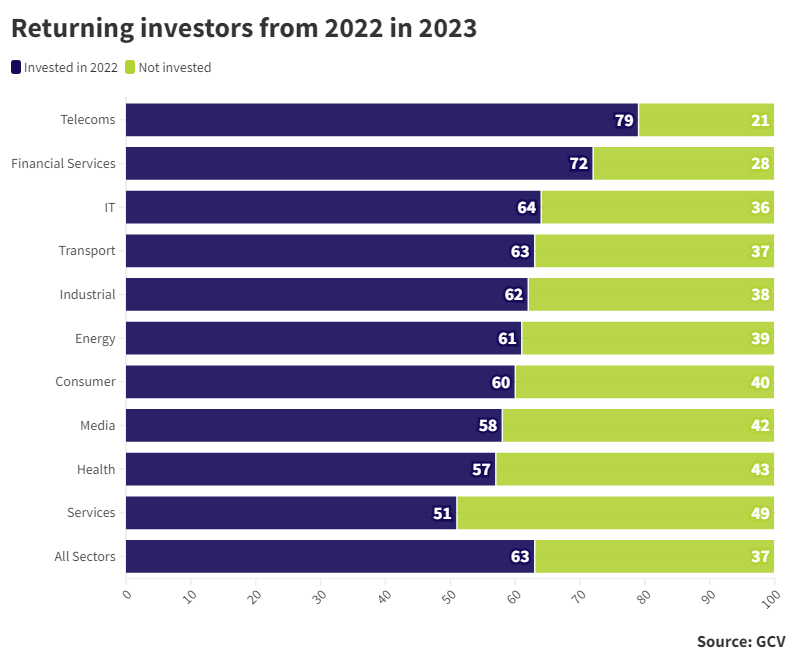 CVC deals decline less sharply than VC
In the first six months of 2023, we recorded just 2,160 funding rounds involving corporate venturers, which suggest a clear decline. This is down 28% from the 2,989 rounds recorded in the first half of last year. Even with some additional deals coming in in June, the decline still appears relatively steep. The estimated total investment dollars so far in 2023 stood at $54.1bn, down 56% from the $122.8bn recorded in H1 of 2022.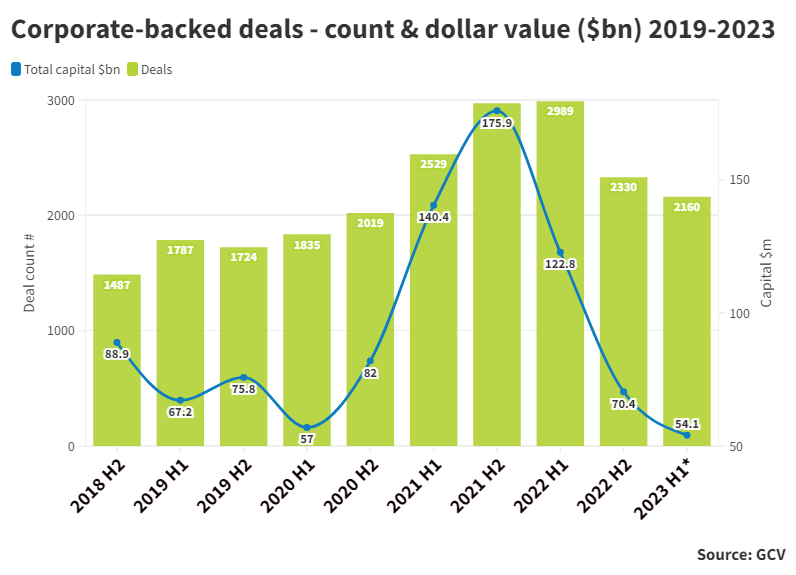 The decline in the overall VC market was even more pronounced. According to PitchBook´s data, there were 12,074 VC investment around the globe in the first half of 2023, down 39% from 19,928 deals in H1 of 2022.
In total dollar terms, the drop in the VC market was also notable. PitchBook recorded $115.3bn of total capital in H1 this year, down 58% from the $273.7bn in the first half of 2022.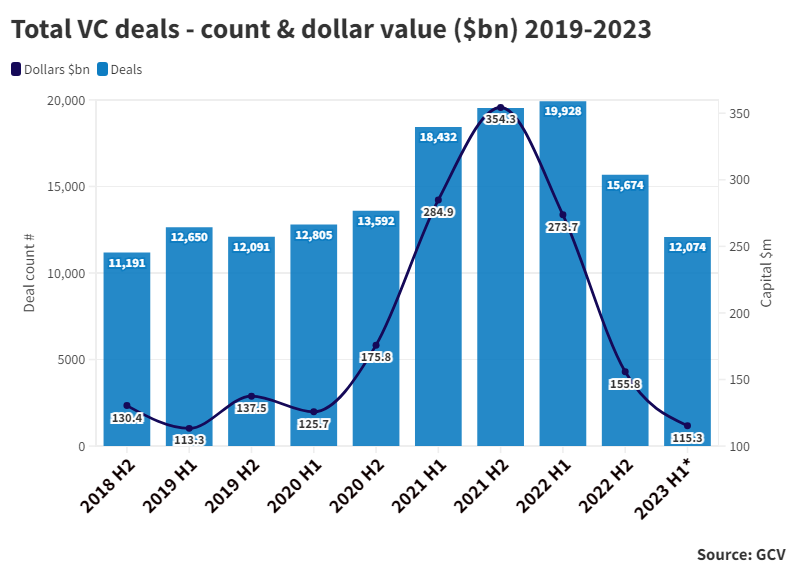 New funds being created more slowly
Finally, the number of new funds, accelerators, incubators and other funding initiatives is still depressed in 2023 compared to what we saw last year. We've recorded 107 such initiatives announced so far this year, not even half of the 252 registered in H1 2022.

Key corporate-backed startup funding rounds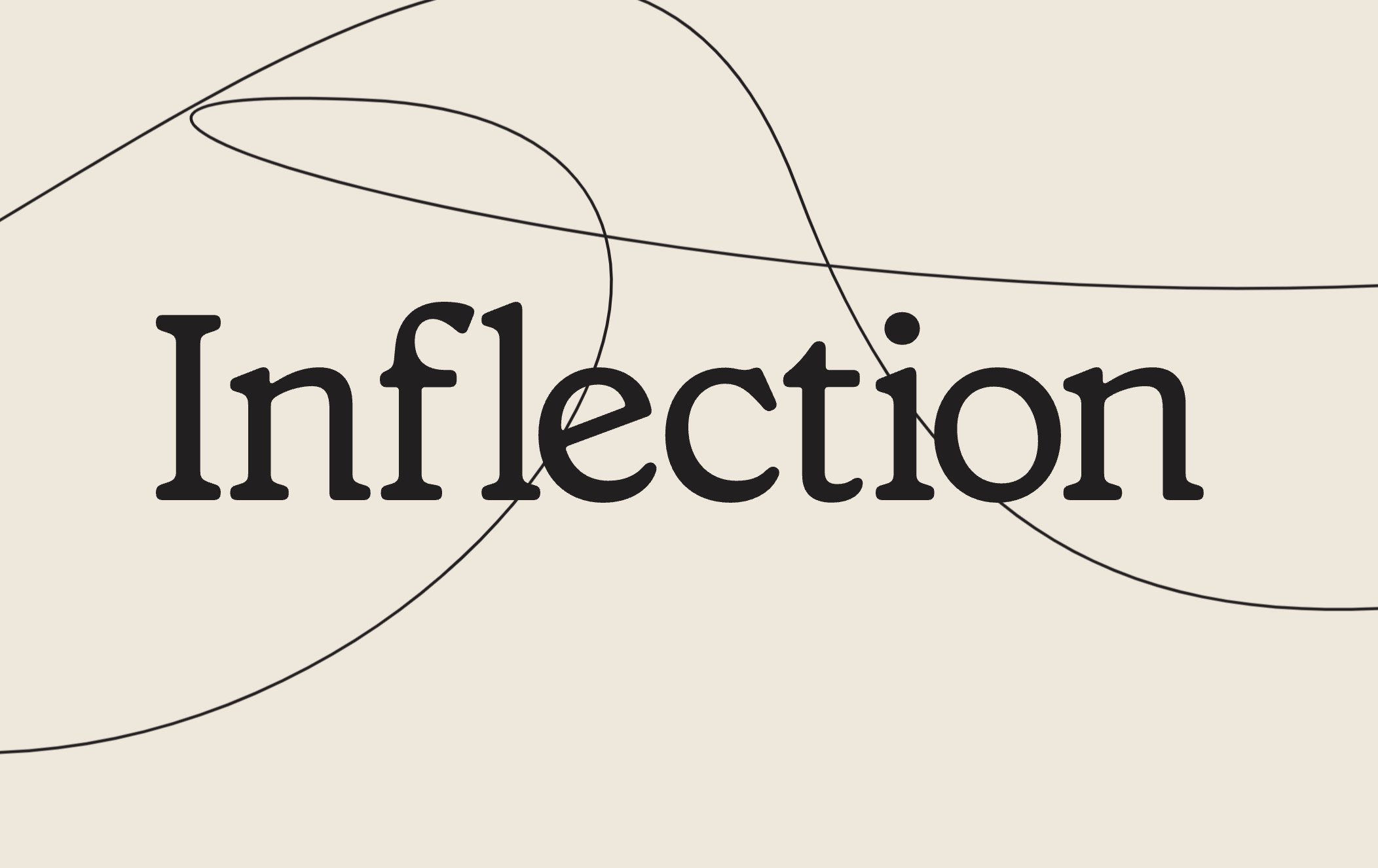 AI language model software developer Inflection AI raised a $1.3bn round. Corporates Microsoft and Nvidia led the round along with entrepreneur and VC investor Reid Hoffman, putting the company's pre-money valuation at $2.7bn. It also featured other famous individual investors like Bill Gates and Eric Schmidt. Inflection AI will use the funding to continue developing its bot dubbed Pi.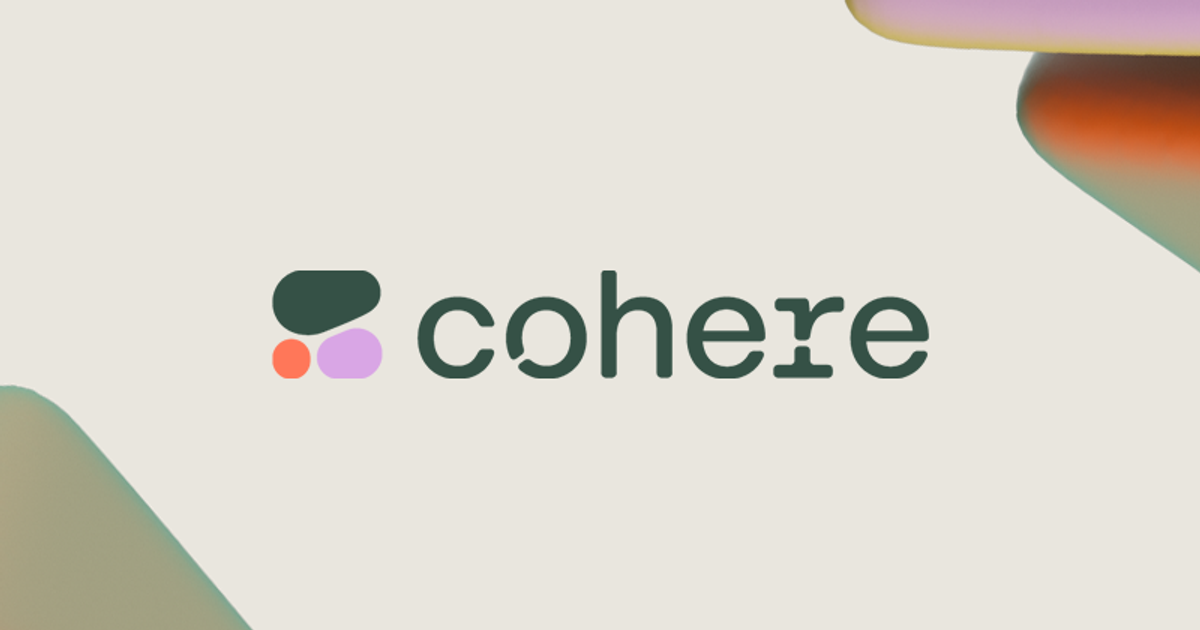 AI developer Cohere received $270m in a series C round, led by Inovia Capita, putting its pre-money valuation at $1.75bn, according to PitchBook. It also featured semiconductors maker Nvidia, cloud enterprise software developer Salesforce via its arm Salesforce Ventures, database management systems maker Oracle, cybersecurity company SentinelOne and internet conglomerate Alphabet. Cohere is an online portal that offers solutions like real-time guidance, live streams, multiple interaction and monitoring user issues.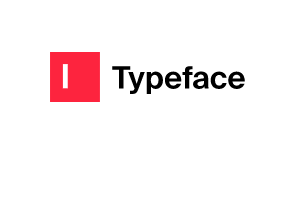 Enterprise AI content creation developer Typeface raised $100m in a Series B1 venture funding in a deal led by Salesforce Ventures and also featuring Alphabet´s GV, Microsoft's venturing arm M12,among others. The funds will be used towards expanding the company's platform and growing the company's team. The company's platform employs an enterprise-grade AI model able to customise content for each brand's voice, style, and workflows.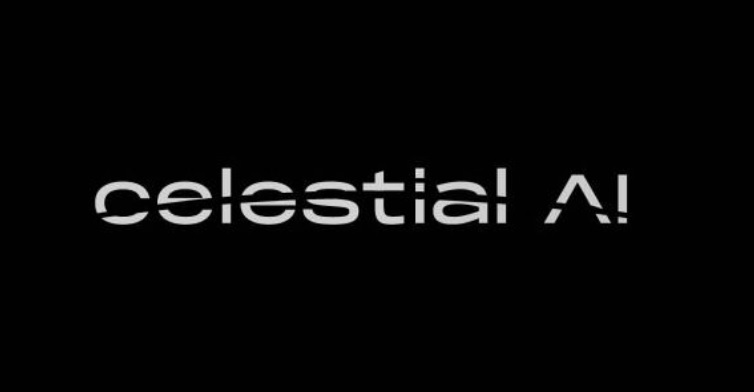 Celestial AI raised a $100m Series B round, led by IAG Capital Partners, reportedly valuing the company at $240m, according to PitchBook. Backers included Germany-based pharmaceutical firm Merck's M Ventures and electronics maker Samsung's Catalyst Fund, the Koch conglomerate's Koch Disruptive Technologies, automaker Porsche as well as Imec.xpand. The company is developing a data centre and edge AI computing technology designed to serve deep learning and machine learning applications.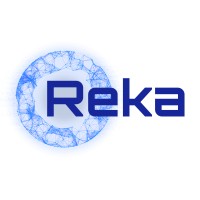 US-based generative AI developer Reka received $58m in a combination of debt and Series A funding in a deal featuring Snowflake Ventures, the venturing arm of cloud software Snowflake. The round reportedly valued the company at $265m. The funds will be used to acquire computing power from Nvidia, as well as build a business team for future growth. Reka is aiming to create enterprise-grade production models, as it helps to read text, images, and tabular data.
Key exits for corporate investors

US-based software infrastructure and AI training algorithms developer MosaicML reached a definitive agreement to be acquired by Databricks for an estimated $1.3bn. The company counts Samsung Next among its previous backers. Its application is designed to recompose machine learning models using algorithmic techniques such as sparsity and networking pruning, enabling users to efficiently and easily train large-scale AI models. Such efficiencies become important, as GPUs grow scarcer and cloud computing costs increase.

China´s shopping platform Meituan revealed its plans to fully acquire generative AI startup Guangnian Zhi Wai (Light Years Beyond) for $234m in cash, according to a filing cited by TechCrunch. In addition, it will assume the startup's $51m debt. The fresh funding will help Guangnian to continue exploring and researching in the field of large language models, having openly the ambition to become the "OpenAI for China".
Not all large exits were AI-related, though. Brazilian cloud payment software developer Pismo was acquired for $1bn by credit card company Visa. Pismo counts Amazon and Prudential Financial among its previous backers. The funding will reportedly be used to support its global expansion and develop its product line. Pismo has developed a cloud-based payment processing platform offering CRM, billing, acquiring network management, client acquisition, and credit analysis.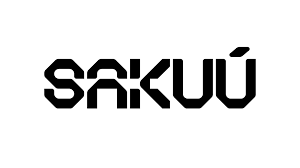 US battery maker Sakuu reached a definitive agreement to be acquired by Plum Acquisition I, a Spac, listed on the Nasdaq stock exchange under the ticker PLMI, with an estimated $705m in proceeds from the transaction. The company counts component maker Musashi Seimitsu and GEX VC among its previous backers. It is developing a sustainable battery manufacturing, offering multi-material and multi-method 3D printing platforms for high-volume production and prints battery cells in a novel, rapid, mass-scale, and sustainable manner.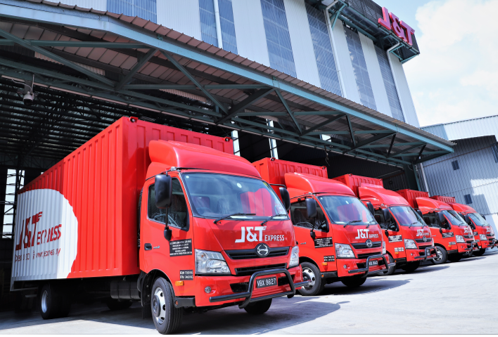 Indonesia's logistics company J&T Express filed to go public on the Hong Kong Stock Exchange, reportedly aiming to raise the equivalent of a minimum of $500m and up to $1bn, according to Bloomberg. The company was previously backed by internet conglomerate Tencent, among other investors, in $2.5bn round back in 2021. J&T operates an express delivery and warehousing business focused on the e-commerce space, which has boomed in Indonesia with the entry of domestic online platforms such as Tokopedia, Bukalapak and Sociolla over the past few years.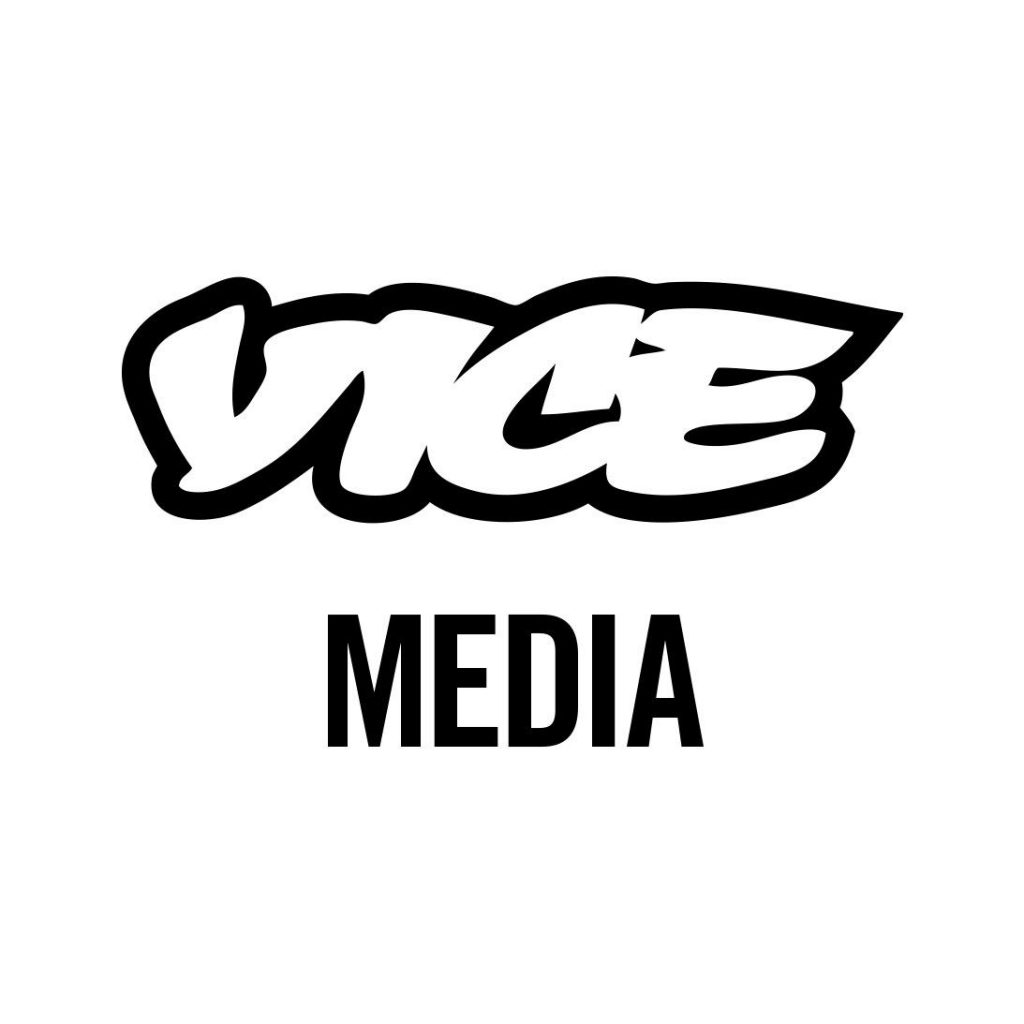 Not all big-ticket exits reported in June were of the most desirable kind either. The US media outlet Vice Media, previously backed by Walt Disney, WPP, 21st Century Fox and other media companies, has officially gone out of business and sold out its assets. The company signed a definitive agreement to be acquired by Fortress Investment Group, Soros Fund Management and Monroe Capital through a $225m leveraged buyout. The deal is said to be an asset sale that would bring an end to the company.