Access Industries, GV and Coinbase Ventures all took part in one of the year's biggest Web3 funding rounds.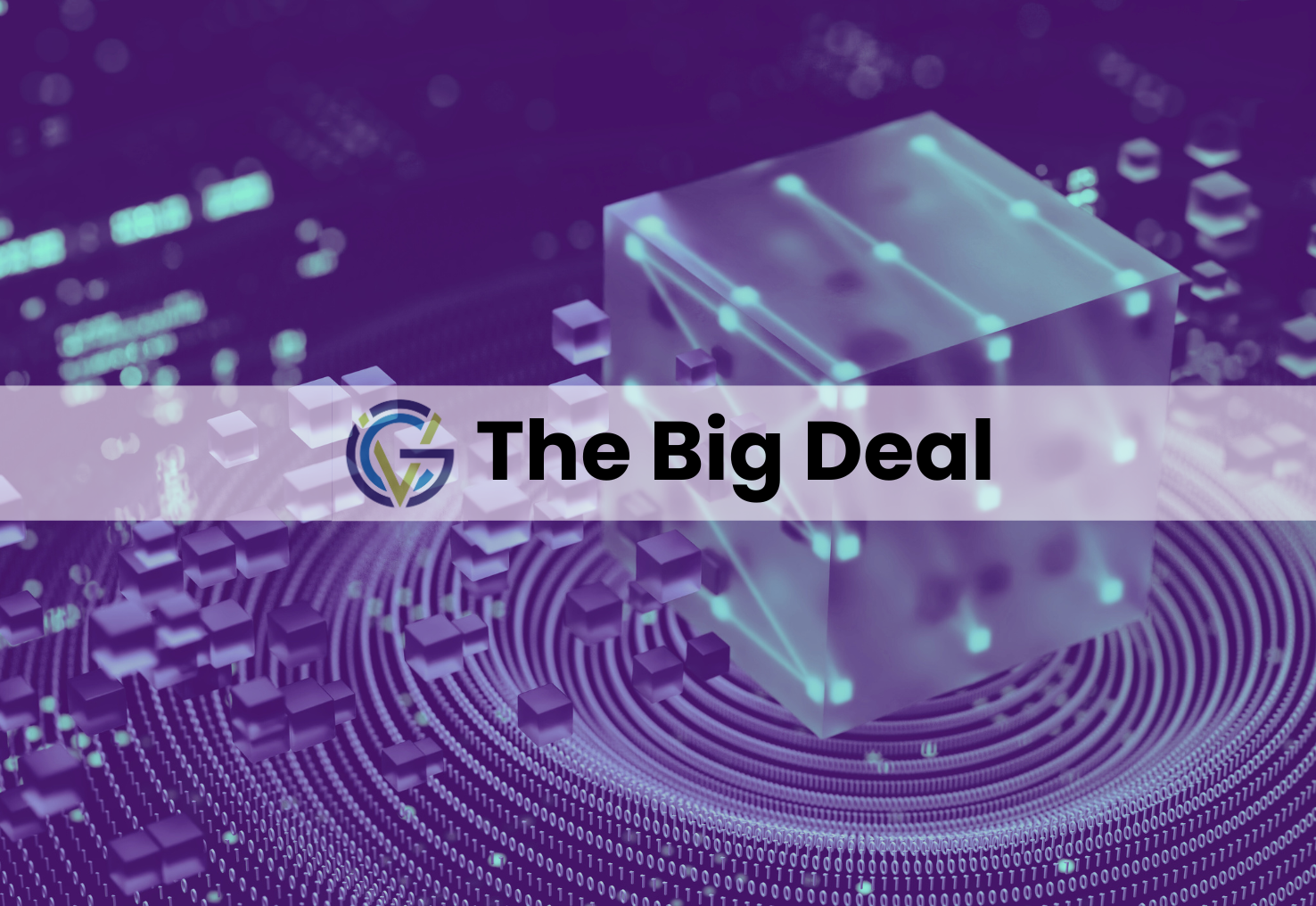 Blockchain and cryptocurrency technology provider Blockchain.com just closed one of the largest funding rounds for a Web3 startup this year, a small positive amid the chill of 'crypto winter'.
The company raised $110m in series E funding from investors including conglomerate Access Industries, internet and technology group Alphabet and crypto exchange Coinbase, the last two through GV and Coinbase Ventures respectively. However, the funding came at a price with the valuation of Blockchain.com cut from $14bn in 2022 to below $7bn, according to a source cited by Bloomberg.
Blockchain.com runs a cryptocurrency exchange in addition to providing products like a crypto wallet, digital asset management technology and a software tool that lets businesses offer their customers the option of buying or selling cryptocurrencies through their apps.
The Web3 sector, which loosely covers not just crypto and blockchain technology but digital assets like NFTs, decentralised finance models and monetisation in areas such as video games, has been on a downward trend since late 2021, the peak price point for all the major digital currencies including Bitcoin, Ethereum and Litecoin.
The value of NFTs has meanwhile been sinking like a stone, with cumulative sales value down every month since February this year. Pay-to-play, once seen as the future of gaming, has failed to materialise, as it turned out consumers would rather play for fun and no developer has yet managed to produce a pay-to-play title that can stand on its own playability.
Combine that with a series of high-profile collapses in the industry that are headed by but not limited to FTX, whose founder Sam Bankman-Fried is facing up to 100 years in prison, and investors have collectively fallen out of love with the sector, which once shone so bright. Here is how funding patterns have looked since the start of 2020: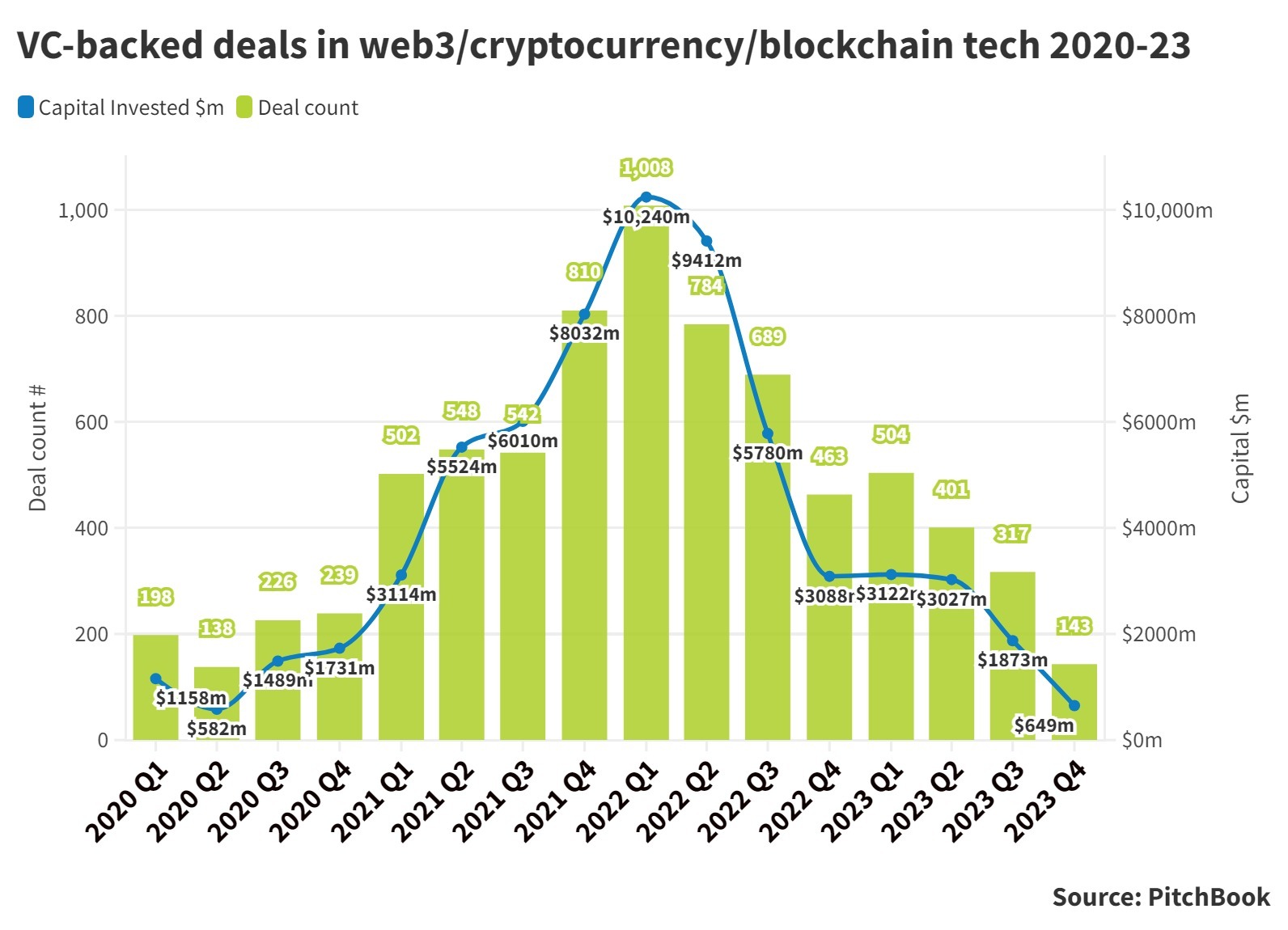 Blockchain.com has not been immune to the crypto winter. The company closed its asset management subsidiary in March, less than a year after it opened, and announced plans to cut 29% of staff in January, only six months after a similar-sized round of cuts that involved it closing its Latin America office.
But the UK-headquartered company remains bullish, claiming revenue has risen by some 1,500% in the past four years and that it intends to "cement its role in driving crypto adoption and shaping the future of finance".
The optimism may not be as misplaced as it first might seem. For one, the round has come the same week as Fnality, developer of a liquidity management ecosystem for digital assets, closed a series B round a little below $100m. Both are in the top 10 largest Web3 startup funding rounds in 2023, albeit in a year where round sizes have plummeted.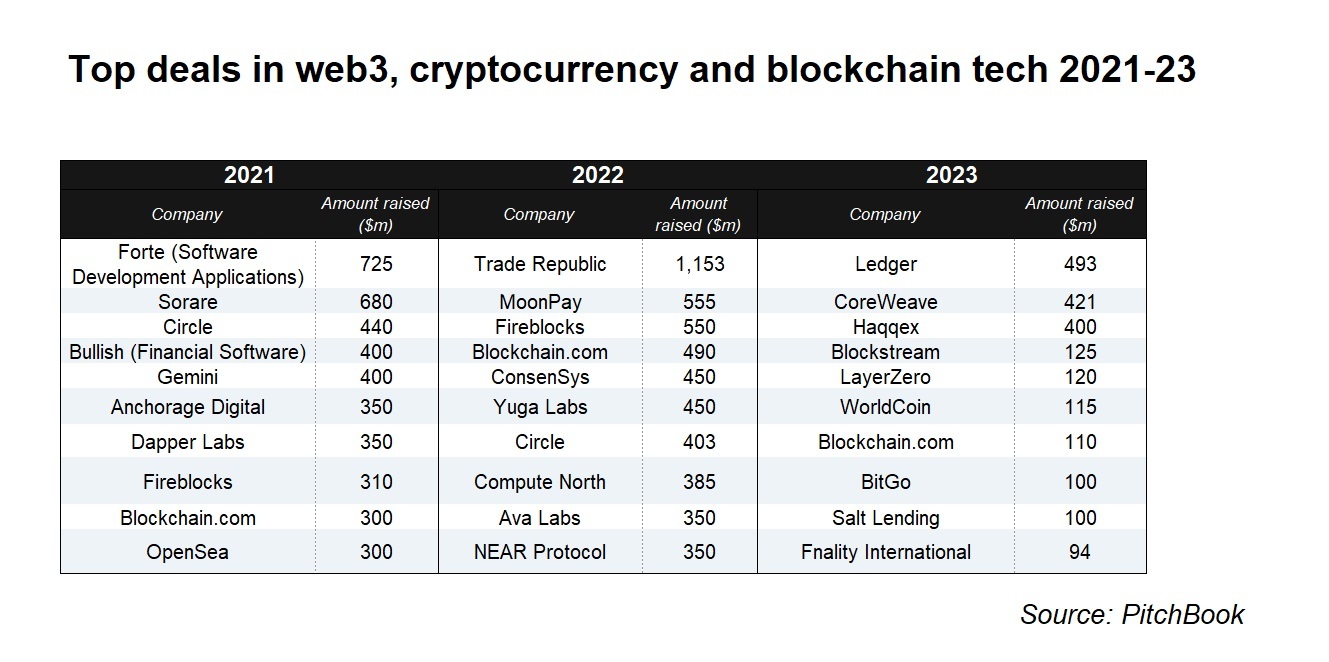 And while Blockchain.com raised the cash at a halved valuation, that cut is far from unusual in the context of the general bear market for venture-backed companies in the past 18 months (outside of the AI startups), with fintech hit particularly hard. Klarna closed its last round at a valuation 85% lower than before while the likes of Stripe and Revolut have also had $30bn-plus valuations slashed considerably.
But perhaps the clearest reason for positive thinking is that there are some external factors pointing upwards. One is the price of Bitcoin which has quietly doubled over the past year, recently passing $30,000 for the first time in 18 months as investors prepare for the next 'halving' event – when the supply of new Bitcoins halves, therefore increasing scarcity of the existing coins – in April 2024.
Another is the prospect that American regulators might grant approval for the first exchange-traded spot Bitcoin fund, which would allow investment managers to buy the currency directly on behalf of their clients. BlackRock is one of several investors reportedly preparing funds in anticipation of a positive ruling, and reports last week suggested it was also lining up a similar fund for the Ether cryptocurrency, which has doubled in price over the past 18 months.
The formal entry of large-scale asset managers like BlackRock, which manages over $9 trillion in funds, would not only provide some deep-pocketed interest in crypto, it would help legitimise the sector in the face of the FTX fiasco and charges levelled by the US Securities and Exchange Commission against Coinbase and Binance.
Last is the emergence of ordinals, 'Bitcoin serial numbers' that proponents believe can be used as an effective way to store large volumes of data immutably, and which are providing the basis for a new wave of startups including Taproot Wizards, which announced a $7.5m seed round yesterday. Whether they can become something beyond 'NFTs on Bitcoin' however remains to be seen.
Blockchain.com has a great domain name and a good set of products, setting it up to benefit from any revival of the sector. But the wider investment community is still waiting for mainstream use cases for blockchain to emerge. Until they do, Blockchain.com, like the rest of the Web3 sector, is vulnerable for more valuation drops.