Deal count was up in energy and transportation among an overall decline in corporate-backed venture funding.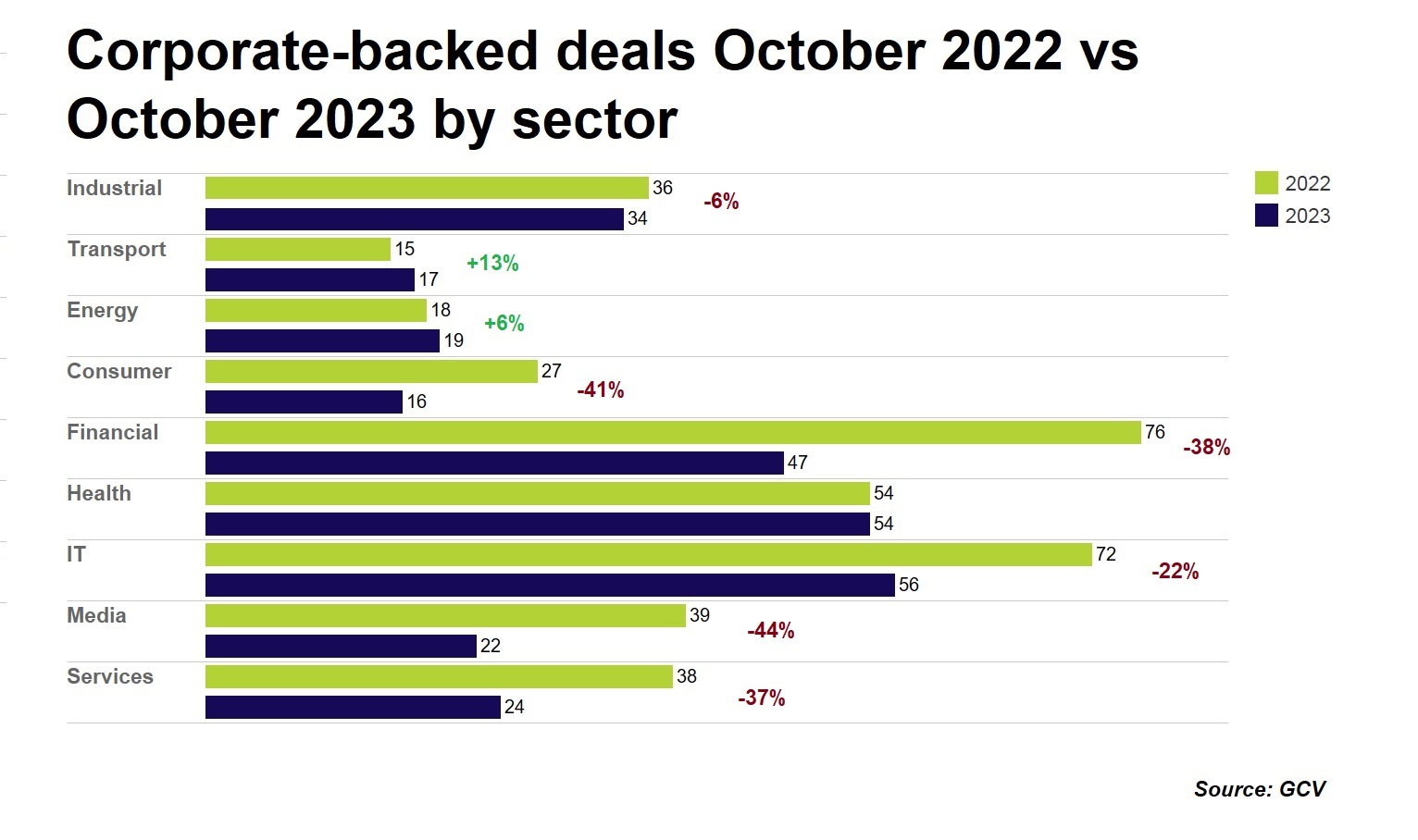 The month of October witnessed a notable surge in activity in corporate-backed venturing deals in the transport and energy sectors. This uptick unfolded against the backdrop of a decline in the total number of deals, both month on month and year on year. Although that decline does appear to be stabilising.
The number of corporate-backed investments in October (291) was down (-23%) versus the same month last year, when we tracked 376 rounds. The total estimated dollar value in those rounds ($9.03bn) was also down 26% compared with October 2022 ($12.14bn).
But the number of deals in October this year was similar to that of the previous month of September (298). This suggests a certain (at least temporary) stabilisation of the pace of dealmaking among corporates.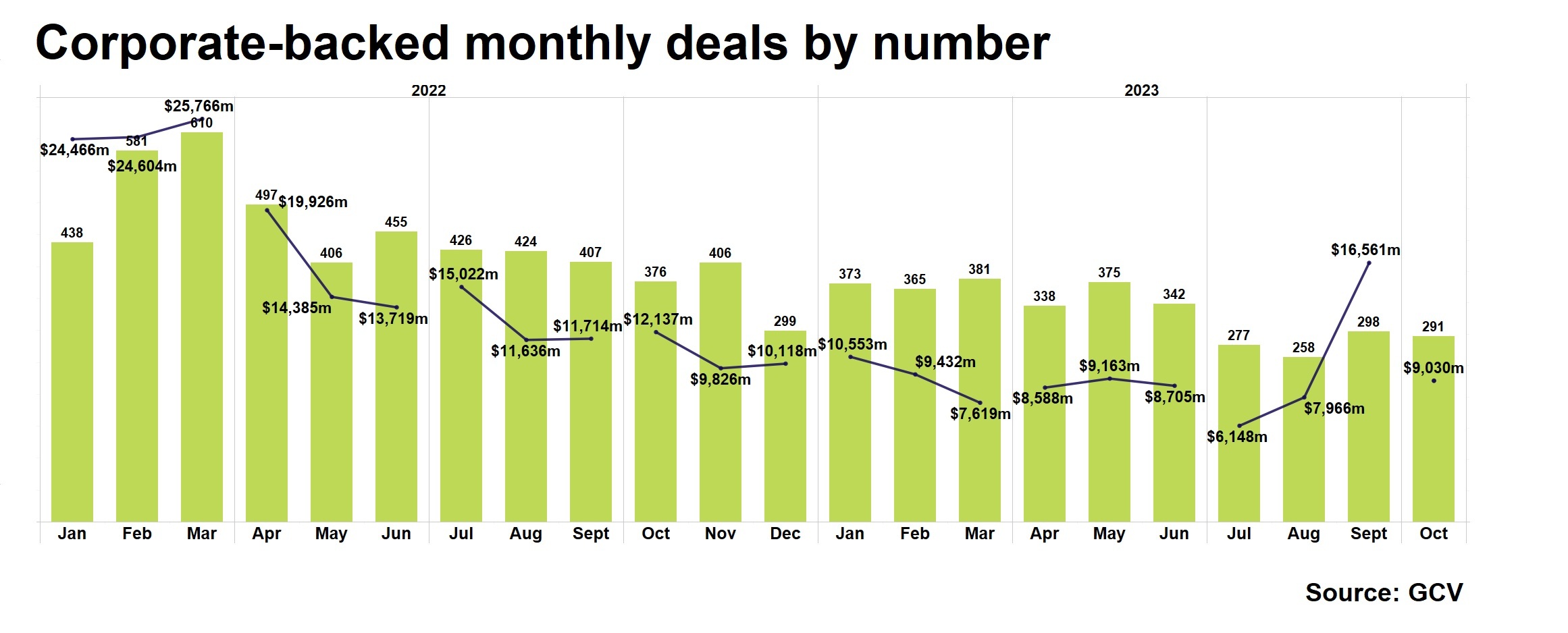 Notably, the deal count in two sectors — transport (+13%) and energy (+6%) — were slightly up in October versus the same month last year. This is a positive sign overall, as we have grown somewhat accustomed to seeing monthly figures down in year-on-year comparisons throughout much of 2023.
Despite challenging market conditions, transport and energy industries have captured the attention of corporate investors, suggesting a strategic reorientation towards sectors vital to sustainable development and global connectivity. This divergence suggests that corporate investors in particular hold a more nuanced understanding of the pivotal role played by these sectors in shaping the future of business and innovation.
Take a look at all the corporate backed deals from this year so far.
Big deals in transport
There were some large deals, particularly in the transport sector, with four out of the top 10 deals of the month in transportation.
If we look closer at these deals, we can see which aspects of transport that corporates are particularly interested in. Three of these four deals were related to electric or autonomous vehicles. The push towards electrification is still on the cards, perhaps due to the uncertainty surrounding the price of fossil fuels, or maybe it's to do with corporations striving to hit their sustainability goals. Autonomous driving is also a focus.
Chinese EV manufacturer Leapmotor was the biggest deal of the month, bagging $1.6bn from Stellantis to accelerate and expand global sales of it high-tech neigbourhood electric vehicles. We also saw Miovision raise $221m for its intelligent traffic platform, Didi Chuxing's autonomous driving spinoff secure $149m and electric delivery vehicle brand Chengshi raise a $137m series B round.
Energy levels increasing
It probably comes as less of a surprise that energy deals were slightly up year on year in October 2023, with the particular focus being on renewable energy. The amount of development happening in this area shows how relevant it is to corporates in all sectors.
As a matter of fact, the number of corporate-backed energy investments has remained fairly stable and flat with occasional spikes in 2022 and 2023. This compares favourably with the declines and corrections in valuations we have been seeing in most other areas in CVC.
With the growing immediacy of climate change and sustainability goal deadlines approaching, corporations can clearly see the value in cleaner energy sources. The decreasing costs and improving efficiency of renewable technologies make them increasingly attractive – the shift towards renewables is not just a trend but a strategic move that anticipates a future where sustainable practices are not just applauded but become integral to the success and longevity of businesses.
October renewables deals included four relating to solar energy, and one focused on geothermal energy. The biggest energy deal of October was focused on green hydrogen. Electric Hydrogen, a green hydrogen technology company headquartered in Massachusetts, has achieved the milestone of becoming the inaugural green hydrogen unicorn following its series C funding round. It raised $380m, propelling its valuation to $1bn.
3D printing hasn't gone away
Further to the increase in transport and energy deals, we also noticed a small boost in deals in 3D printing. A total of five deals occurred in October, when there has been on average one per month for the past year. It could be an anomaly, or perhaps it's relating to last month's boost in industrial sector deals. The industrial sector is notoriously undigitised and unsustainable, and most of these deals relate to 3D printing plastics or metals for manufacturing.