From joint startup prize competitions to joint investment funds, corporates are increasingly joining forces to source innovation.
More and more large corporations are trying out a novel approach to sourcing innovation — joining forces with a group of other large businesses to scout startups and invest in them together. The approach can help companies cover more ground than they would on their own and increases their access to startup deals.
These corporate venturing squads have been taking off over the past few years. AB InBev, for example, launched the 100+ Accelerator in 2018 to help find startups working on sustainable supply chain options. But then it got the Coca-Cola Company, ColgatePalmolive and Unilever to join as well, increasing the number of pilot projects and investments that could come out of the programme.
Simiarly, Mexican construction group Cemex Ventures launched the Construction Startup Competition in 2017 as a way to scout startups. But in 2020 Ferrovial, Hilti, VINCI Group's Leonard, and Nova by Saint-Gobain joined the initiative. It made the competition more attractive to startups, as there was now a larger chance of connecting with a potential corporate investor or customer.
The main benefits of corporate venturing squads are increased access to deal flow, better access to the innovation ecosystem and learnings, according to a recent study led by Josemaría Siota, executive director of the entrepreneurship and innovation centre at the IESE Business School.
The IESE team interviewed 262 companies that were taking part in corporate venturing squads to find how these worked and what benefits the members got from them. These were some of the key findings.
1. No two squads are the same
There are six main types of corporate venturing squads, from one-time activities such as putting together a joint scouting force, to recurring, long-term projects such as establishing a joint investment fund. The more permanent, recurring corporate venture squads tended to stay together for more than three years on average, while the one-shot programmes had a lifespan of about 11 months.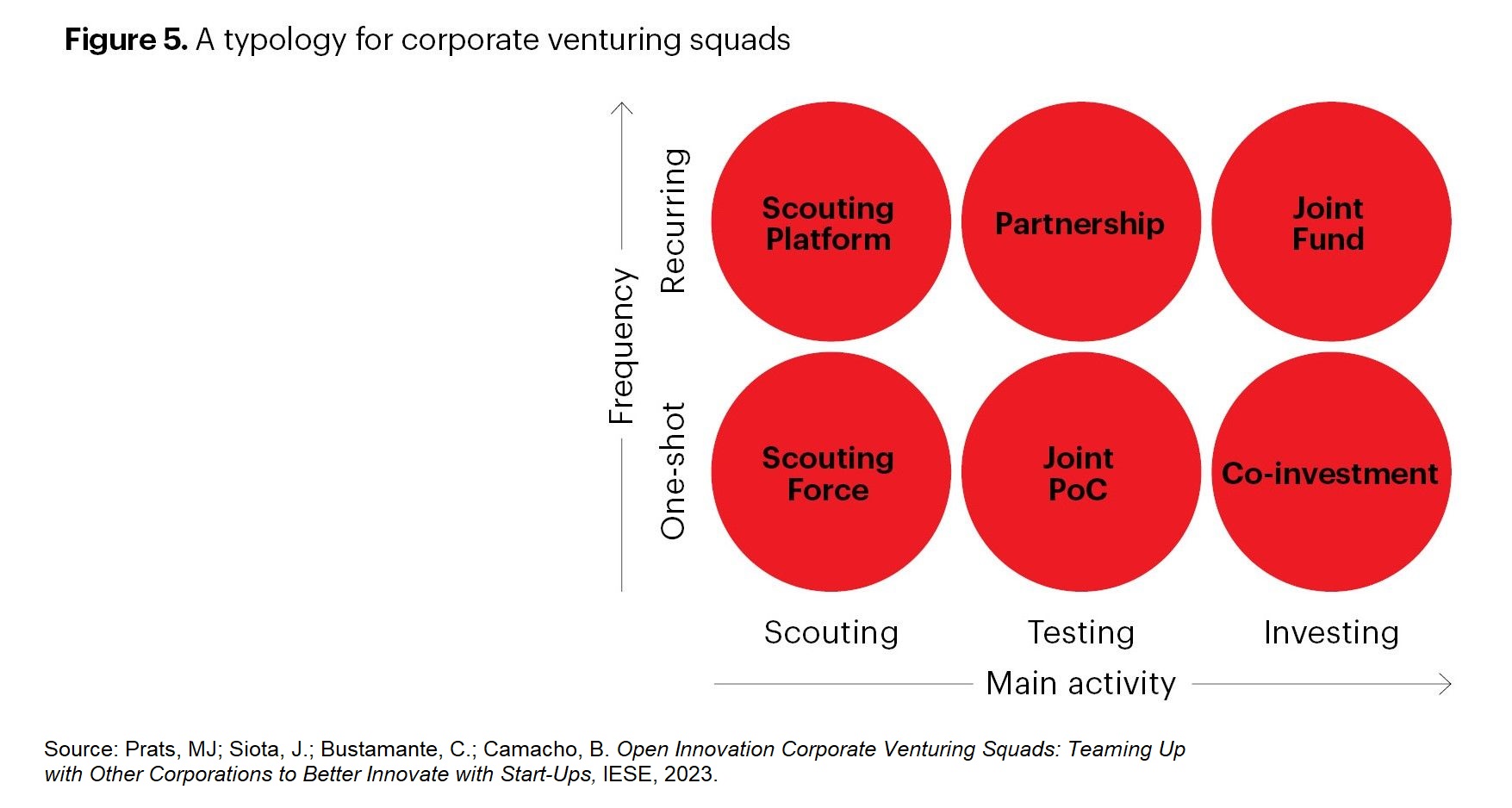 Scouting force is understood as a one-time initiative aiming to bring opportunities to interact with startups, whereas scouting platform is essentially the same kind of initiatives but on a recurring basis.
2. The main benefit is access to deal flow.
When asked about the benefits they got from being part of a corporate venture squad, some 37% of members' answers pointed to increased access to deal flow. Corporates can view and vet many more startups when they collaborate with others.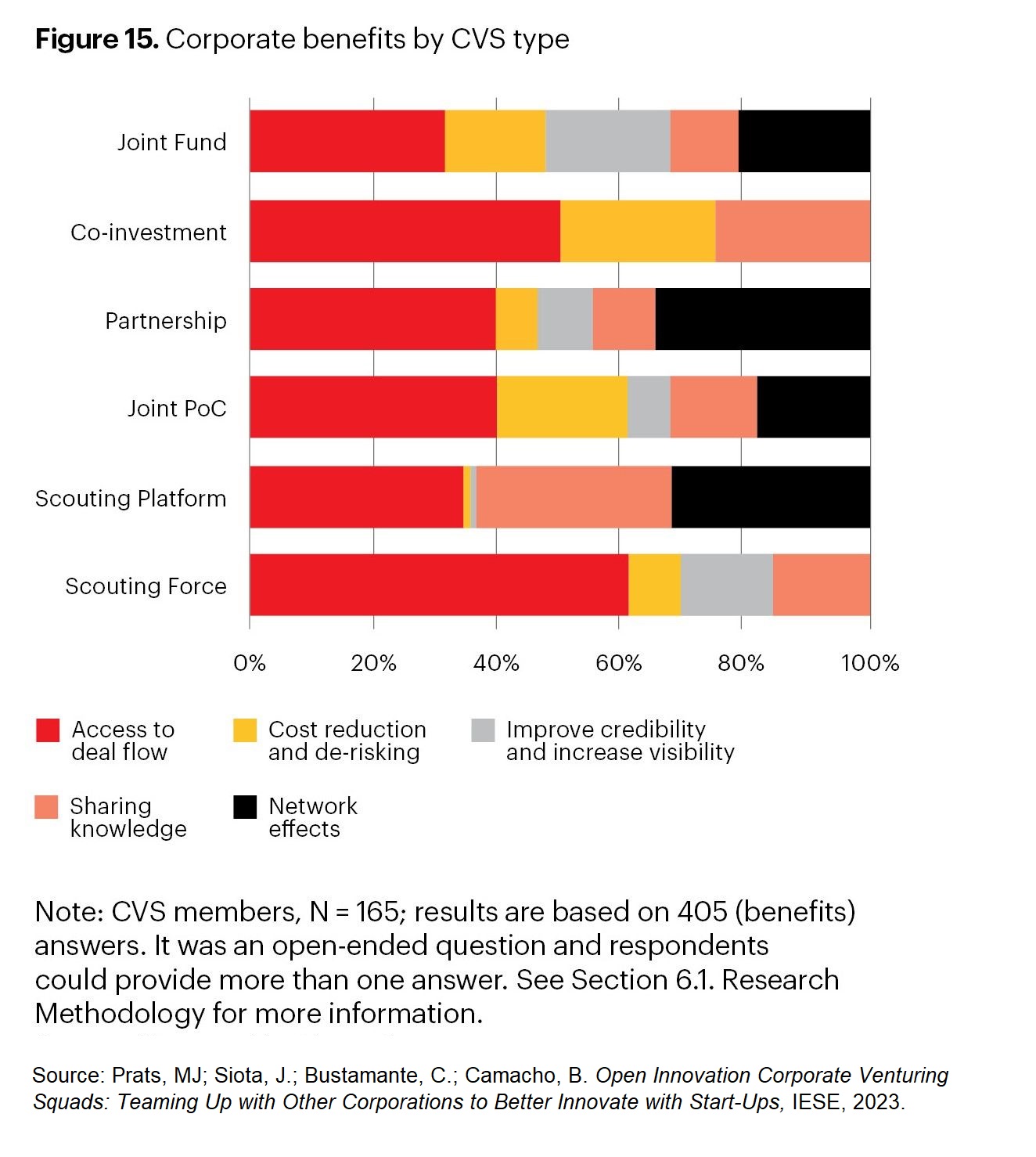 Getting better access to the innovation ecosystem was part of 29% of answers. Some 26% of corporate innovators interviewed by the IESE team cited knowledge sharing and learning as one of the key benefits of this approach.
3. Even though it is not about costs, squads save corporate money
Interestingly, cost saving and reducing risk were a very small part of the reason companies take part in corporate venturing squads. Only 4% of interviewees mentioned this as a motivation, even though the cost savings from this kind of collective activity are substantial. Some corporate venture squad members reported a 50% or even 90% reduction in costs.
4. Corporates tend to join squads they already know
Even though many corporate join venture squads to increase their innovation networks, they also like to play it safe by partnering up with companies they already know well. Some 80% of corporate venture squads involved companies that had previously worked together.
5. Corporations still love the challenge prize as a way of scouting startups
The challenge prize or competition is still the most popular format for corporate innovators to scout startups. In 89% of cases, a joint scouting mission would use this as the format for finding relevant companies. And even when there was a more permanent scouting platform set up, some 33% of venturing squads used the competition as a way to meet emerging companies.
6. Venture squads can be anywhere from two to more than 10 members
Partnerships, where corporates join forces to run multiple proof of concept trials with startups, have some of the biggest groupings of corporates. The median size of a partnership-style corporate venture squad is 10.
Joint investment funds, on the other hand, tend to involve around five corporations.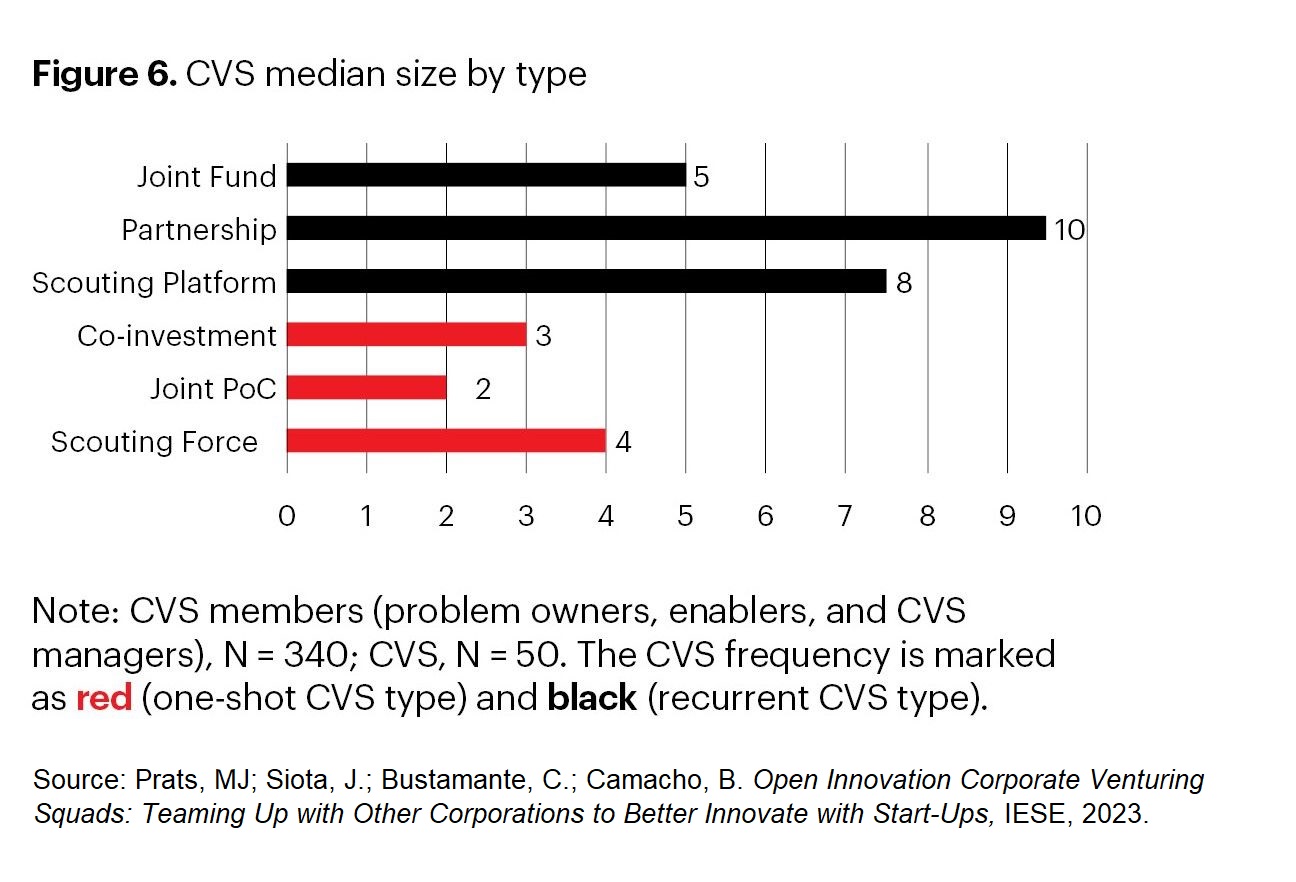 7. One of the biggest problems is governance
Any grouping with multiple companies is hard to manage, and corporate venture squads are no exception. Governance was the most often cited issue. Anyone setting up a corporate venturing squad should be planning ahead to establish clear rules for adding members, clear lines of communications and aligning the criteria for selecting the startups to be scouted.
---
The full IESE report on corporate venturing squads can be read here.