The number of startup funding rounds backed by corporate investors dropped 43% year-on-year in February. Deal value was down by two-thirds.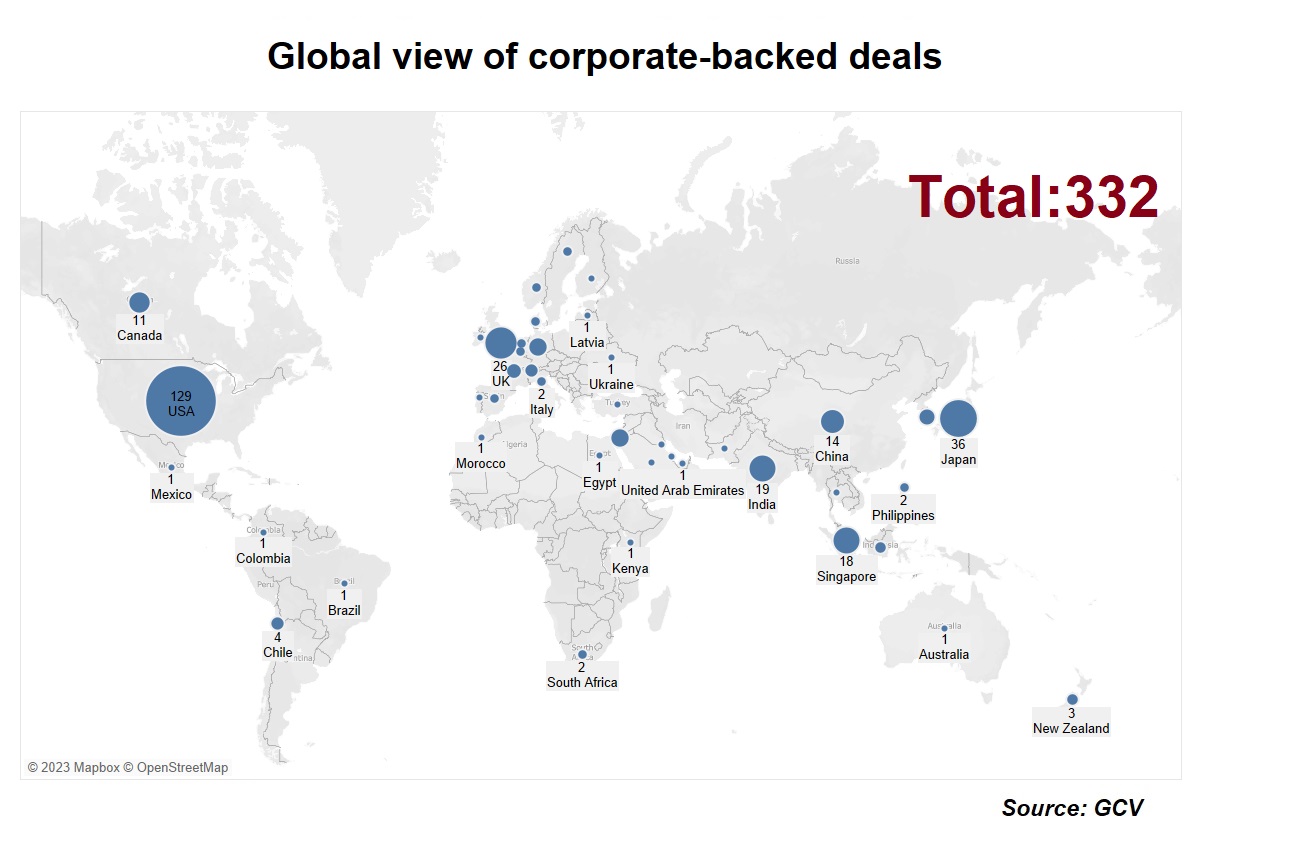 Only 332 startup funding rounds received backing from corporate investors in February, down 43% from the 582 rounds registered in the same month of 2022. Investment value stood at $8.59bn in total estimated capital –about a third of the $24.6bn of the same period last year.
The February numbers represented a 10% drop in deal numbers and a 17% drop in deal value from January.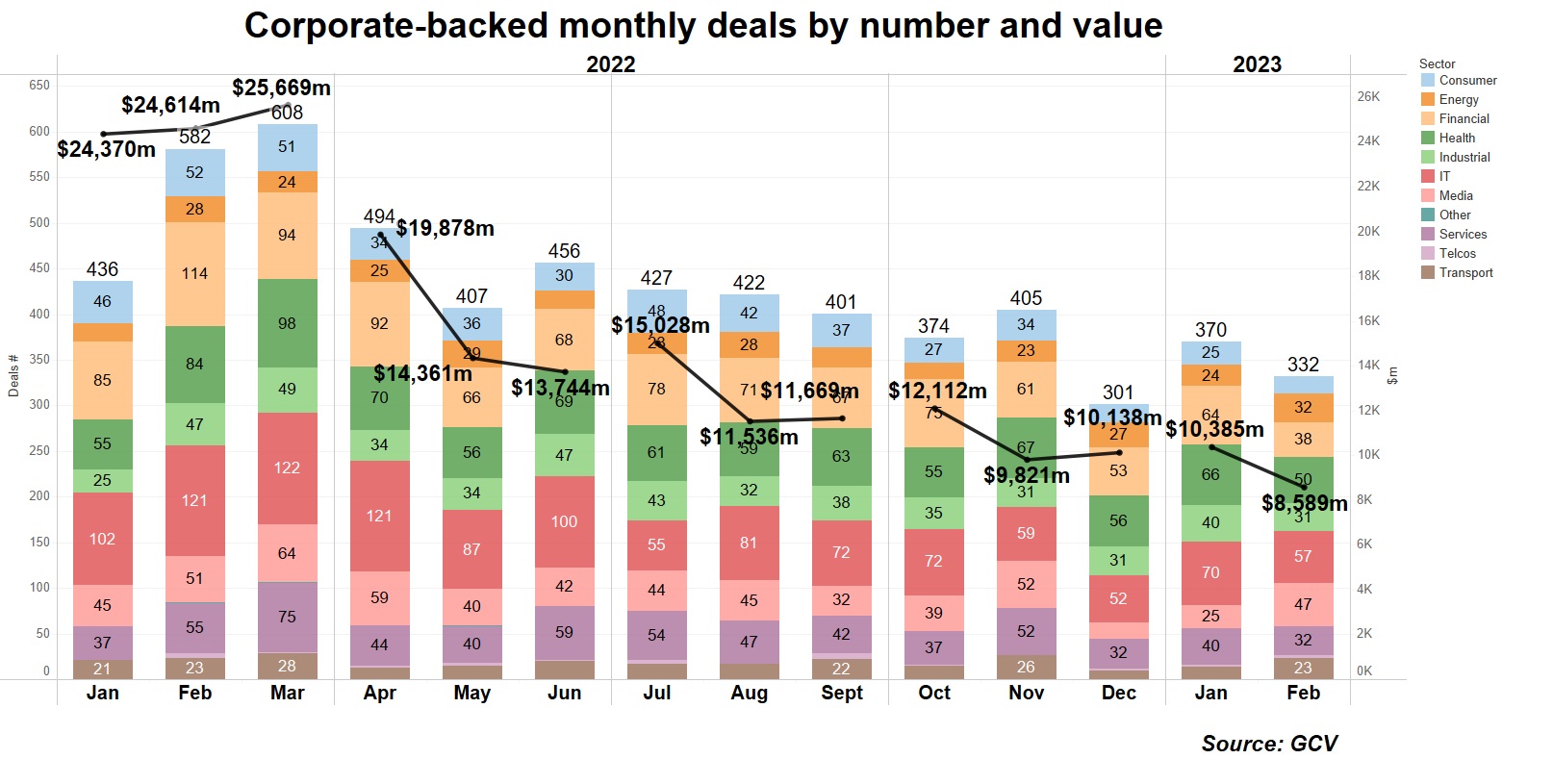 Corporate investors are backing away from startup deals more or less in tandem with the rest of venture capital investors. There was a similar drop in total VC deals which were 48% lower in February 2023 than in same month of 2022. The total estimated capital in those deals for the second month of this year ($19.9bn) was similarly only slightly more than a third of the estimated value of February last year ($54.2bn). Vis-a-vis January of this year, the February total VC deal count dropped about 16%, whereas dollar value decreased by 11%.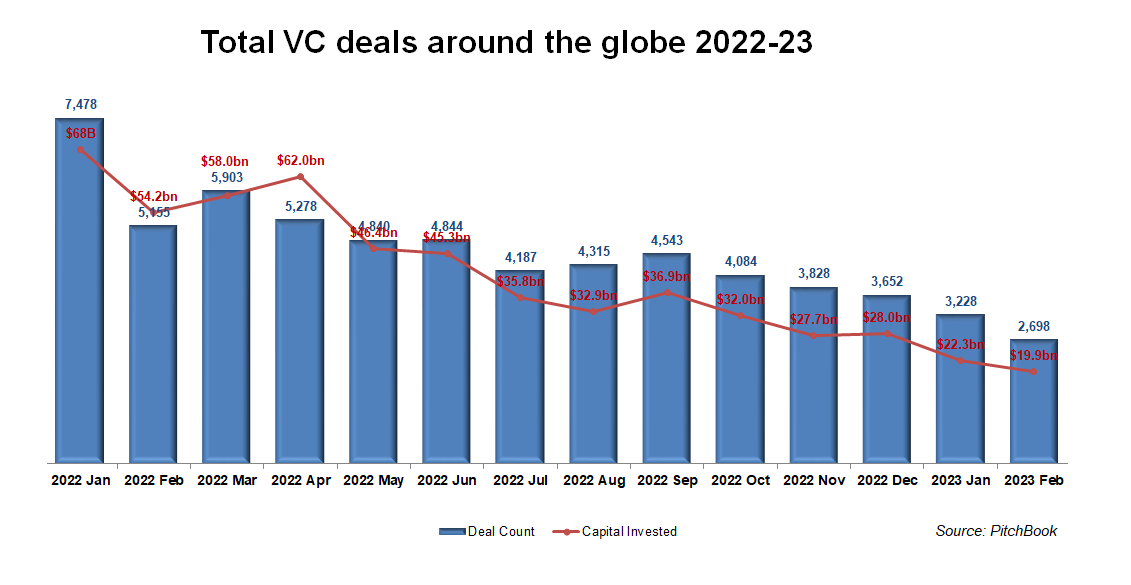 In virtually all of the major venture geographies, there were fewer deals this February than in the same month of the previous year. One of the biggest drops came in the US where there were 110 fewer deals — a 46% decline — than in the same month last year. China has seen deal numbers more than halve, albeit from a lower starting point than the US.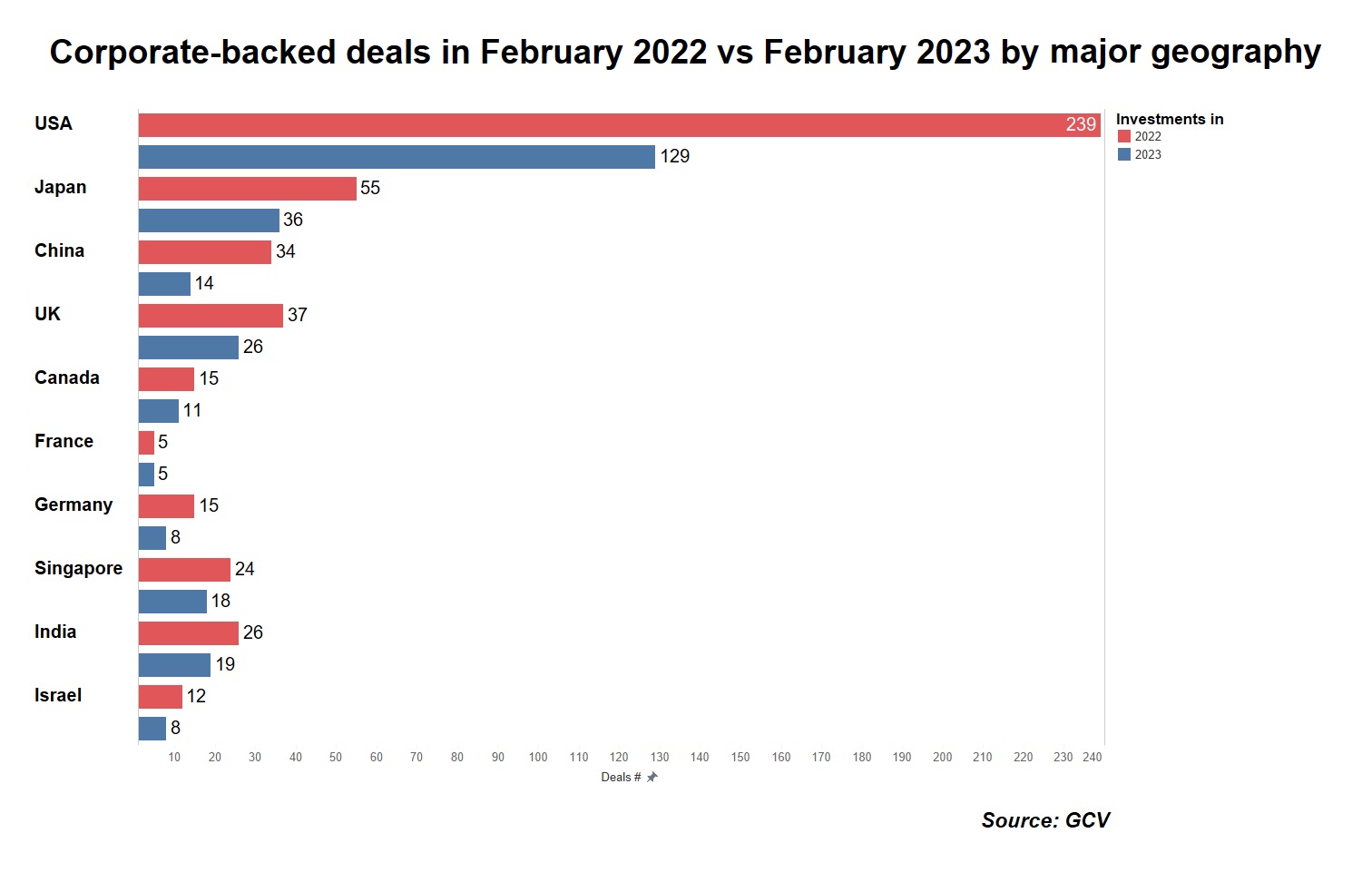 The leading corporate investors by number of deals were crypto exchange Magic Eden, internet conglomerate Alphabet and semiconductors and electronics manufacturer Samsung.
GCV reported 15 corporate-backed funding initiatives in February, including VC funds, new venturing units and incubators. This was a slightly higher number than in previous months but still much lower than the 50 initiatives recorded in February 2022.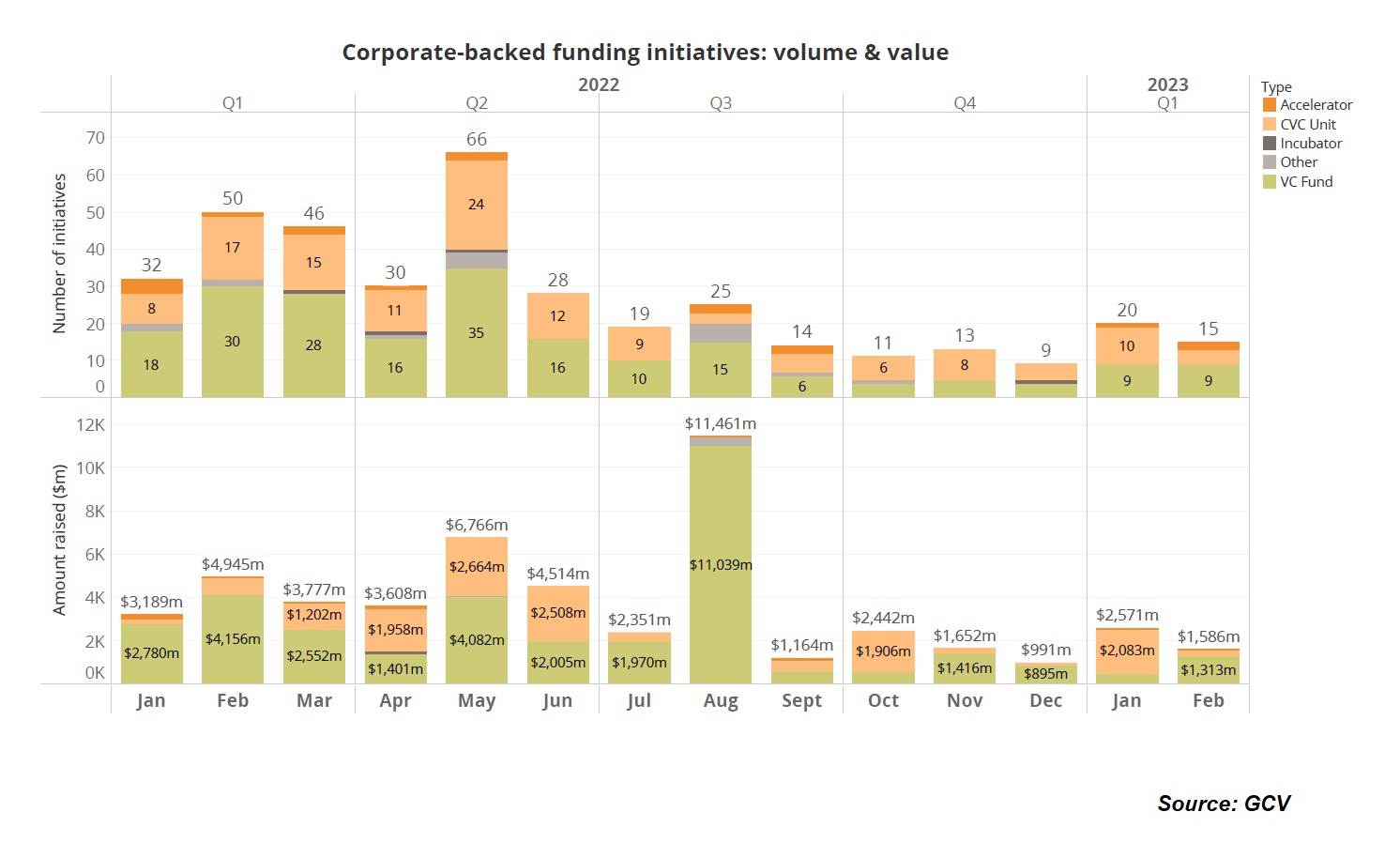 Deals
Emerging businesses from every sector raised fewer funding rounds in corporate-backed round this February than in the same month of last year.

The most active corporate venturers were in the financial, IT, media and healthcare sectors, as shown on the heatmap.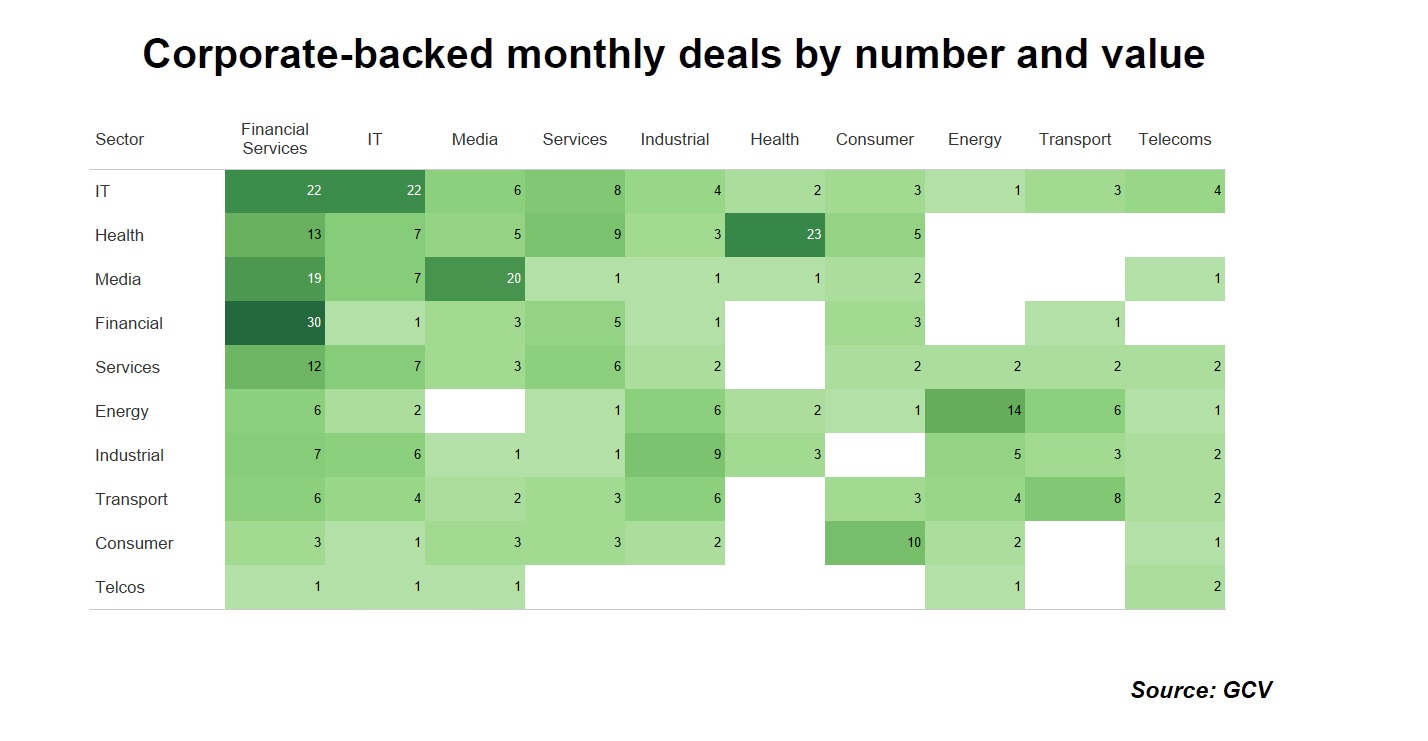 The top deals of February were concentrated in emerging businesses primarily from the energy and IT sectors.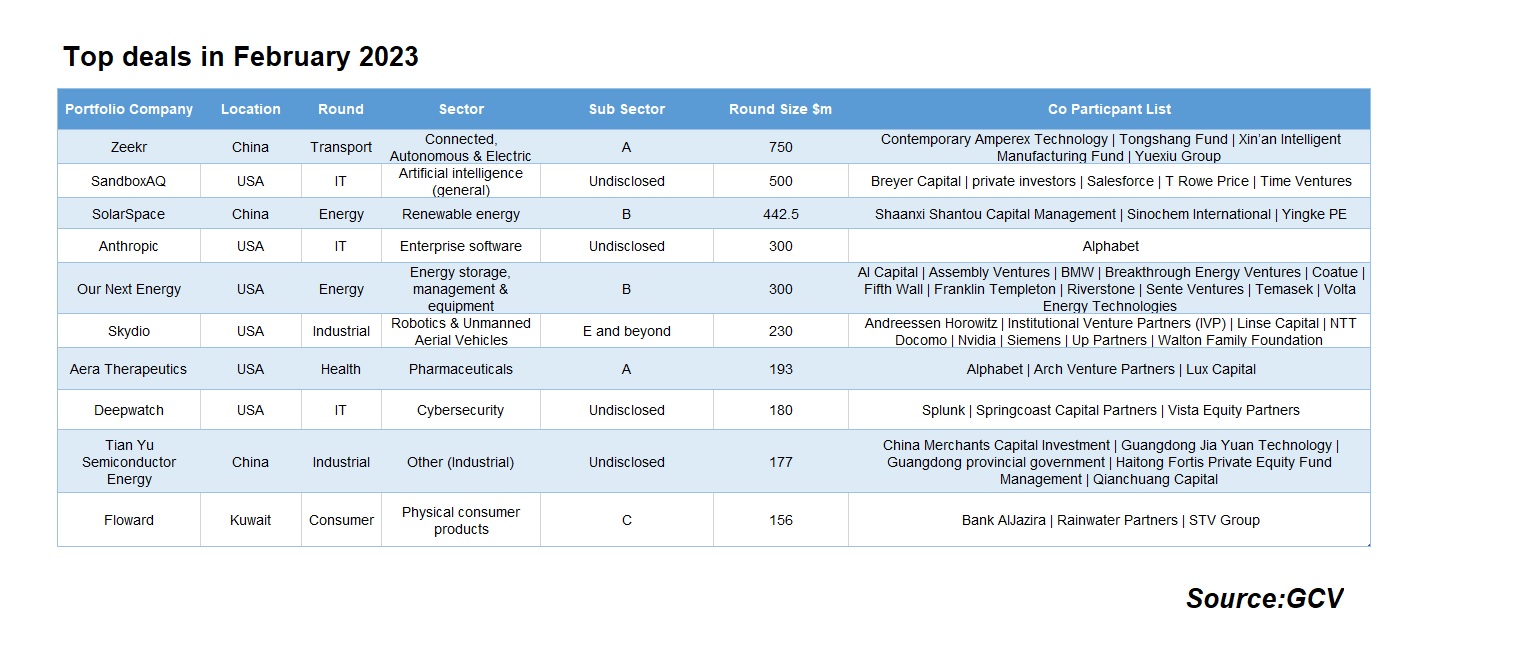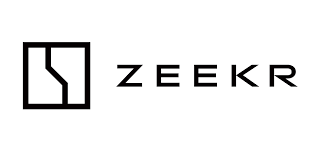 Zeekr, the luxury electric vehicle subsidiary of China-based carmaker Geely, raised $750m in a series A round featuring battery manufacturer Contemporary Amperex Technology. Yuexiu Industrial Fund, Tongshang Fund and Xin'an Intelligent Manufacturing Fund filled out the participants.
SandboxAQ, a US-based provider of quantum computing simulation software that was spun off by internet and technology group Alphabet, raised $500m in funding. The cash came from investors including former Alphabet chairman Eric Schmidt as well as Time Ventures, Breyer Capital and T. Rowe Price. The company is developing AI quantum software designed to address significant business and scientific challenges.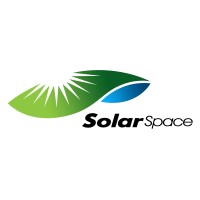 China-based solar cell manufacturer SolarSpace has raised a total of RMB3bn ($443m) across series B and pre-initial public offering rounds, featuring previous corporate backer Sinochem International. The round was filled by EBI Investment and Yingke PE.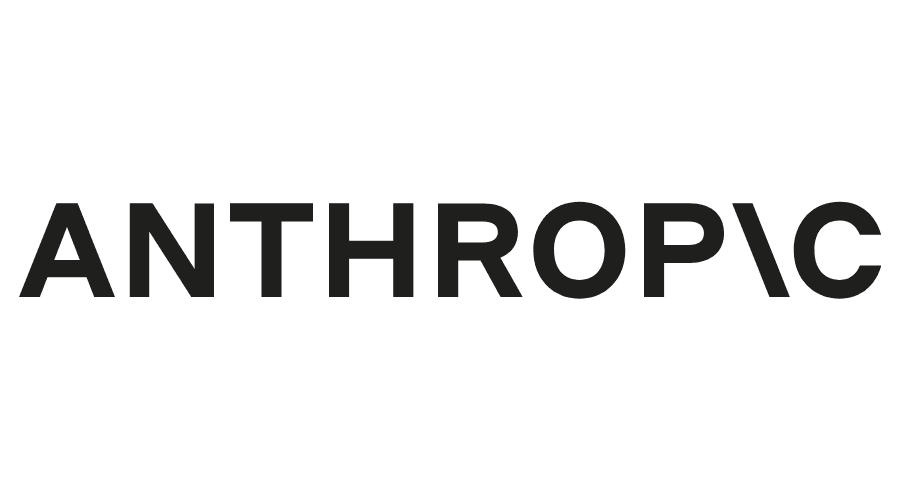 Alphabet's Google subsidiary provided $300m in financing for US-based artificial intelligence technology developer Anthropic. The deal gave Google a 10% stake and Anthropic revealed it has chosen Google Cloud as its preferred cloud services provider. The company focuses on increasing the safety of AI systems and increasing the reliability of large-scale AI models, developing the techniques and tools to make them more interpretable.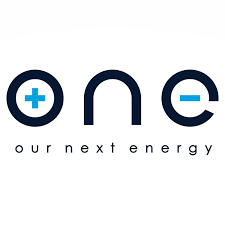 US-based battery technology developer Our Next Energy (ONE) raised $300m in a Series B round, led by Fifth Wall and Franklin Templeton. The transaction put its pre-money valuation at $900m. The round featured automaker BMW´s BMW i Ventures as oil and gas major Equinor (via Equinor Ventures), among other investors. $62.5m of the total came in the form of convertible notes which subsequently got converted into equity, according to PitchBook.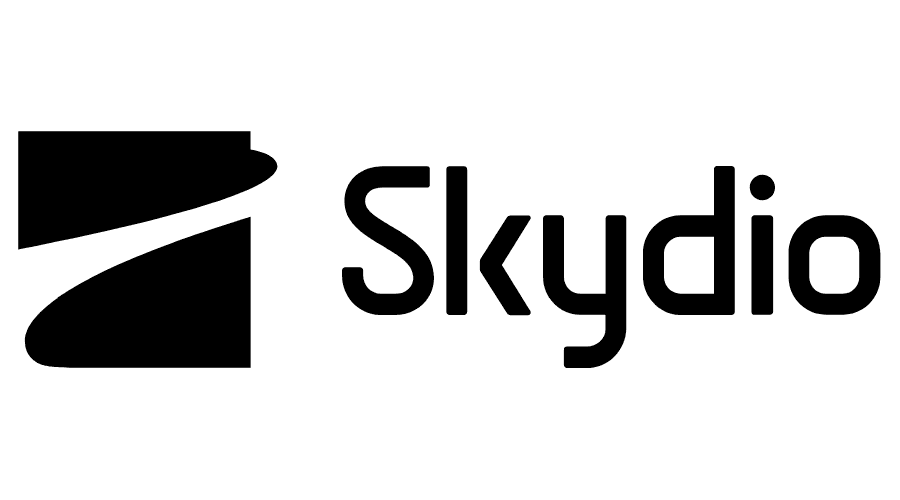 US-based autonomous drone manufacturer Skydio received $230m in series E funding from investors including industrial technology producer Siemens' Next47 unit, mobile network operator Docomoand graphics chipmaker Nvidia. The round, which was led by Linse Capital, valued Skydio above $2.2bn and included Andreessen Horowitz, IVP, Walton Family Foundation and UP.Partners. Skydio has developed AI-powered drones, using an array of cameras and proprietary computer vision technology to recognise and avoid objects in real-time.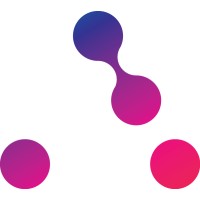 Alphabet´s GV venturing arm participated in a $193m series B funding round raised by US-based genetic medicines developer Aera Therapeutics. The funds will be used to harness s proprietary delivery platform to unlock the potential of genetic medicines across a wide range of modalities and therapeutic areas. The company's proprietary protein nanoparticle (PNP) genetic medicine delivery platform leverages the discovery of endogenous, human proteins derived from retroelements that can self-assemble to form capsid-like structures and which can package and transfer nucleic acid cargo.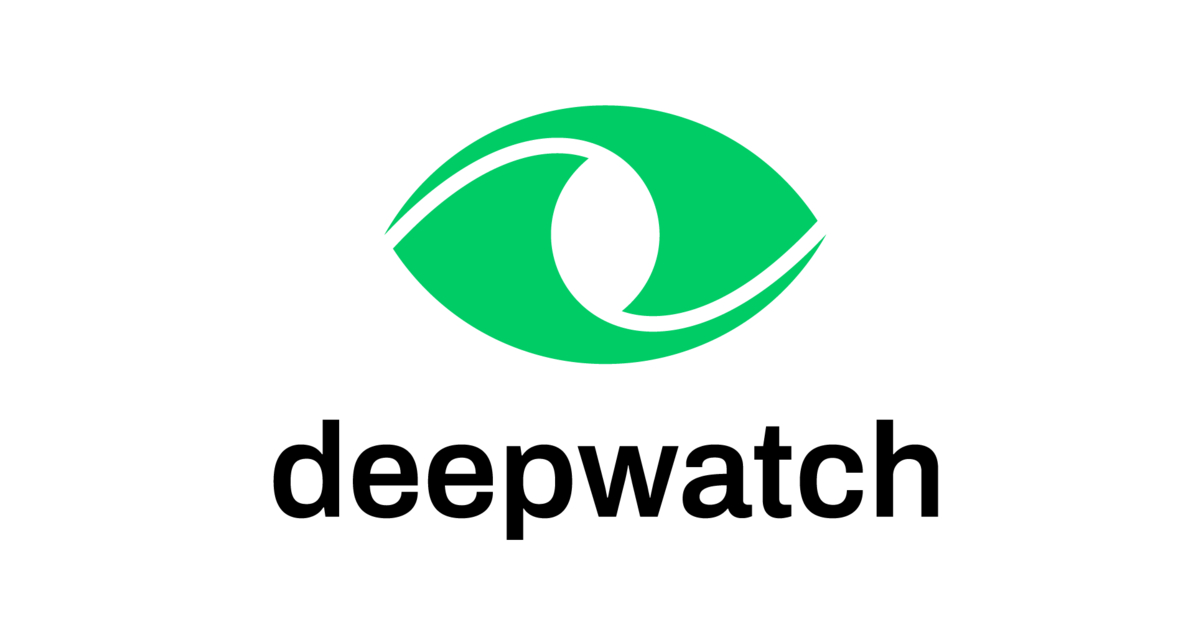 US-based managed detection and response technology developer Deepwatch raised $180m from investors including Splunk Ventures, the corporate venturing arm of software provider Splunk. The corporate was joined in the round by Vista Credit Partners and Springcoast Capital Partners. Deepwatch has developed a managed security platform intended to provide content, tactics, techniques, and procedures to identify issues and improve security maturity.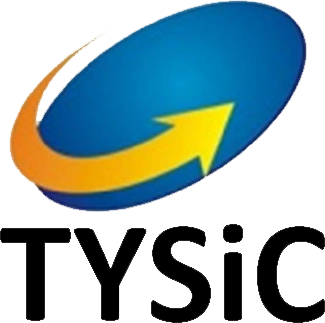 China-based silicon carbide epitaxial wafer producer Tian Yu Semiconductor Energy has received RMB1.2bn ($177m) from investors including copper foil manufacturer Guangdong Jia Yuan Technology. The round also featured China-Belgium Direct Equity Investment Fund, Technology Financial Group, China Merchants Capital and Qianchuang Capital.

Kuwait-based online flower and gift purchasing platform Floward raised $156 series C round, featuring Aljazira Capital, a subsidiary of Bank Al Jazira. The latter led the round, which also included Rainwater Partners and STV. The funds will go for expanding the company´s gifting verticals and artificial intelligence and machine learning to enhance its customer experience. Floward also plans to roll out its mergers and acquisitions strategy.
Exits
GCV Analytics tracked 34 exits involving corporate venturers as either acquirers or exiting investors in February. The transactions included 21 acquisitions, six completed or announced initial public offerings (IPO) and seven other transactions.
The exit count was significantly down from February 2022 figure this year (59) and even lower than the January this year (45). The total estimated exited capital stood at $1.35bn.
The trend in these figures continues to suggest that public and M&A markets are far from buoyant. However, a good chunk of the top ten exits were concentrated in media enterprises.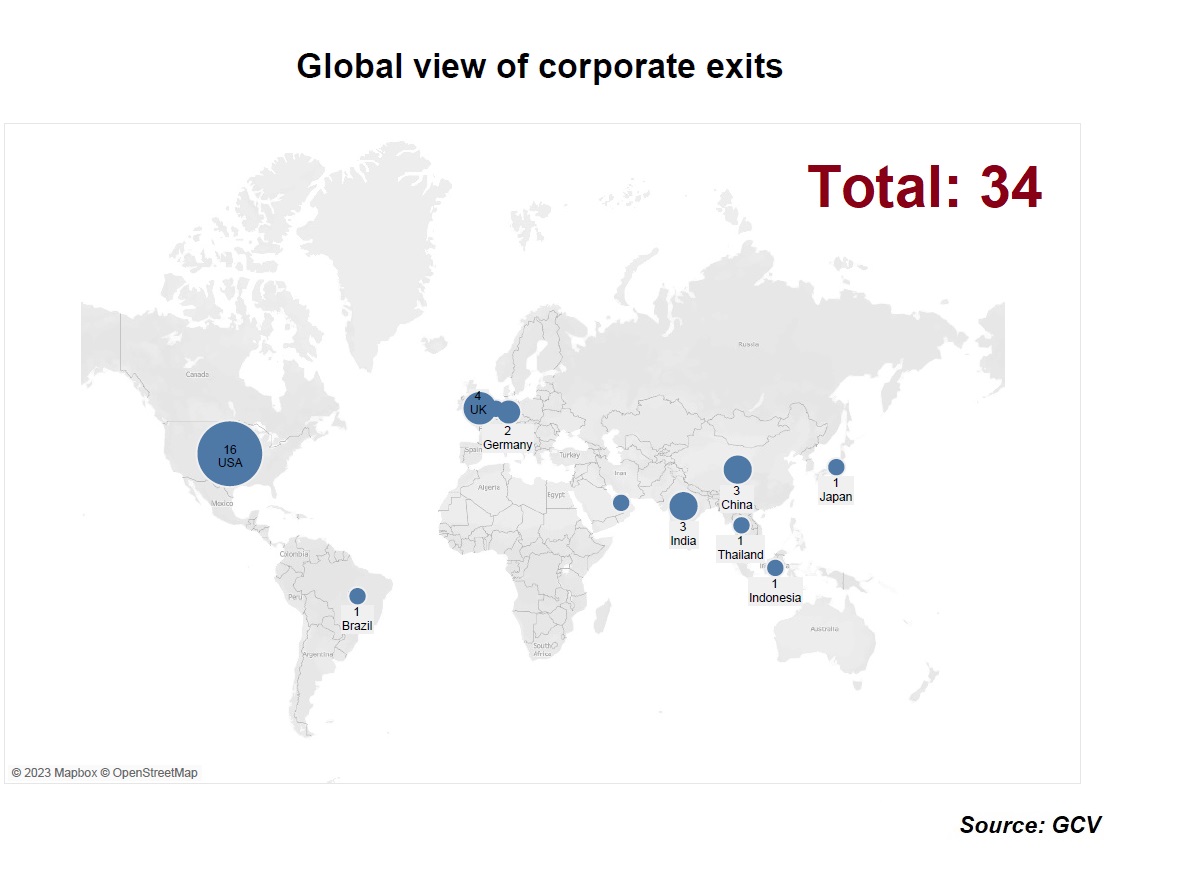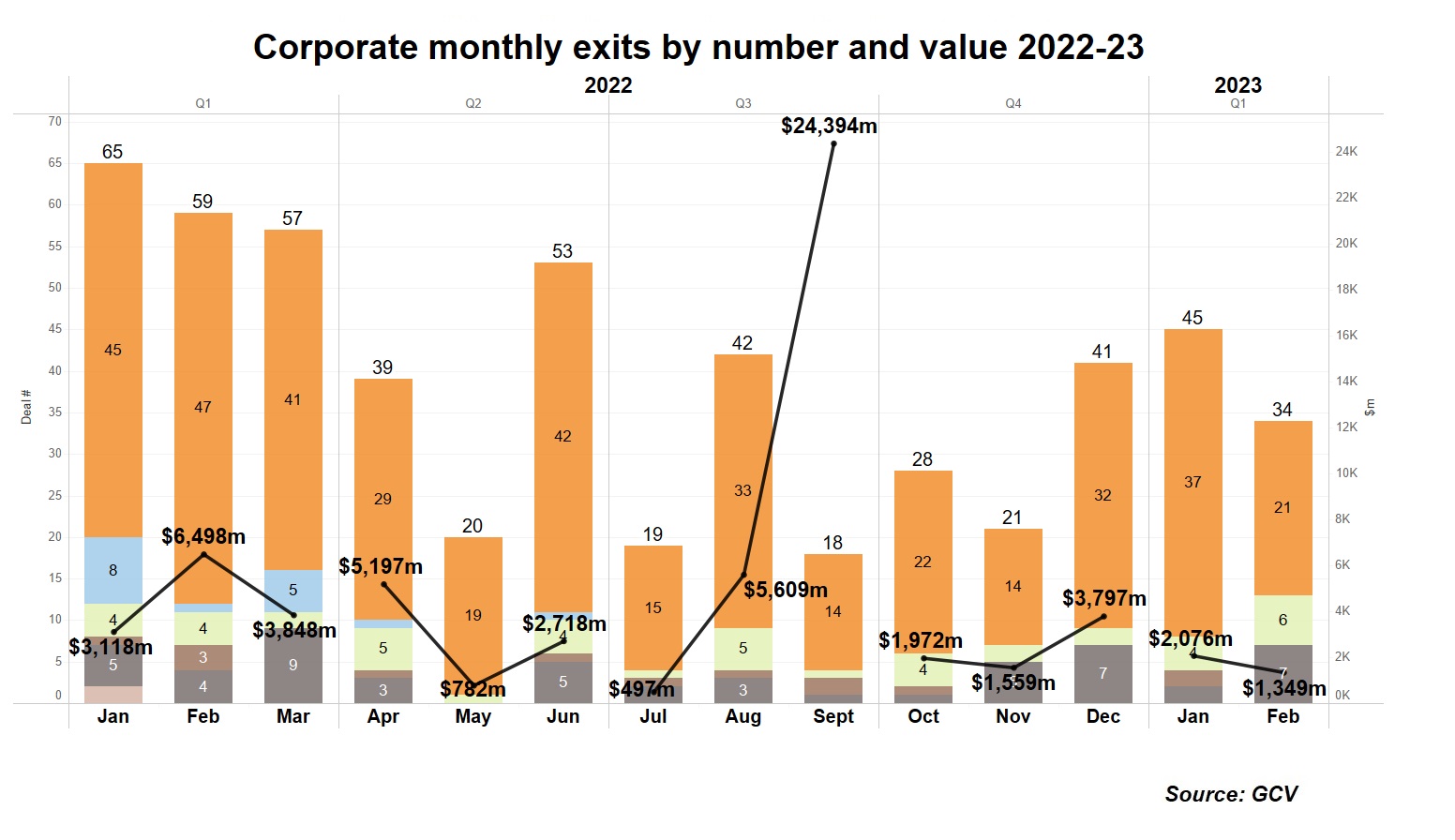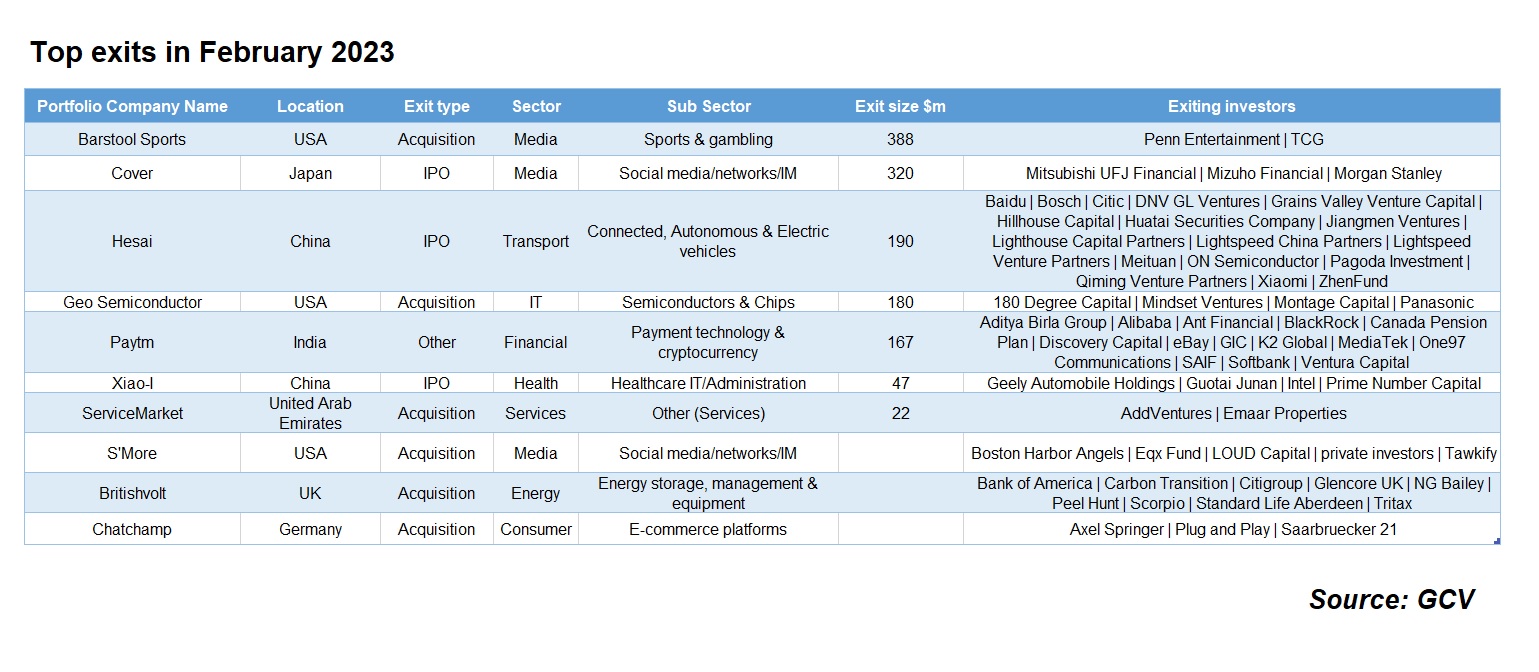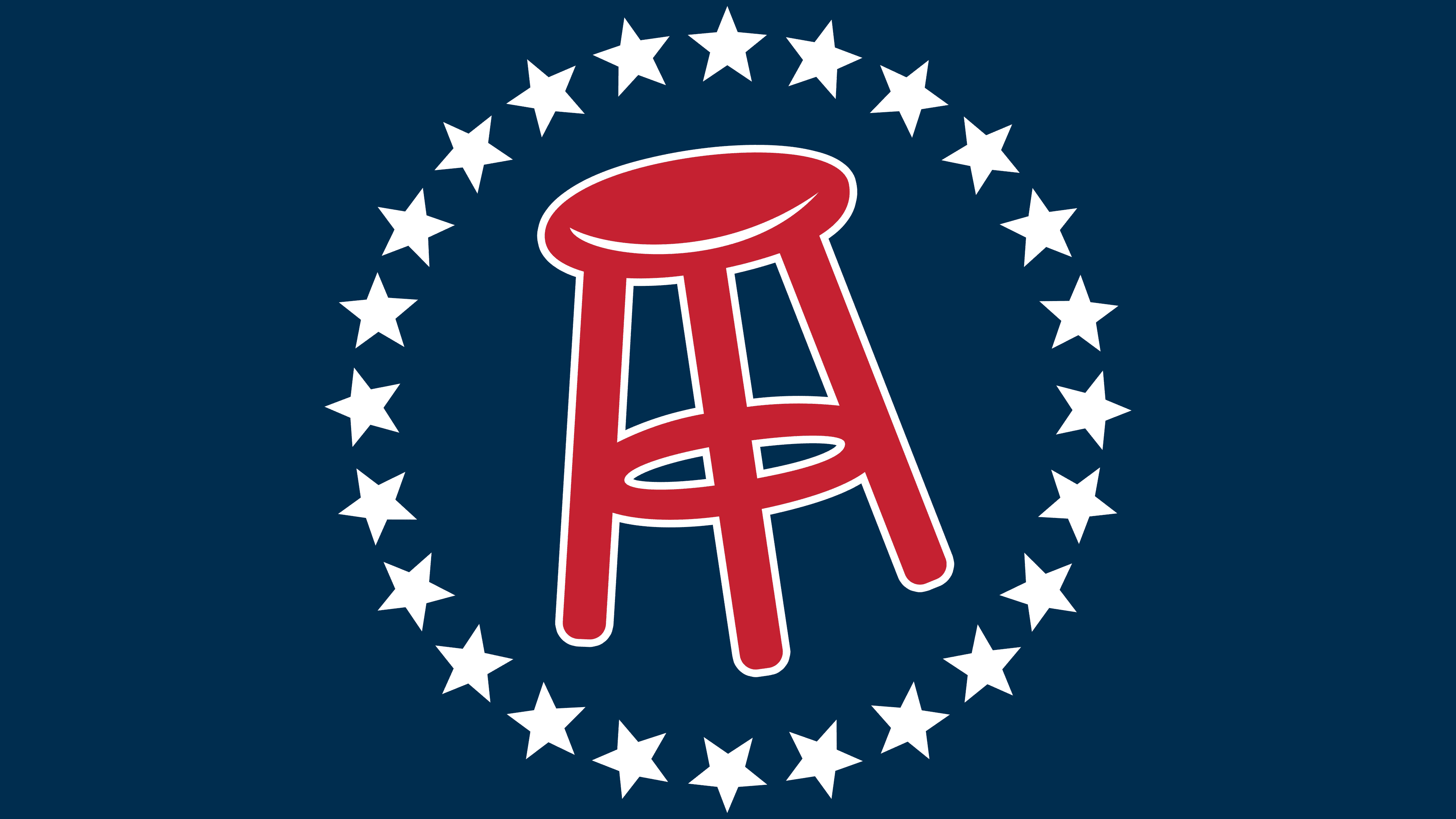 Gambling and gaming group Penn Entertainment paid $388m for the remaining 64% of US-based online sports media platform Barstool Sports it did not own, three years after having investing $163m for a 36% stake. At the time of the 2020 deal, investment adviser The Chernin Group held a 36% stake with the rest of Barstool was owned by its founders and employees. Barstool Sports runs a digital media company that produces content focused on sports, comedy and pop culture.
Japanese two-dimensional entertainment company Cover filed to go public on the Tokyo Stock Exchange. In the offering, the company will aim to sell 1,5 million new shares along with exiting shareholders intending to sell another neartly 11 million shares at an estimated price of ¥710 per share. Cover Corp operates a platform for two-dimensional entertainment. It is engaged in developing businesses to accelerate 2D entertainment, such as distribution system development, VTuber office management and content development.

Hesai Technology, a China-based developer of autonomous vehicle sensor technology, raised $190m in an IPO on the Nasdaq Stock Market. It had received at least $533m in venture funding from backers including corporates Meituan, Xiaomi, ON Semiconductor, Robert Boschand Baidu as of a late 2021 series D round. Hesai is working on 3D sensor-equipped lidar chips designed for use in self-driving vehicles and autonomous robots. It will use the money to begin mass production of its technology.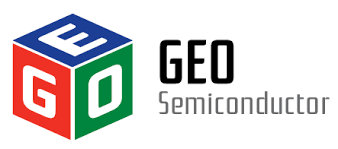 Automotive chipmaker Indie Semiconductor agreed to buy Geo Semiconductor, a US-based fabless semiconductor technology provider backed by electronics producer Panasonic, for about $180m, subject to the terms and conditions. Geo had raised a total of $18m in debt and equity financing before adding an undisclosed sum in 2017. Geo develops programmable camera video processors designed to provide a high-definition view of images and videos.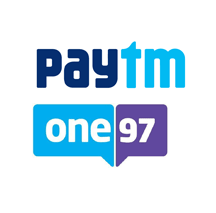 E-commerce firm Alibaba sold its remaining stake in One97 Communications, the India-based owner of digital payment platform Paytm, for $167m according to a stock exchange filing. The shares equate to a stake sized at about 3%. Paytm offers payment, commerce, cloud services and other financial services to 333 million consumers and over 26 million merchants.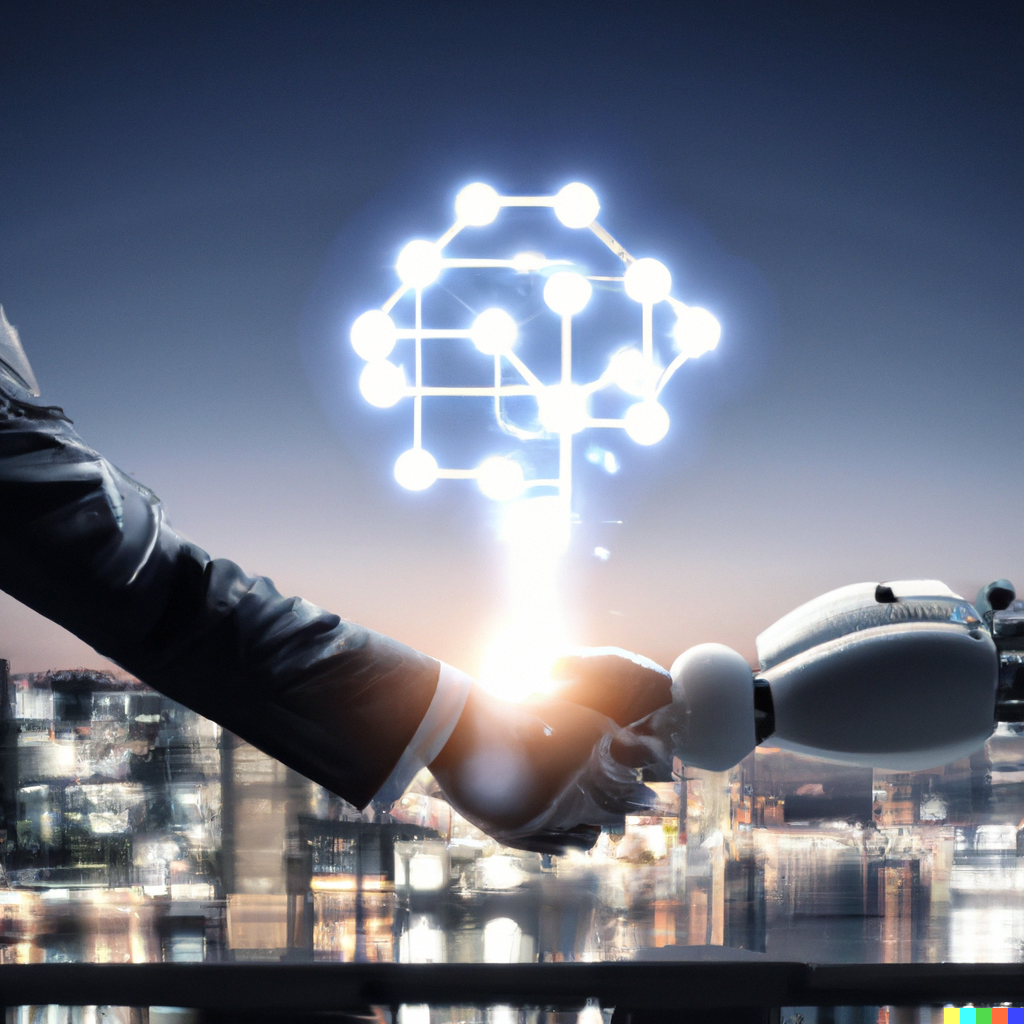 Xiao-I, a China-based conversational AI technology developer backed by chipmaker Intel and automotive manufacturer Geely, set a range of $6.80 to $8.80 for an IPO on the Nasdaq Stock Exchange expected to consist of 6 million American depositary shares. Pricing those shares at the midpoint would raise $46.8m at a market value of roughly $570m.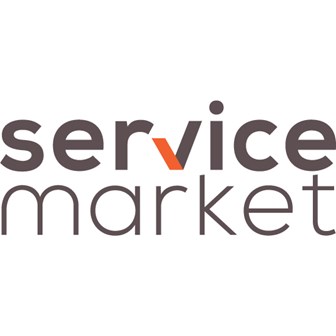 UAE-based marketplace developer ServiceMarket was acquired by Emirates Telecommunications Group Company for AED81m($22m). The acquisition was in line with the group's strategy to empower consumers and strengthen existing marketplace services. ServiceMarket runs an online marketplace platform designed for household and office services.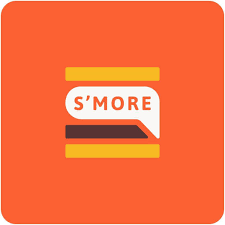 Matchmaking service provider Tawkify acquired its portfolio company S'More, which claims to be an "anti-superficial" dating app. According to TechCrunch, S'More S'More has experimented with blurred profile photos and even blurred video chats to make people to get to know one another without the focus on physical appearance.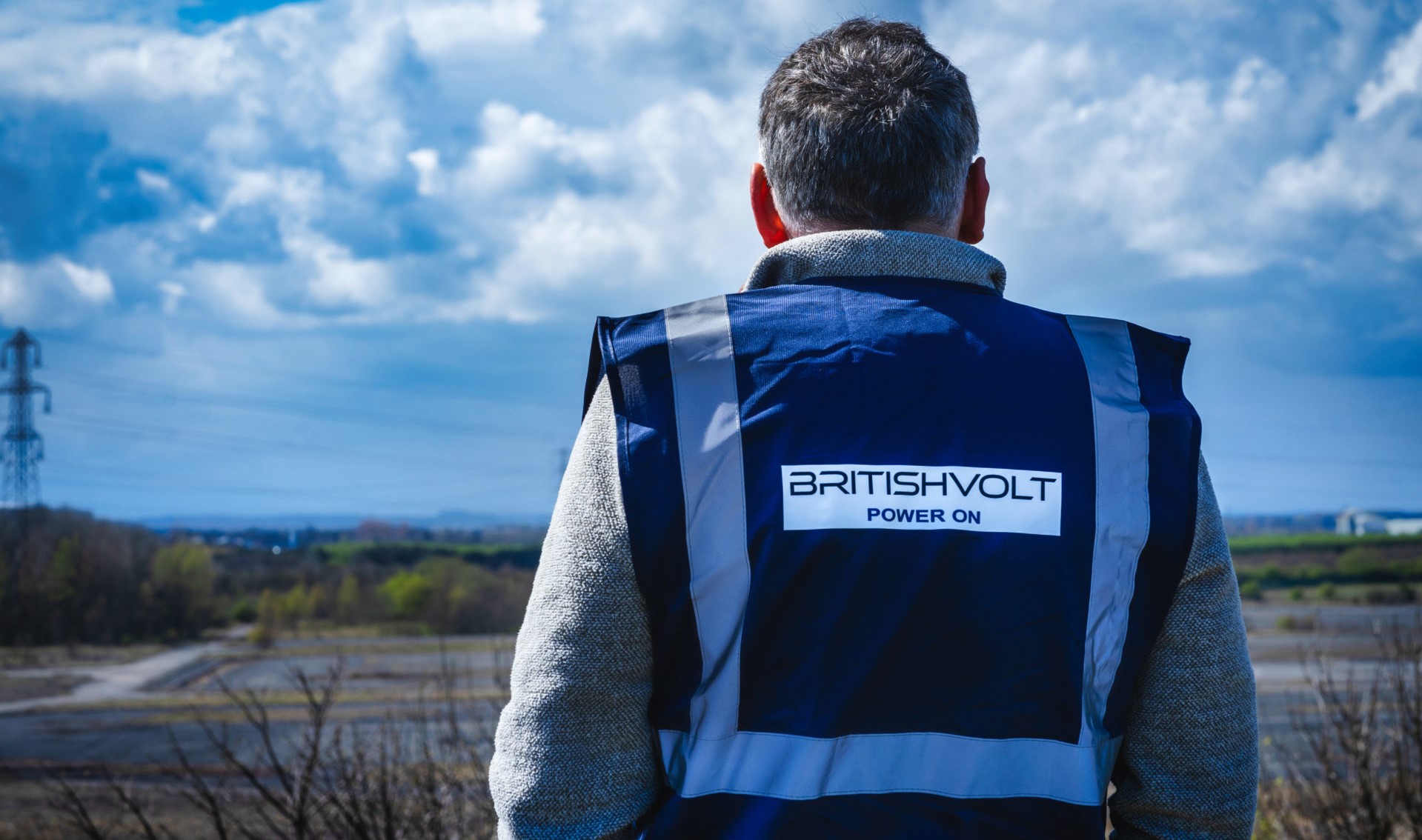 Battery technology developer Recharge Industries acquired Britishvolt, a UK-based automotive battery cell provider backed by commodity trading and mining group Glencoreand shipping firm Scorpio Group, for an undisclosed amount. Glencore had invested $54m in the company in February 2022 before Scorpio added an undisclosed sum three months later. Read Rob Lavine's in-depth take on this deal here.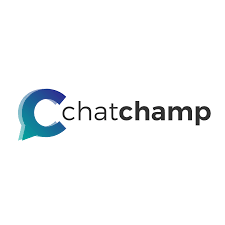 Website personalisation platform Trbo paid an undisclosed sum to buy Germany-based conversational commerce software provider Chatchamp, providing an exit for media group Axel Springer. Chatchamp graduated from the corporate's Axel Springer Plug and Play Accelerator in 2018. The company is developing a marketing chatbot tool designed to manage the messenger marketing processes. The company's tool uses instant messenger as a digital shopping assistant to streamline marketing channels and generate traffic through targeted messages and e-mail campaigns.