A majority of the corporate investors we polled take LP positions in VC funds, in parallel with direct investing. It is a way to widen their scope.
Taking a limited partner (LP) position in a venture capital fund is a common strategy for corporate investors. Years ago, it was commonly used as a way for large corporates to take their first step into venture investing and learn the basics about the startup world — this worked to a greater or lesser extent depending on how helpful the VC chose to be with sharing information with its LPs.
Now corporates have their own investment arms and are increasingly savvy investors in their own right. But many still continue to take LP positions in other funds as a parallel strategy to their own direct investing. In one part of our recent poll, more than two-thirds of respondents said they take LP positions. Of the third who didn't a number told us that they were planning to in the near future.
"We are currently diligencing one now," one respondent told us.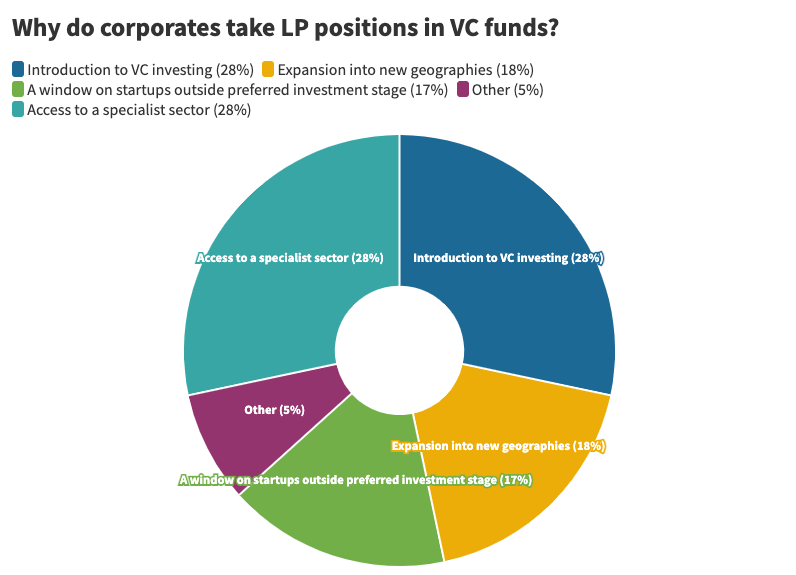 The reasons for taking LP positions were fairly evenly split. Some 28% said they were using it as an introduction to VC investing and another 28% said it was a way to get access to a specific sector — perhaps one that the corporate did not naturally have links to.
Around 18% said it was a way to enter a new geography — taking stakes in funds that focus on Asia, for example, is an easier way to get exposure to that geography than setting up your own team.
The least popular reason was using an LP investment as a window on startups in an investment stage outside of the one the company normally invests in. Many corporates don't invest at seed stage, for example, as it may be hard to develop any commercial tie-ups with such young companies. The series B round has typically been a corporate investing sweet spot. But many corporate investors will want some visibility on promising companies that are at the seed stage and investing in a seed-focused fund is one way to do that.
For some investors the reason was a combination of all of these. Others did it because they faced some constraints in setting up their own units.
"Local regulations as a state-owned enterprise make it difficult to be a direct corporate investor in startups," one respondent told us.
Maija Palmer
Maija Palmer is editor of Global Venturing and puts together the weekly email newsletter (sign up here for free).