The corporate-backed shopping service floated in a $660m offering this week, alongside Klaviyo, RayzeBio and Neumora, but investors may have to pay a price for their IPO exits.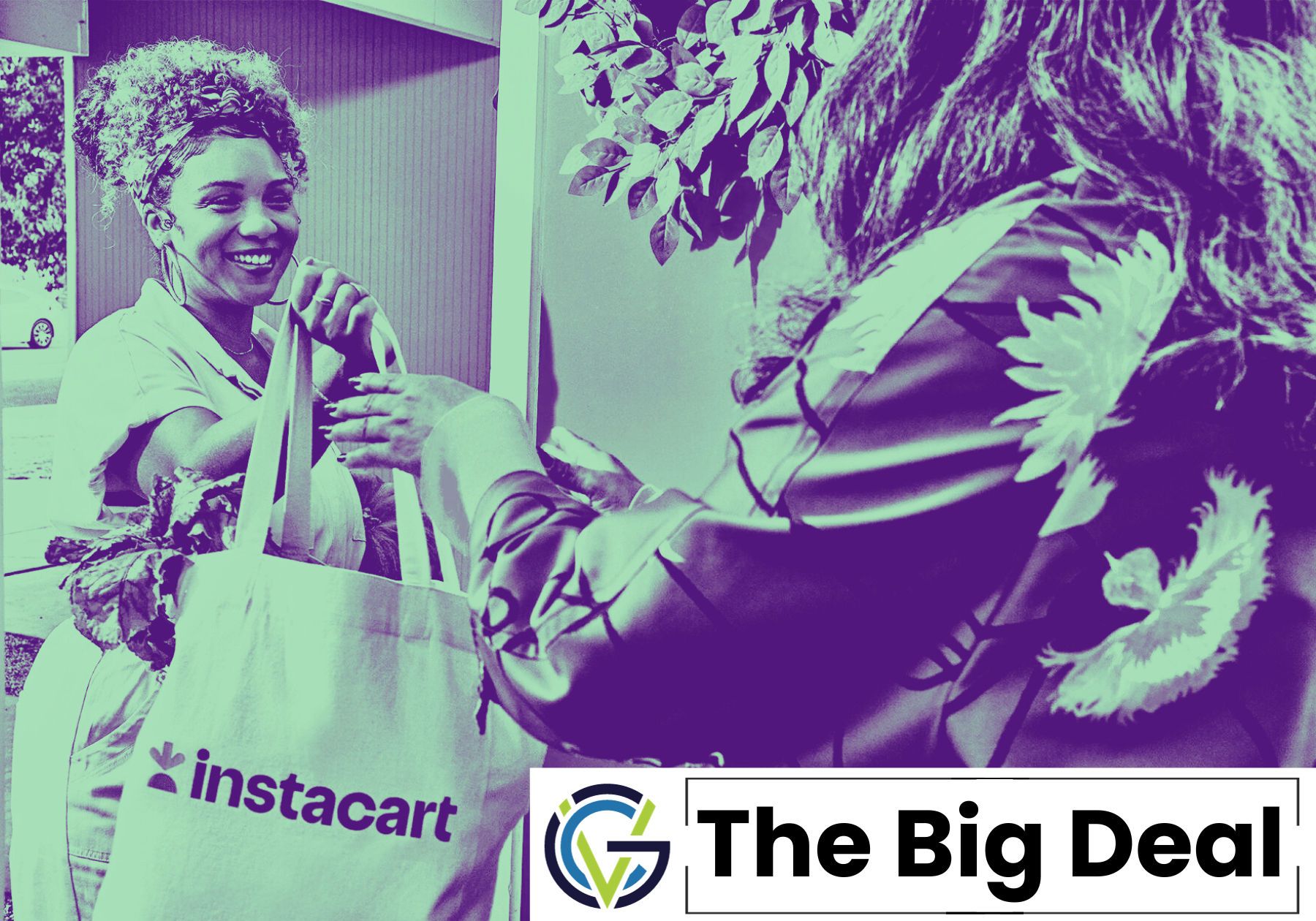 Personalised grocery shopping service Instacart finally went public on Nasdaq this week, raising $660m on Tuesday in an upsized initial public offering as the IPO dam seemed to finally break in the US.
Instacart priced 22 million shares at the top of the offering's $28 to $30 range and saw its share price briefly top $42 before closing at $33.70. Beverage producer PepsiCo bought $175m of shares through a separate public placement, and the long-awaited listing came nearly three years after reports suggested the company was preparing to float.
The IPO was the most visible of several, in a week when Shopify-backed data management platform Klaviyo floated above its range in a $576m offering, radiopharmaceutical company RayzeBio closed an upsized IPO at $358m and Neumora, a neuroscience drug developer that counts SoftBank and Amgen as investors, raised $250m in its own offering.
SoftBank's semiconductor subsidiary, Arm, had kicked off the flurry with a $5.2bn IPO last week, with its shares rising by 25% on their first day of trading. All but Neumora are still trading above their IPO price, and it looks like the long IPO drought may be over in the US, particularly for homegrown companies.
A frothy market for tech listings during the covid boom period began to dip in the second half of 2021. As the prices of public share fell, the market for new listings was essentially shut off by the end of the year (see graph below). The fall was so severe that the activity in recent days has been enough to make this quarter, still less than four weeks old, the biggest for corporate-backed IPOs on US markets for two years.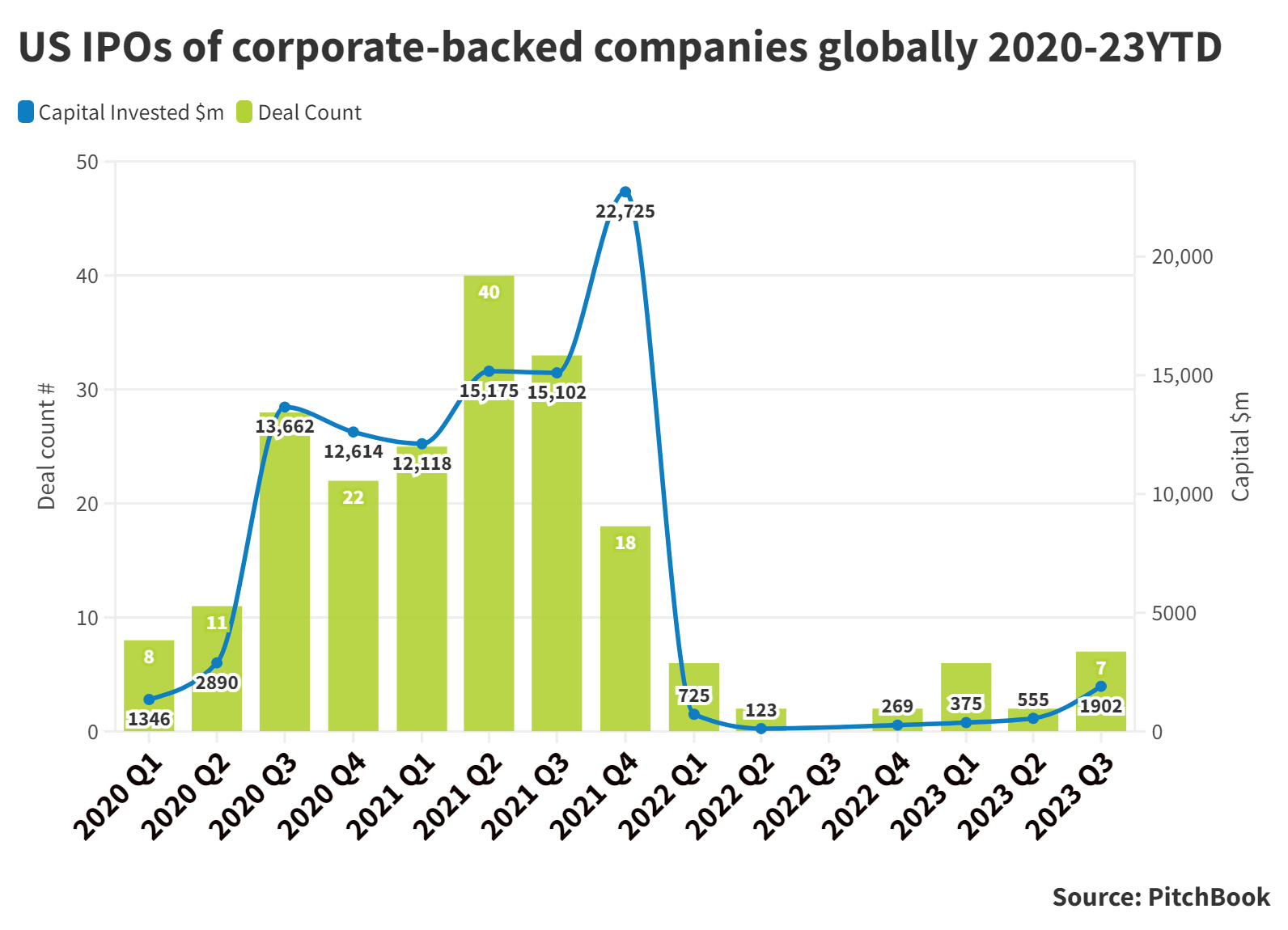 The IPOs represented mixed news for corporate VCs. American Express Ventures is probably the big winner among Instacart's corporate backers, having first invested in its 2014 series B round at a $400m valuation.
Comcast Ventures, Whole Foods and, reportedly, Unilever Ventures got in around the $2bn mark a year or two later, meaning they likely got a solid return, but nothing to write home about given the length of time involved and subsequent dilution.
Shopify invested $100m in Klaviyo last year, buying shares at $33.87 each according to its prospectus, roughly the same as their current price. SoftBank's $60m series A investment in Neumora has given it a slim paper profit while Amgen, which backed the company's $112m series B round last year, is down.
Investors are hoping this activity thaws out the market and clears what has become a considerable backlog of tech companies that failed to float in the boom period. But it comes at a price. Instacart's current market cap is about $8.3bn right now, which is impressive in isolation but far below the $39bn valuation at which it last raised cash, in March 2021.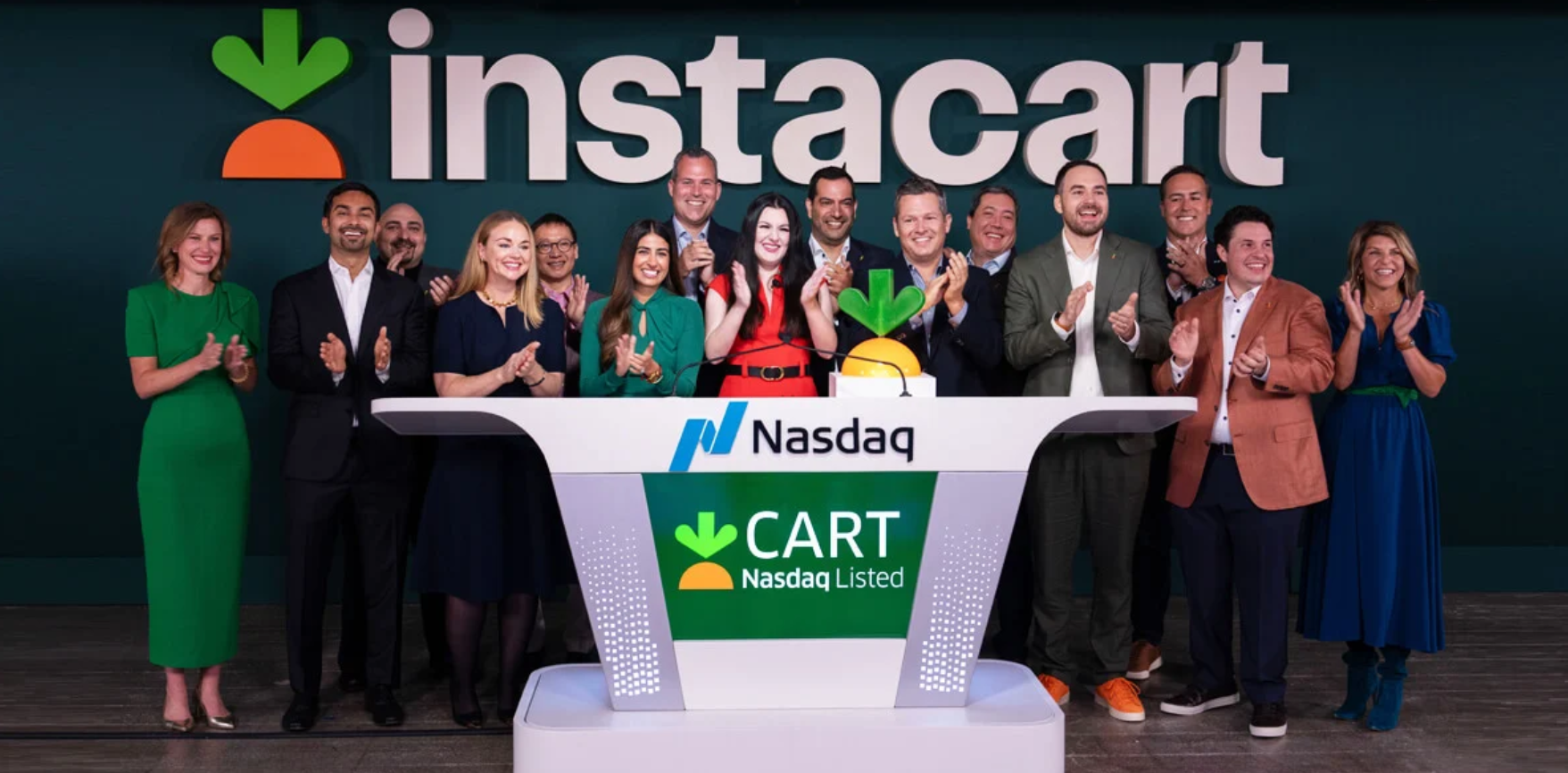 Instacart itself shouldn't be blamed for that – it had to raise money to meet a huge spike in demand for its services due to anti-covid social distancing measures, and the company has since managed to both increase revenue and turn a $242m profit in the first half of this year. But there is a question of whether it can maintain growth without expanding internationally, an inevitably costly endeavour, particularly after grocery delivery services (albeit with different models) have struggled in Europe.
Several CVCs have revealed off the record that they contributed to unpublicised down rounds for portfolio companies in recent months. While a crack in the IPO door could mean less of those are necessary, many investors may have to suffer a paper loss on some of the biggest names in their portfolio in the short to medium term.
Nevertheless, this news is good, and while the valuations of those first-day pops in this round of IPOs haven't been sustained, there has so far been no dramatic fall in valuations that would sound an alarm. The fact this crop includes online consumer services, pharmaceuticals and enterprise software – three of the tech areas that have seen the most late-stage funding over the past three years – is also a good sign.
If the IPO market is now open again, which companies are the likeliest next candidates for a listing? Here's the GCV list of ones to watch:
Klarna
The Swedish buy now, pay later service is one of the most public cautionary tales of the coronavirus era, raising money from investors including SoftBank at a $45bn valuation in mid-2021 that had tumbled to under $7bn little over a year later. But Klarna, also backed by several retail and financial services corporates, recently posted its first profitable month since 2020 on the back of its affiliate marketing activities. CEO Sebastian Siemiatkowski told the FT three weeks ago that the company now meets requirements for a US offering and that he was just waiting for market conditions to improve.
1Password
As artificial intelligence grows in prominence, one of the sectors that is getting a boost is cybersecurity, which is having to ramp up to counter new threats. Identity verification company 1Password's last round was a Salesforce-backed series C in early 2022 valuing it at $6.8bn, and it revealed this week it has passed $250m in annual recurring revenue. When the Canadian company hired Erin Zipes a its first chief legal officer last year, it touted her experience in helping social commerce platform Shopify to the public markets, and it could soon be the right time for it to move.
Reddit
Reddit, the online community once known as The Front Page of the Internet, has 57 million daily active users and was valued at $10bn in its 2021 series F round. The company, which counts Tencent as an investor, actually filed confidentially to go public the same year, and has since ramped up ad revenue considerably. Media reports from February this year predicted a late 2023 IPO, but its biggest issue could be the enmity between CEO Steve Huffman and a famously territorial user base including thousands of unpaid moderators, many of whom loudly protested in June over the decision to effectively ban third-party apps. How easy will it be to hike revenue as a public company without alienating the people who keep your product running?
Discord
Eight-year old Discord was initially built by game developer Hammer & Chisel so gamers could communicate with each other while they play, but has since grown into an online communication platform that incorporates livestreaming and video calls. Its user numbers soared during covid, and it hired its first COO and CFO on the way to 150 million monthly active users today. Sony backed its last round at a $15bn valuation two years ago, but Tencent and WarnerMedia have been investors since the Hammer & Chisel days. The only question would be whether Discord, which relies on a freemium subscription model, can show the revenue necessary for a sizeable IPO.
Databricks
Ali Ghodsi, Databricks' co-founder and chief executive has been asked about a prospective IPO since at least its 2019 series F round, when it was valued at $6.2bn. The data and AI software provider closed a series I last week with backing from Nvidia and Capital One at a valuation topping $43bn, so it isn't in need of ready cash. But it may decide to strike while the AI iron is hot and spend heavily in technology and market expansion. The big winner here would be Microsoft, which first invested in the company at a $3bn valuation.