Corporate investors have backed 60 Brazilian startup funding rounds so far this year, double the number in 2019 — and there is more to come.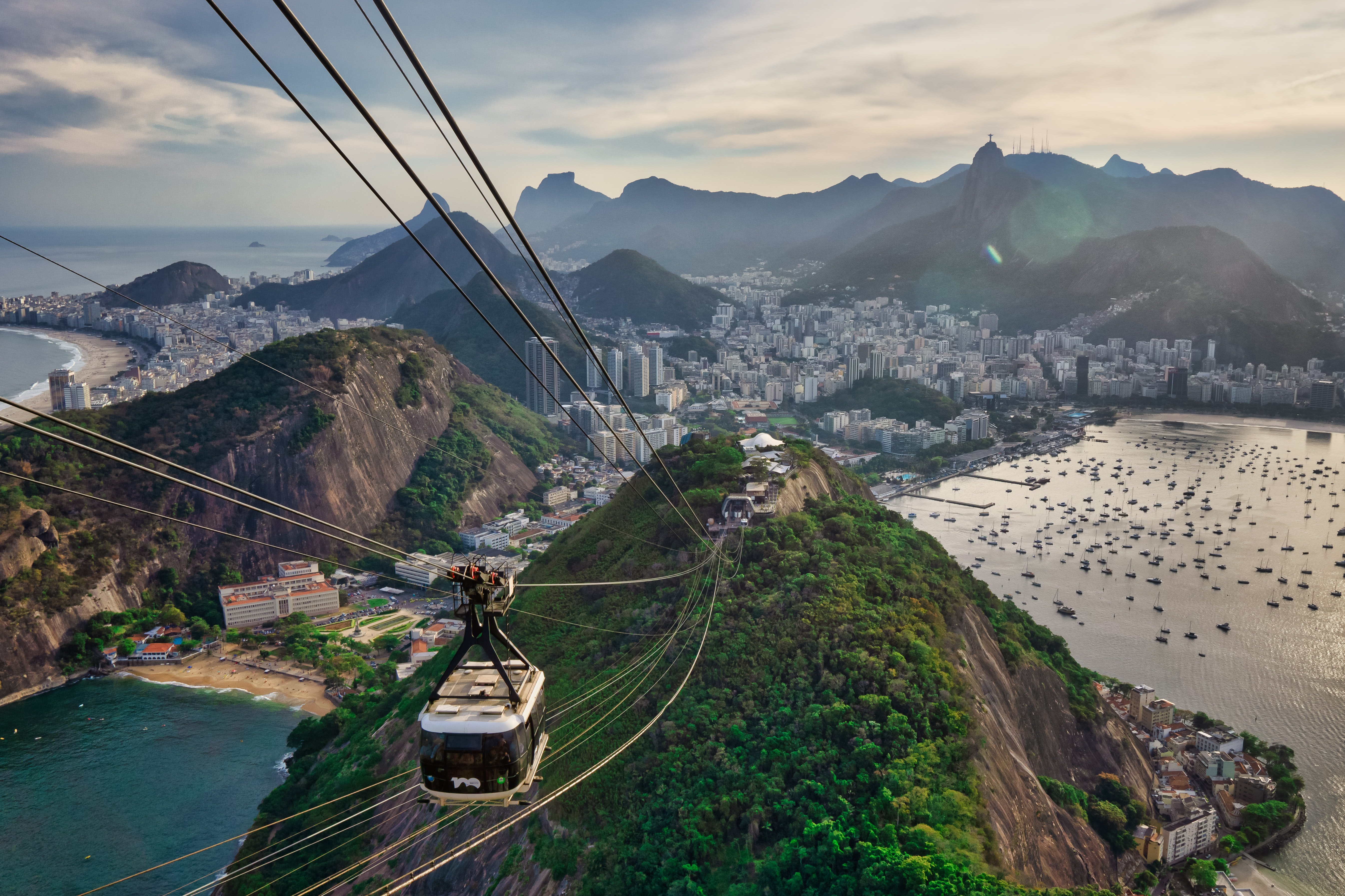 Brazil is Latin America's most developed corporate venturing market and it is growing fast, having seen the number of corporate-backed startup funding rounds doubling since 2019.
But the market is only getting started. This was the overwhelming takeaway as the two-day Corporate Venture in Brasil 2022 event – which Global Corporate Venturing hosted in Sao Paulo alongside ApexBrasil – came to a close last week in sunny Sao Paulo.
As the largest and most populous economy in the region, Brazil has become a focal point for innovation and for external corporate investors looking to take their first step in the region.
International investors are increasing their activity in the country – SoftBank, BASF, Mitsui, Citi, BBVA and Prosus are just a few of the foreign investors to have sought further exposure to Brazil over the past year – and their involvement is expected to rise faster as they acclimatise to the market and hire more local teams. The capital markets are also maturing, potentially paving the way for more exits via initial public offering down the line.
It hasn't been international investors having all the fun. Since the pandemic, new CVCs are popping up across multiple sectors in the country, such as Sinqia's Torq Ventures, Brazilian Telefónica subsidiary Vivo's Vivo Ventures and Braskem's Oxygea. At the same time, a growing crop of local CVC-as-a-Service providers – such as Valetec Capital, Bertha Capital and Ahead Ventures – are giving corporates the chance to invest in startups even if they don't have all the in-house tools to do it themselves.
Despite the accelerating pace of growth, attendees generally agree that Brazil remains a young market that has yet to reach its potential. It is not immune to the M&A-slanted corporate mentality that tends to dominate in the LatAm region, and there needs to be an intensified shift towards a more open innovation mindset.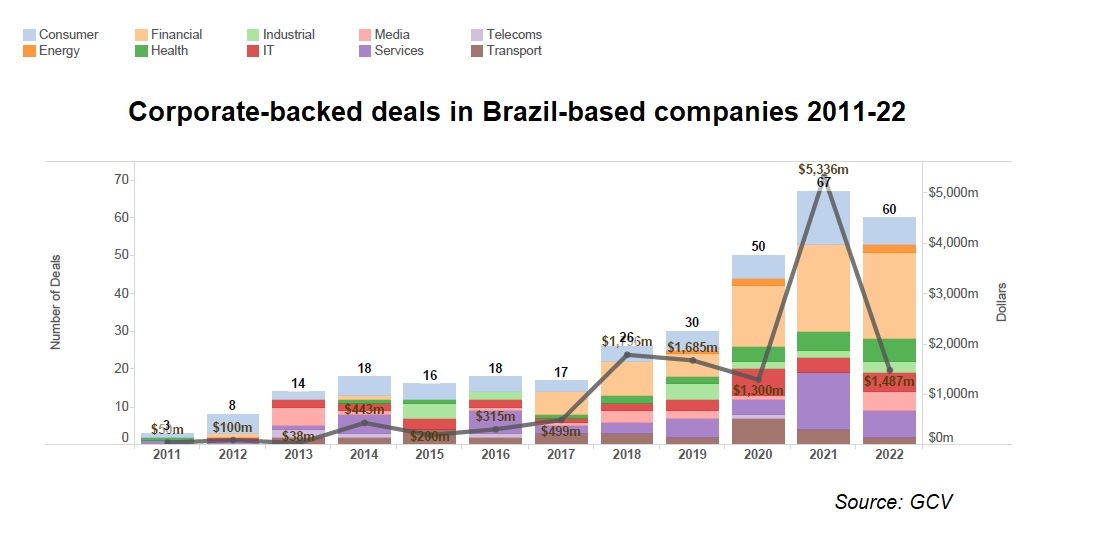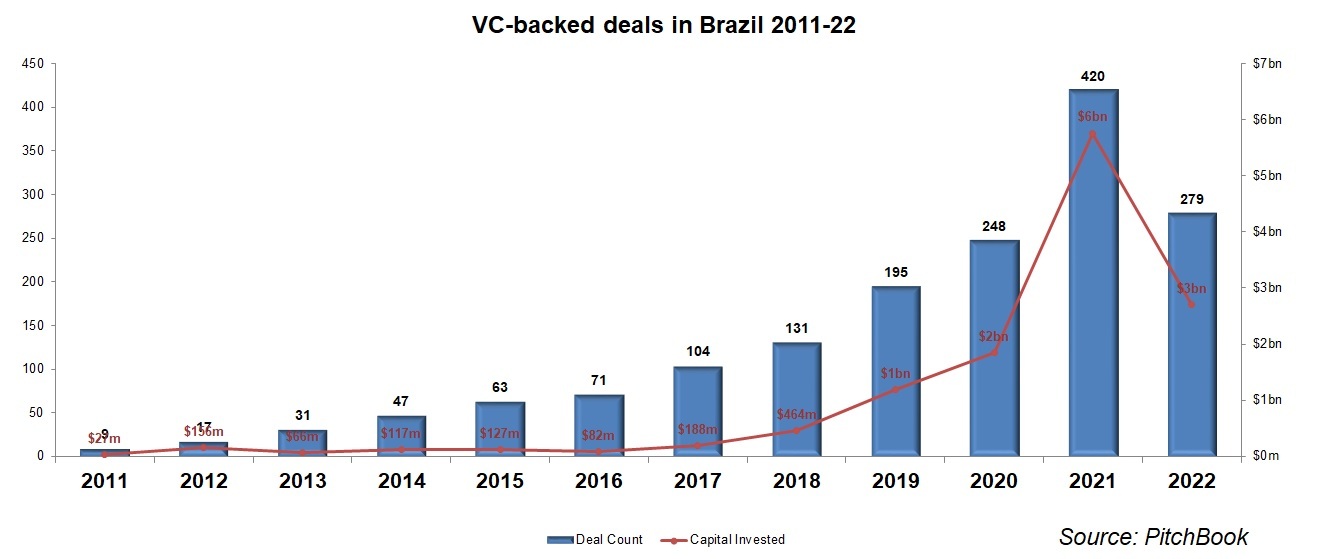 Corporate investment activity is growing fast, however, with GCV data showing 60 deals so far in 2022, compared to 30 in 2019 – double the handshakes in just three years and a significant chunk of the total venture capital deals being struck. Just as investments are on an upward trend line, we are seeing exits starting to trickle in, as well. Btomorrow Ventures, the corporate venture capital arm of British American Tobacco (BAT), made its first exit in the region this year when retailer Lojas Renner bought Uello, an urban logistics services provider whose series A round the CVC had led.
Macroeconomic conditions also have the potential to drive business to Brazil. For a chemical company like BASF, for example, which has for years operated on the basis that its chemicals would be produced in Germany and subsequently shipped off to where they are needed, rising fuel and shipping costs mean that this model may need recalculation in favour of more localised production for international markets. CVCs will have a role in this shift. BASF, which plans to expand its Brazilian investments over the next year and has already started making local hires, is using its CVC unit as a scout to assess the feasibility and strength of an ecosystem like Brazil's.
Awards
GCV, ApexBrasil and ABVCAP presented four local investors with awards that recognised their work between the summers of 2021 and 2022.
Most Active CVC (Number of Deals): CSN Inova Ventures.
With nine deals struck during the relevant time window, the CVC arm of steel producer Companhia Siderúrgica Nacional, has been the most prolific eligible CVC investor in Brazil. Its investments between July 2021 and June 2022 include: Clarke, 1S1, 2DM, Traive, Alínea, H2Pro, Oico and I.system, with a ninth deal currently under non-disclosure in the healthcare sector.
Largest Exit: Banco BV.
Banco BV cashed in its investment in digital money transfer app Usend in early 2022 when the company was acquired by Inter. The total value of the deal remains undisclosed, but the deal represents a multiple of 3.1x and a gross IRR of 207%.
Largest Investment: DX Ventures – Dexco
The corporate venture capital arm of engineered wood producer Dexco led a BRL 103m round for engineered wood producer Urbem in late 2021. It was the first investment DX Ventures made since its launch and gave it a 24% equity stake in the company. It also marked a triumph for the CVC-as-a-Service model, as DX Ventures is managed under the auspices of Valetec Capital.
Largest Fundraising Announcement: L4 Venture Builder – B3 S.A.
With the announcement in April this year of a new BRL 600m fund called L4 Venture Builder, Brazil's stock exchange operator, B3, carried out what was by far the largest fundraising initiative in Brazil in the past year. L4 Venture Builder is looking to invest the money over the next five years across areas such as decarbonisation, energy, fintech, decentralised finance and crowdfunding.