Souring trade relations between the US and China are forcing global corporations to shift their investment focus.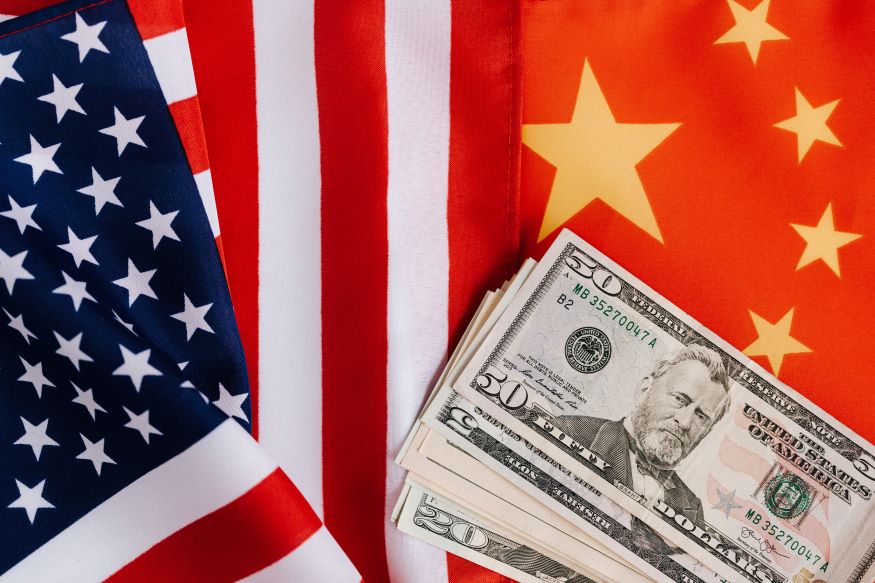 The era of global investing is coming to an end as trade relations between the US and China worsen, having broad implications for global corporate venturers who invest in both countries.
US corporate venture capital investors backed just 48 China-based startup financings in 2022, a 48% decrease from 2021, according to GCV data.
Global corporate investors, meanwhile, are caught in the crosshairs of the souring relations between the US and China as they face increased scrutiny of their investments. Any technology that US authorities deem as having an impact on national security can extra layers of investigation. These include investments in semiconductors, artificial intelligence, cybersecurity and biotechnology. The US's focus on reshoring a lot of its high-tech manufacturing is also influencing its decisions to restrict Chinese investments.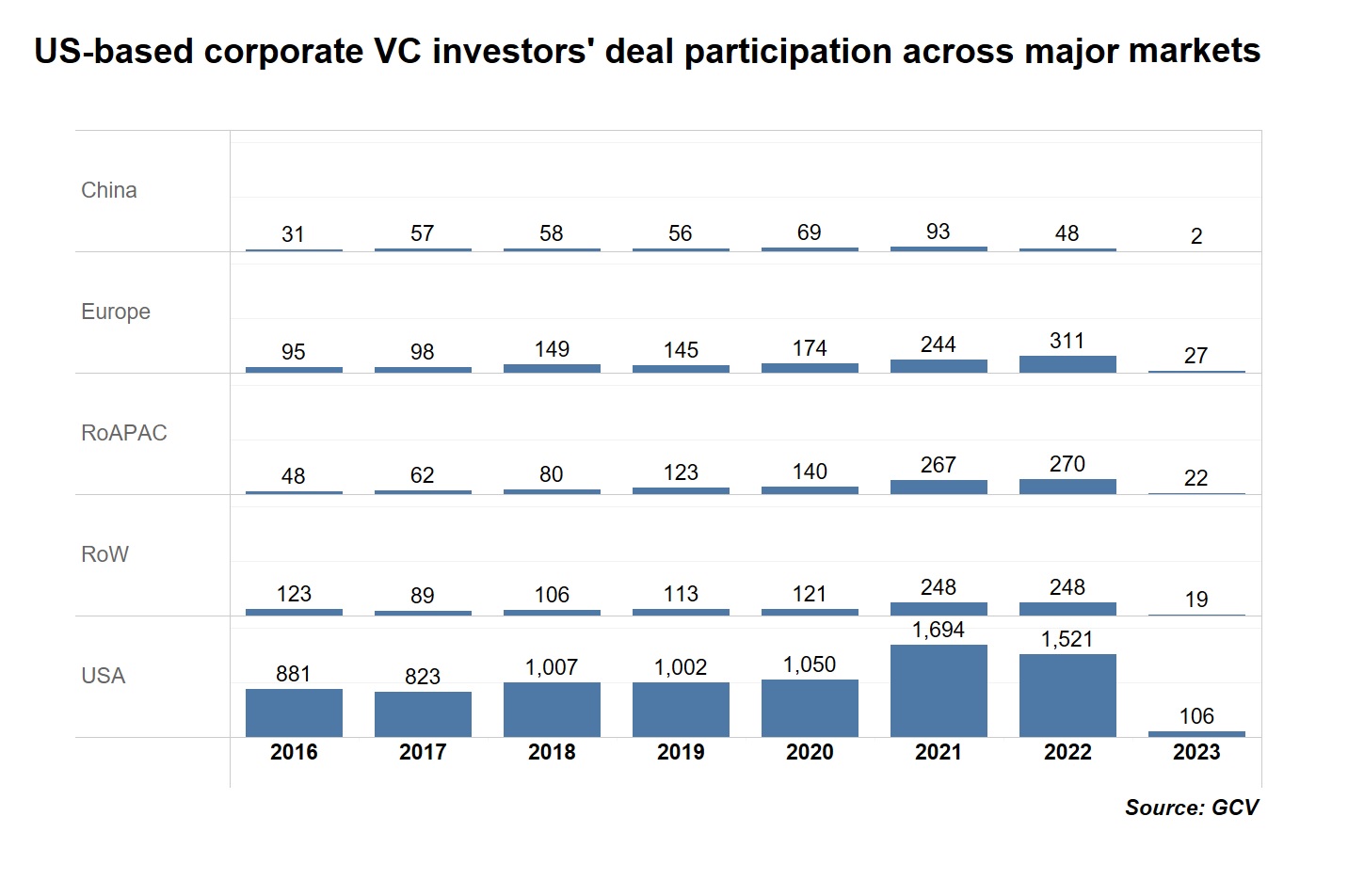 US investors say they are pulling back from investing in Chinese startups as a result of the tensions. And non-US investors say investments in US startups are becoming harder to make because of increased scrutiny from the Committee on Foreign Investment in the United States (CFIUS), a government body that vets foreign investments in US businesses.
CFIUS has operated for decades but it wasn't until the past couple of years that it strengthened regulation and increased scrutiny and enforcement of foreign investments in technology sectors. This has had a big impact on reducing Chinese investor's ability to access US technology. It is also making it more difficult for non-Chinese investors that are not exempt from CFIUS review to make US investments.
A sign of the increased scrutiny faced by investors is the move by US-based venture capital firm Sequoia Capital to consult independent US national security experts to vet some of its China division's potential investments, according to the Wall Street Journal.
The semiconductor sector has become under particular scrutiny as the US tries to wean its dependence on chips made in China. Most semiconductors today are made in Taiwan. The US commerce department recently passed new rules that require US chipmakers to agree not to expand capacity in China in order to receive money from a fund aimed at growing a domestic market chip manufacturing. The $39bn fund is part of the US's CHIPS and Science Act signed into law in 2022.
European countries head in same direction
It is not just the US that has become more hostile to investments in China. In January this year the UK introduced a new foreign investment review regime under its National Security and Investment Act. The new rules require businesses and investors to submit mandatory notifications of investments in and acquisitions of companies in 17 areas of the economy.
Corporate investors that invest in both the US, Europe and China are in a particularly tricky position as they navigate the decoupling between eastern and western economies.
Making US investments in sensitive areas such as artificial intelligence is becoming more difficult, says one corporate investor. His venture fund has to consider avoiding those investments altogether, or taking a passive investment, which can mean foregoing information rights, voting rights and board seats.
It is a difficult choice for the investor because the fund typically wants to have those rights when it invests. "We usually like to have those, so we have to think hard about whether we want to do those kinds of investments," he says.
There is an alternative process to submit proposals for CFIUS review, where the committee comes back with a view on proposed investment in 45 days.  But it is not an ideal option as this delay can dissuade startups that are raising money in a short timeframe.
The slowdown in US investments in Chinese companies is not matched by a decline in the number of Chinese investments in US startups, despite the extra scrutiny from US authorities. GCV data show practically the same number of deals in US-based startups featuring Chinese investors in 2022 as in 2021, as shown on the following chart. The same is true also for Europe. But this is likely because most Chinese corporates are focused predominantly on their domestic innovation scene.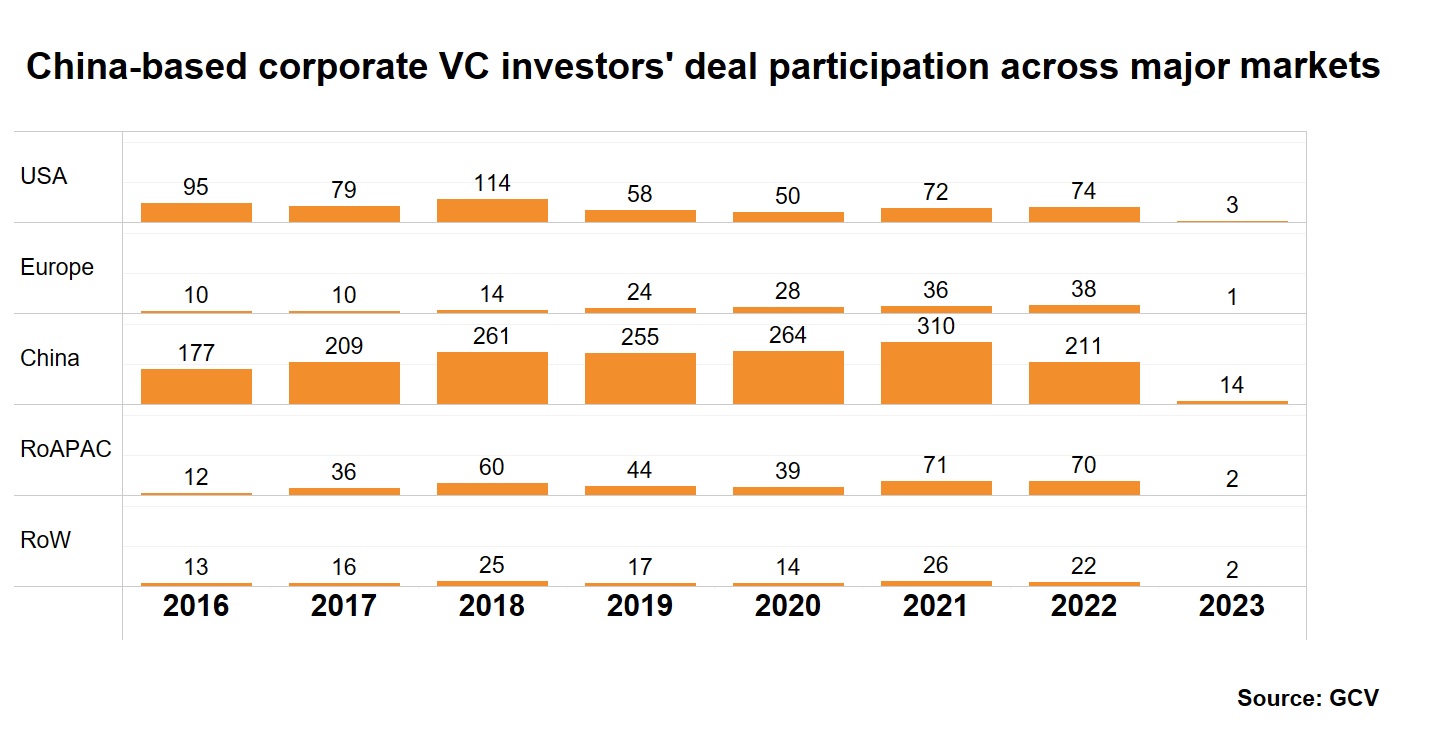 The US pullback from investing in China is opening up opportunities for non-US investors who are still willing to invest in the country. "China is hungry for foreign investment and its tech sector is welcoming of it still," says the investor. But, he adds, Chinese companies who previously would have done business in their domestic market and the US are now increasingly faced with the decision of becoming either a US company focused on the US market, or a Chinese company doing business solely in Asia. It is harder to have a footprint in both markets nowadays.
Ultimately, the shift away from a globalised economy complicates the landscape for global investors and could potentially lead them on a path to a more localised investment strategy.