We are offering a small excerpt from our latest quarterly report on corporate venturing in the oil and gas space.
Since the beginning of the pandemic, there has been quite a tumult and then a turnaround in the oil and gas industry, or at least in the prices of the underlying commodities that dictate its development.
The year 2020 will go down in history as a rather eventful one for the black gold. By the end of the third quarter of 2021, oil prices stood at above $70 per barrel (WTI) and $80 per barrel (Brent). However, they had been highly volatile during the pandemic. In April 2020, when the covid-19 pandemic reached the Western world and stay-at-home orders were imposed, pressures on both the demand and supply side had made the oil price go down to lower than $20 per barrel, down from a range between $50-$60 in the immediately preceding months. WTI futures even entered negative territory in April, which made for memorable headlines, though the latter was admittedly due to a technicality related to the physical delivery settlement of such contracts. Since then, oil prices have moved considerably up and appear likely to sustain their upward momentum in the short run, given the overall supply situation.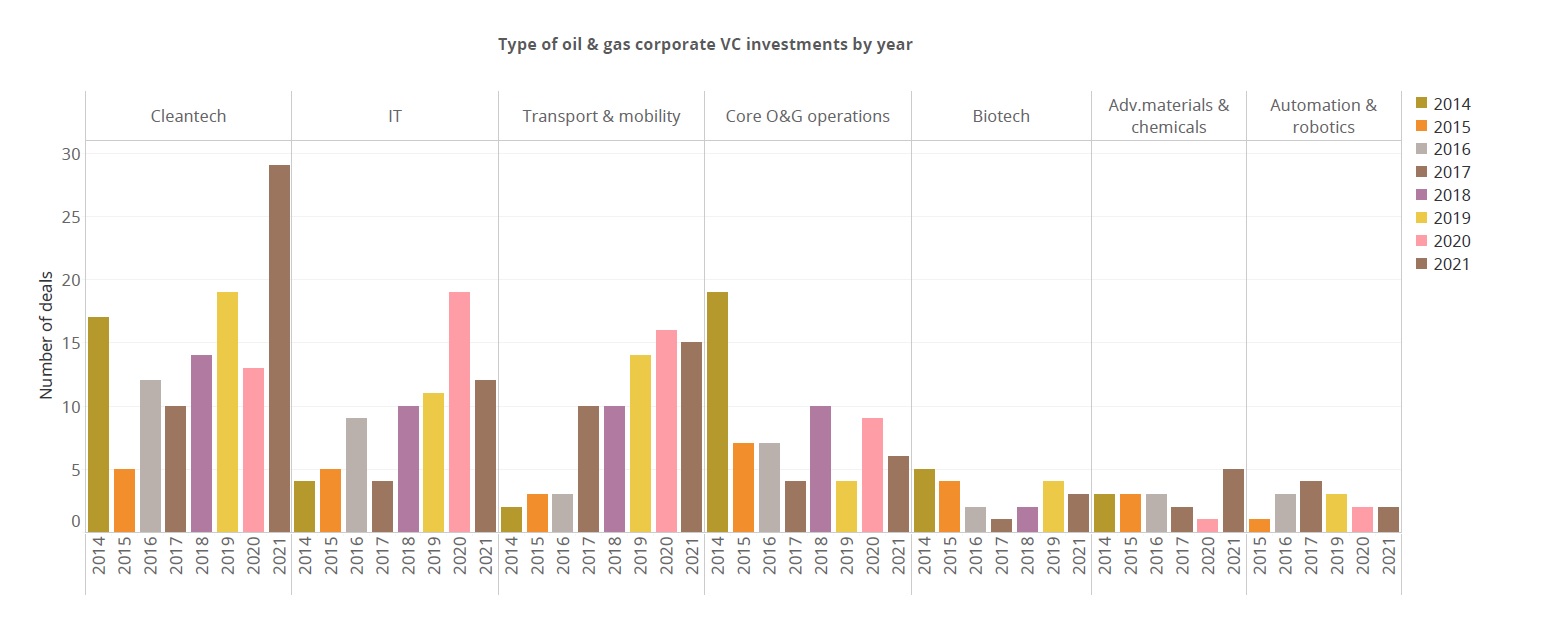 During the third quarter of 2021, cleantech, transport and IT startups received more attention than other areas. The average size of deals for 2021, in which oil and gas corporate venturing peers participated stood at $51.72m, moving significantly upwards with respect to figures observed in previous years. In total, we tracked a record 118 deals by the peer group conducted over the first nine months of this year, which were worth an estimated $9.67bn – figures clearly surpassing the totals from any previous year. This surge of investment activity and total estimated dollars clearly indicates a surge in valuations – a phenomenon seen almost universally across different domains of innovation and venture capital at the moment.