Transformative Innovation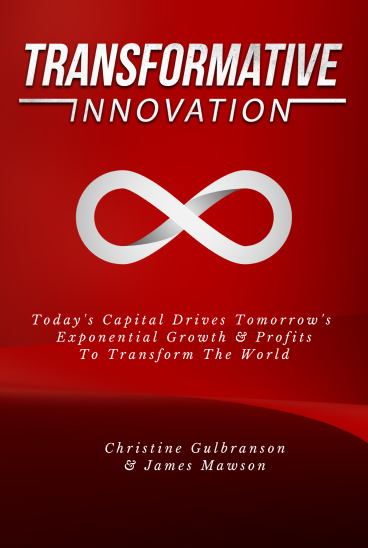 Understanding how to use innovation to transform your prospects as an individual, start-up, corporation, and society lies at the heart of modern competitiveness. Innovation to transform business, society, and people's lives not only seems to be speeding up, it's getting quicker. As ideas build off each other and more capital is invested in these ideas, so the rate of change increases.
There are ways to use professional approaches to capital investing to harness and transform how corporations buy, invest, and partner with third parties as well as build and accelerate internal innovation efforts.
A look at the corporations in the Fortune 100 list of top companies by market capitalization found nearly half had left the list by 2020's ranking compared to 2000's. Most of those dropping out of the ranking had failed to set up or run a corporate venturing unit as part of their innovation strategies.
But while attention is drawn to the losers in this race for customers and resources, there is much to learn from the victors, too. The incumbents who stayed in the Fortune 100 usually seemed to use the techniques of venture capital to tap into the smart ideas and opportunities being created outside their corporate walls.
Christine Gulbranson and James Mawson have been on the front lines of these changes with investors, top-level start-ups, and research for more than two decades and in this book, they define the secrets to innovation and explain how to:
● decide how to set your aims and strategies
● develop an ecosystem for innovation
● use transformational start-ups
● build a team to achieve the goals
● harness tactical factors
Visit the Transformative Innovation website or purchase the book on Amazon.
Corporate Venturing: A Survival Guide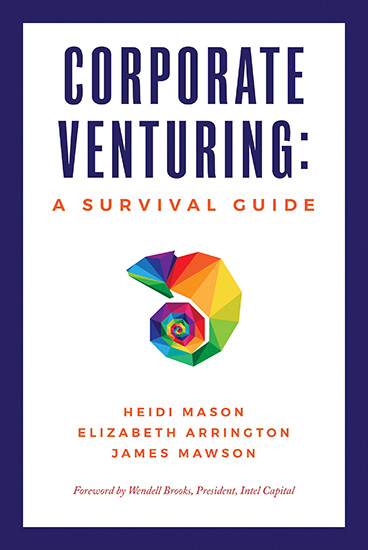 A lean, practical guide to developing high-performance Corporate Venturing (CV) programs. A compilation of 'straight-talk' rules around what matters most, why & when, with profiles of leading CV programs that demonstrate real impact and staying power.
Corporate venturing has never mattered more. CV has earned a position of respect among portfolio companies and partners for the value it delivers; and CV leaders have a 'seat at the table' in setting corporate strategy, joining the handful of the highest-level executives who determine the company's present and future course…
But this is what hasn't changed – corporate venturing is incredibly hard to do well, and in a way that lasts. Even when high performing teams closely follow the best practices derived from other programs' models and professionals' experiences, and impeccably execute everything required for program and team development, they are often impeded – even stopped dead in their tracks – by unpredictable events and decisions totally independent of their programs and outside of their control. The authors bring to bear decades of pioneering experience to create a 'shorthand' guide for CV professionals and parent company management as they craft and scale meaningful CV programs. It also provides valuable insight for the startup teams, as well as the many investment and business partners with which CV programs connect.
Visit the Corporate Venturing: A Survival Guide website or purchase the book on Amazon.
Events
Webinar: Functional Foods - Investors are hungry for more
Events
GCV Executive Leadership Forum 2023
Oct 12, 2023
New York, NY (USA)
Events
Corporate Venture in Brasil 2023 – International Delegation to Brazil
Oct 23 -
Oct 25, 2023
São Paulo (Brazil)
Events
GCV Asia 2023 - International Delegation to Japan & South Korea
Nov 6 -
Nov 10, 2023
Tokyo (Japan) & Seoul (South Korea)
Events
GCV Connect: Germany 2023
Nov 29, 2023
Munich (Germany)
Events
GCVI Summit 2024
Mar 12 -
Mar 14, 2024
Monterey, CA (USA)
Events
GCV Symposium 2024
Jun 24 -
Jun 26, 2024
London (UK)