Tencent offers dividend to shareholders through $16.4bn sale of JD.com holding
Take probably the best venture capital exit you can think of, such as say Meta (then known as Facebook's) $22bn acquisition of social messaging application WhatsApp in 2014. It was also a big win for Sequoia Capital, the company's only venture investor, which turned its $60m investment into a reported $3bn.
Then multiply it. China-based gaming and internet group Tencent said it would pay a $16.4bn dividend in the stock of China's second-biggest ecommerce group, JD.com, of which it is the largest shareholder.
This comes seven years after Tencent paid $214.7m in cash and transferred its e-commerce businesses QQ Wanggou and Paipai and a minority stake in Yixun to JD.com. Tencent took a 15% stake in JD.com at that time and also agreed to buy a further 5% at its May 2014 flotation on the Nasdaq stock exchange.
More importantly, JD formed a strategic partnership with Tencent, giving JD exclusive access to Tencent's WeChat and Mobile QQ platforms, which then had more than 200 million users and now have 1.2 billion.
But whereas Sequoia has set up a master fund structure to try and hold its assets longer, especially after they list, Tencent is being forced in the other direction.
As the Financial Times notes: "The Chinese government is forcing Chinese tech groups to retract the financial tentacles that tie them together to the detriment of consumers — and state power."
The HK$127bn ($16.4bn) transfer cuts down Tencent's stake in JD from 17% to 2%, leaving Walmart as JD's largest investor. US-listed retailer Walmart acquired 5% of JD.com in June 2016 and agreed a strategic partnership.
More transfers could follow.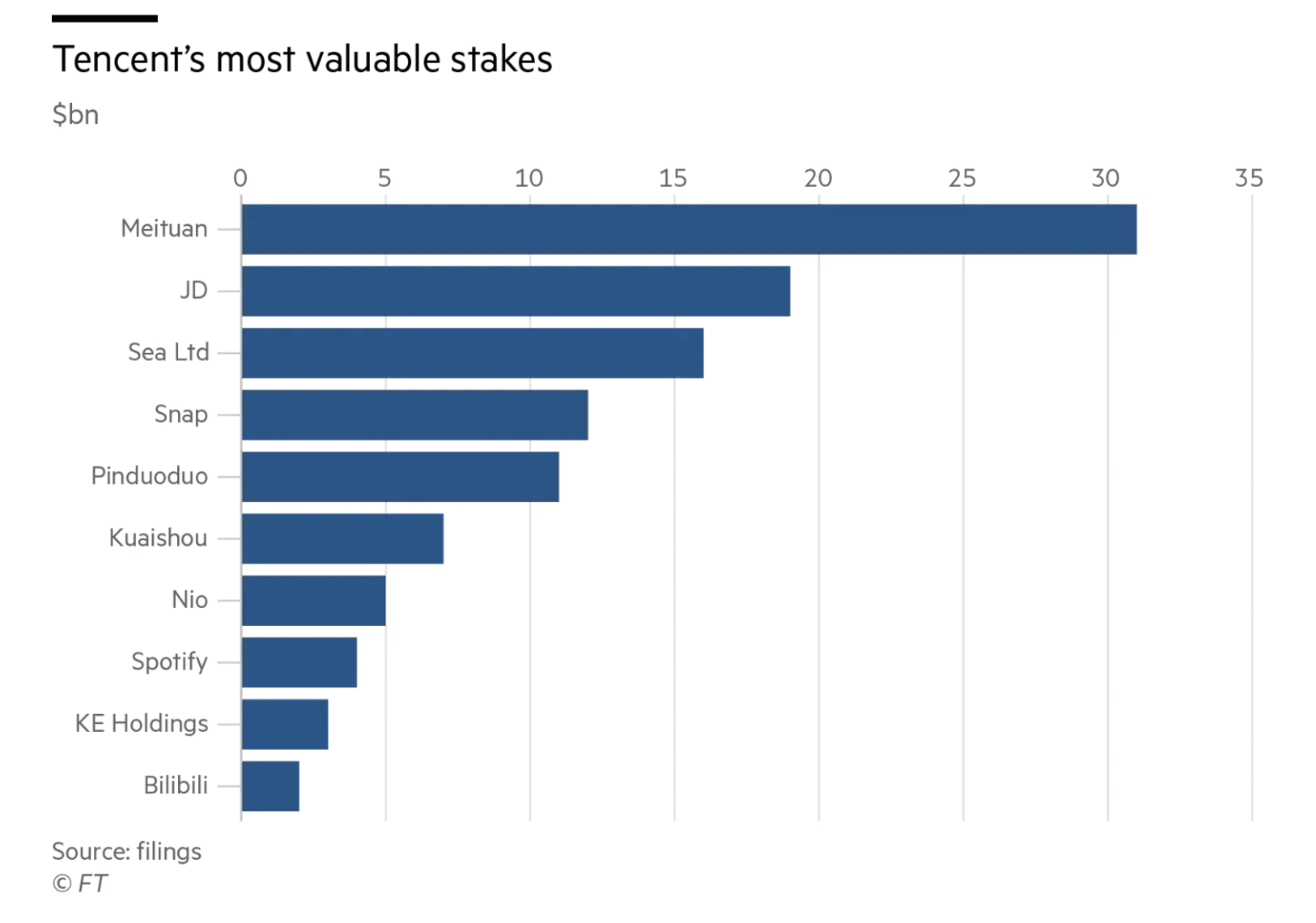 The FT added: "Over the past decade Tencent has been one of the country's most active investors, nurturing hundreds of tech startups and slowly accruing a publicly traded investment portfolio valued at Rmb1.2tn ($190bn) as of September 30, equalling roughly one-third of its total market value….
"Tencent shares rose 4% following the dividend announcement. They are down a fifth this year. It will remain a risky investment so long as Beijing's break-up of big Chinese tech groups continues."