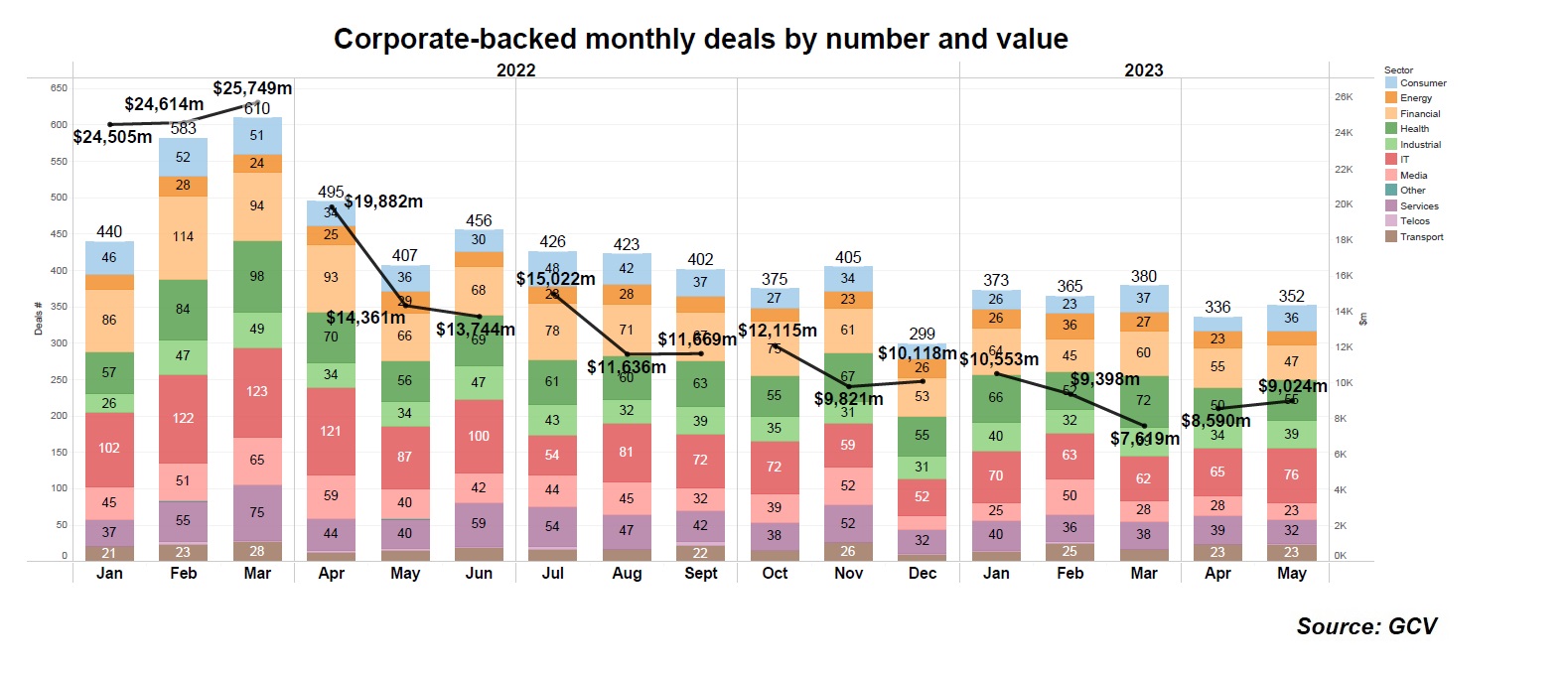 ---
Highlights:
No further big drops in investment levels in 2023
The US, China and India have seen the sharpest fall in investment while Europe and Japan have been steadier
Investment has been most stable in the industrial, energy and transport sectors
70% of corporates who invested in 2022 returned to do another deal in 2023
23 new corporate investment units have been created so far this year
---
The amount that corporate investors are willing to spend on funding startups this year is still far lower than in 2022. But the trend over the first five months of this year has showed the investment decline beginning to flatten out. In fact the monthly number of deals and the amount spent on them has held fairly steady since the start of the year. While it is still too early to call this a clear trend it would fit with what investors are telling us anecdotally — that they expect investment appetite to pick up in early 2024.
Dig a little deeper into the data and there are other interesting trends. Corporate investment numbers in the US, China and India have seen the biggest falls, whereas Japan, Europe and Singapore have seen less of a decline. France has seen no decline at all year on year, although deal numbers are small.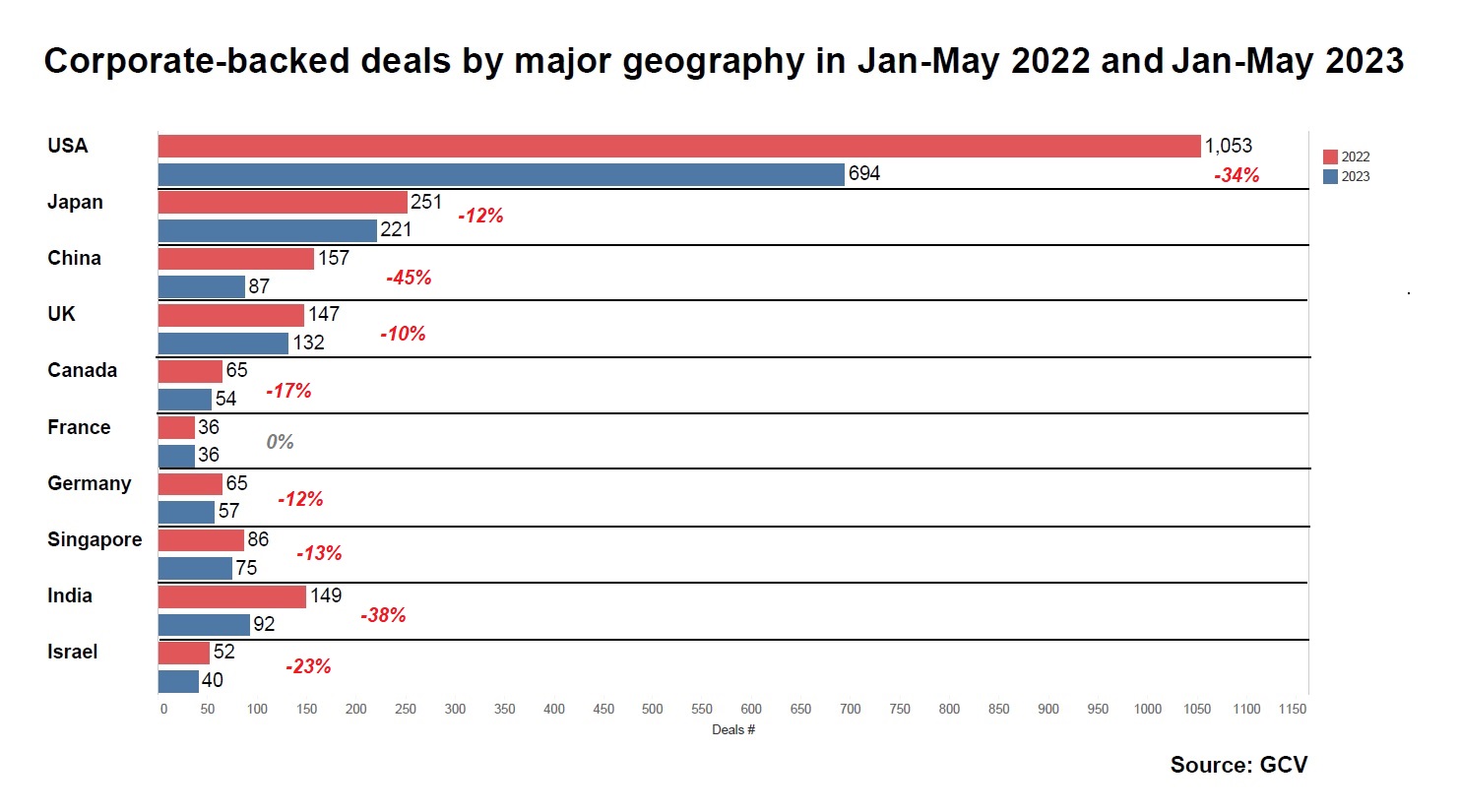 This may reflect the trend which has seen venture capital reorienting to different geographies. It was recently reported, for example, that VC firm Andreessen Horowitz (a16z) is to open its first office outside of the United States this year.
At the same time, while there has been a noticeable drop in deals in sectors like IT, consumer industries, media and healthcare, three sectors — industrial, energy and transport — have seen deal volumes staying relatively stable from last year.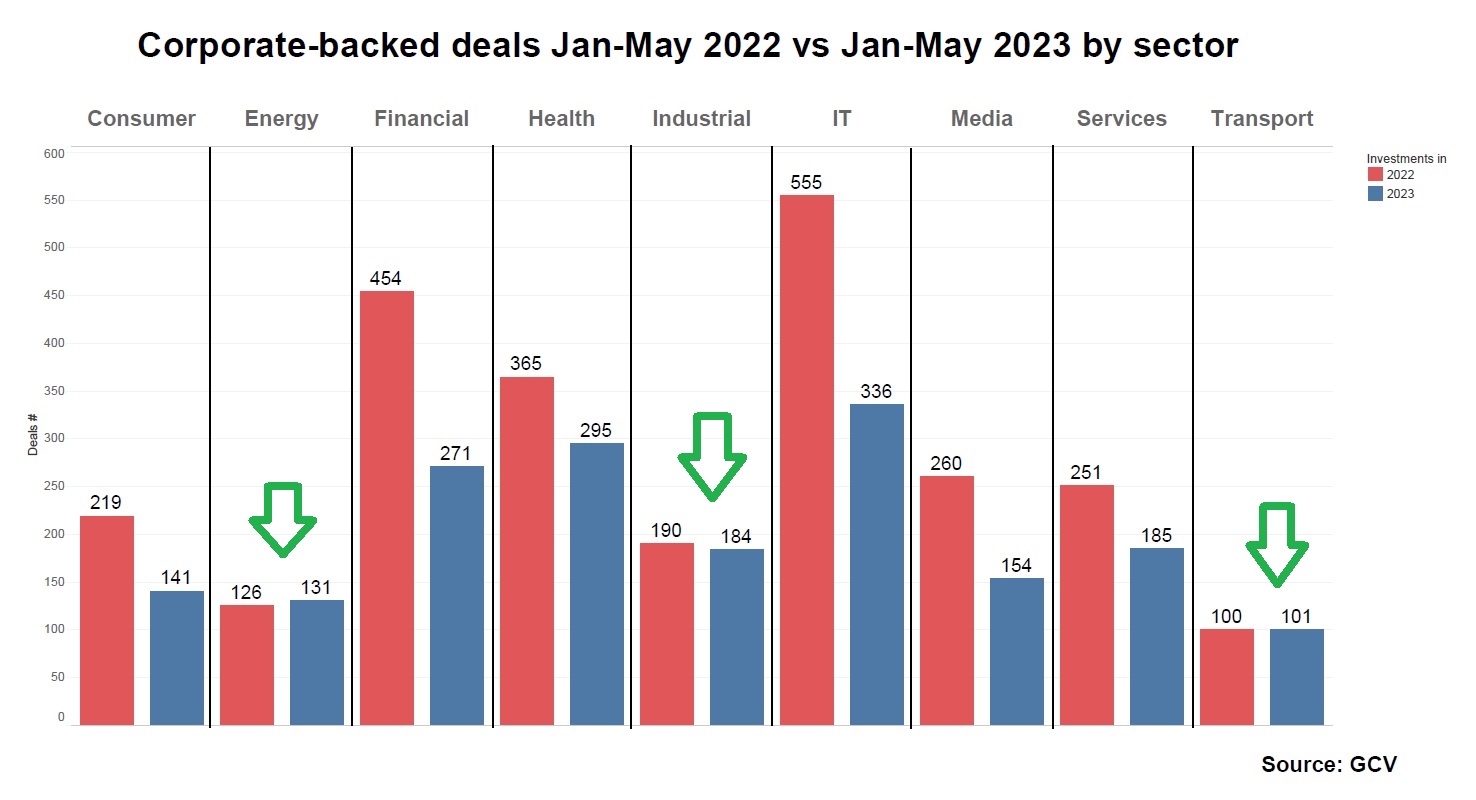 Many corporate investors are telling us that there is still an appetite for deeptech deals, especially in areas such as electric vehicles, carbon capture and industrial technologies. Much of the dealmaking that has fallen away in the past year has been for nice-to-have apps or services. The industrial deals, meanwhile, are driven by productivity pressures or the need to address climate change and remain steadier in the face of an economic slowdown.
We are also continuing to see a trend towards corporate investing in early-stage deals. Seed funding rounds made up 20% of all the corporate-backed startup funding rounds we counted in the first five months of the year. That compares with about 8% of deals in 2019. The trend for the growth of seed stage funding rounds began last year but only seems to have strengthened in 2023.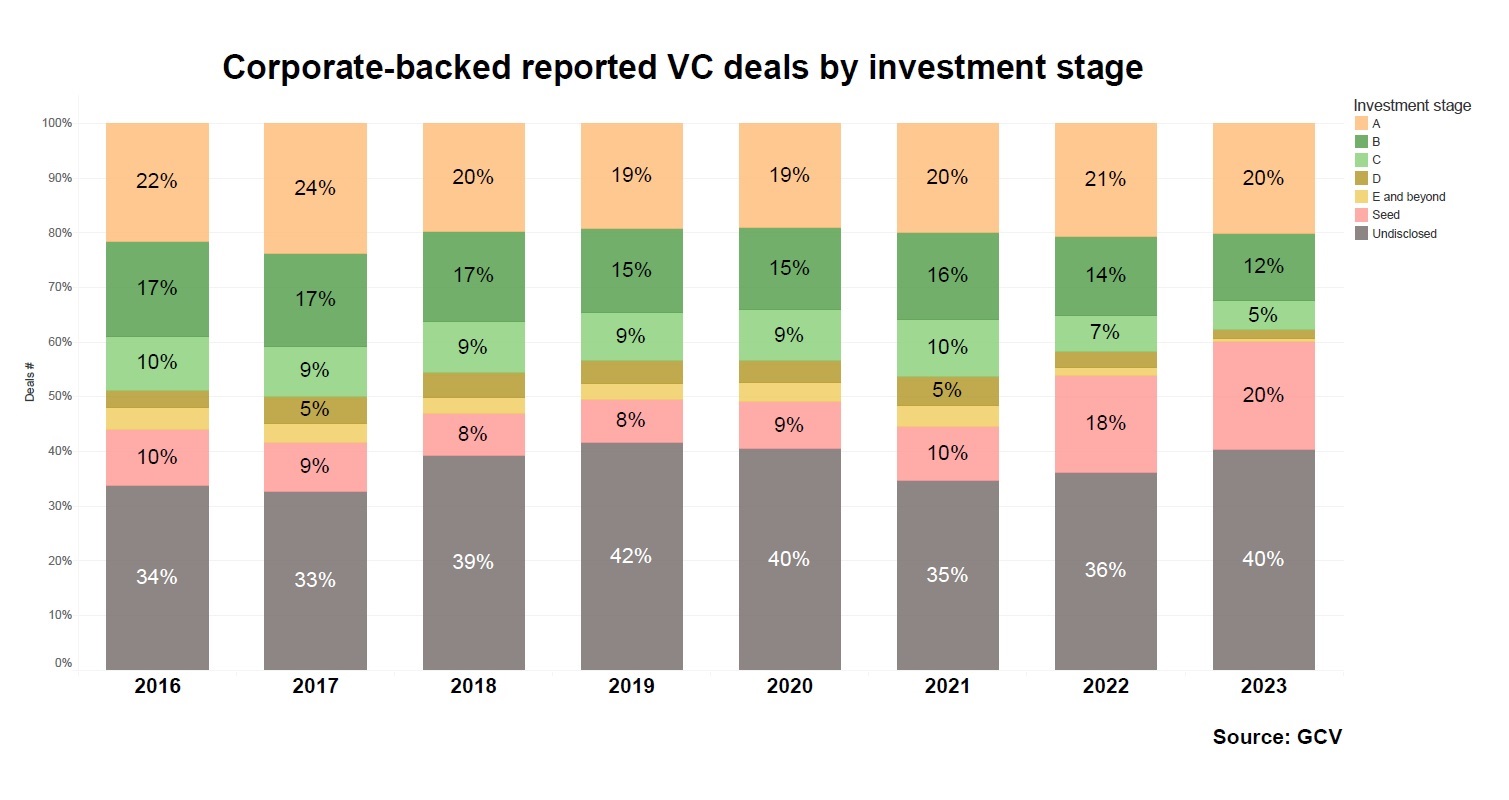 Corporate staying power
Historically there has always been a question over whether corporate investors will remain active during more challenging economic conditions. Right now, we are seeing many corporate investors remaining very steady. Roughly seven out of every 10 (65%) of those that participated in at least one minority stake round last year returned as investors in H1 of 2023 across all sectors.
In some sectors, the proportion of returning investors is actually higher – telecoms (82%), financial services (73%), transport (68%) and industrial (65%). This indicator can be considered a reasonable proxy of the longer-term commitment of corporate investors to venture investing.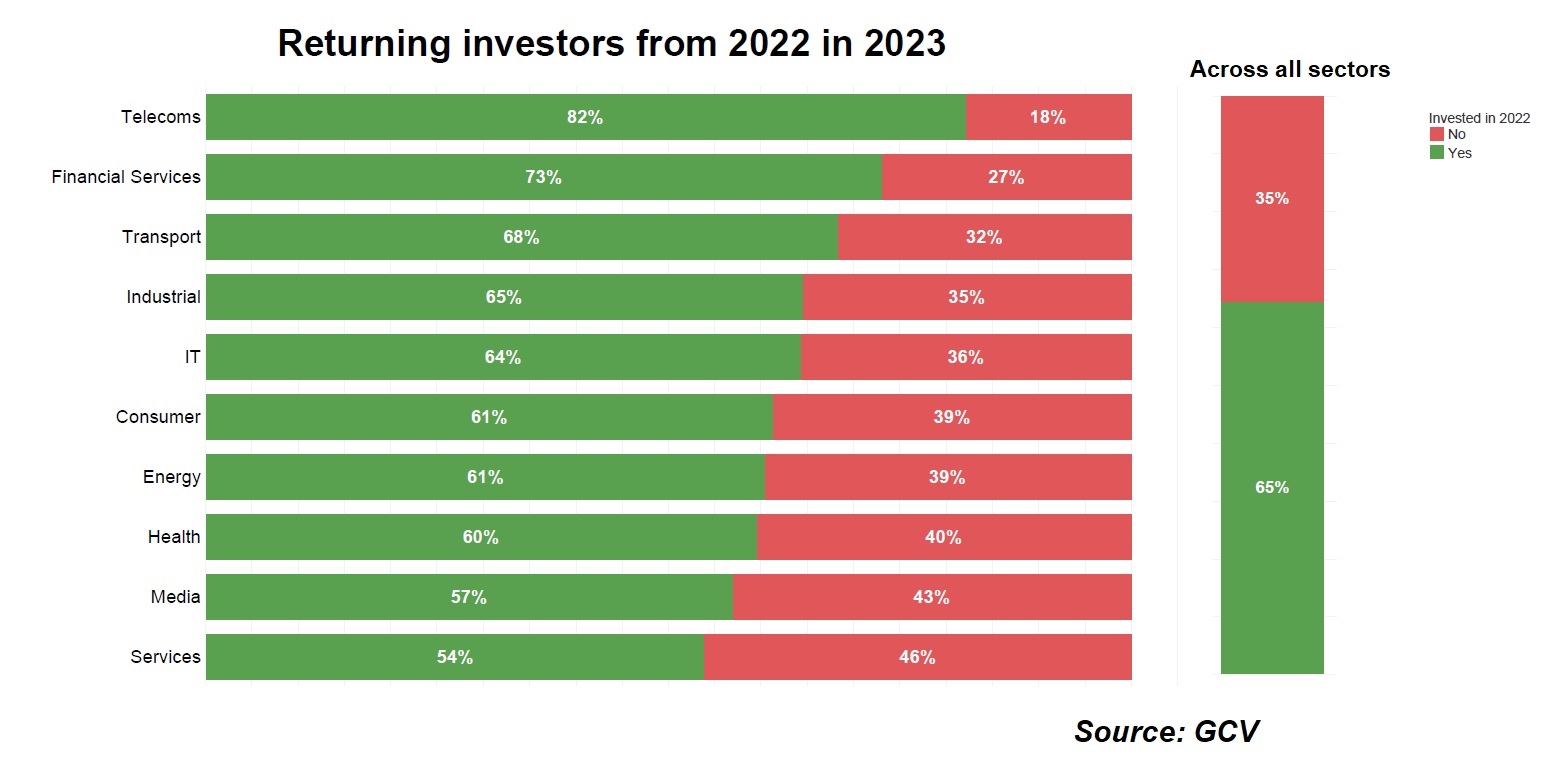 The leading investors by number of deals were internet conglomerate Alphabet, telecoms conglomerate SoftBank, software provider Microsoft and cloud computing software Salesforce.

CVCs vs VCs
We only have figures so far for the first five months of 2023, but these show a clear decline from last year. So far we have recorded just 1,806 funding rounds involving corporate venturers in the first five months of this year. This is down 40% from the 2,991 rounds recorded in the first half of last year. Even with some additional deals coming in in June, the decline is likely to look steep. The estimated total investment dollars so far in 2023 stood at $45.2bn, down 63% from the $122.84bn recorded in H1 of 2022.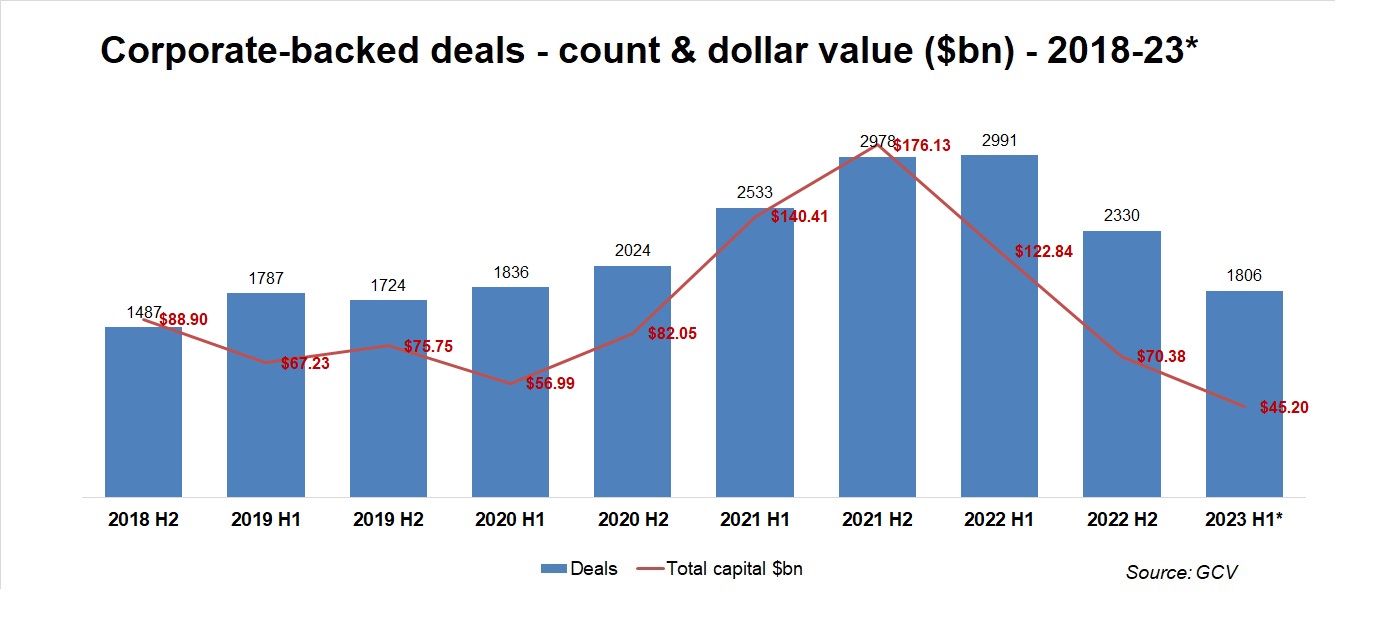 The decline in the overall VC market is even more pronounced. According to PitchBook´s data, there were 10,306 VC investment around the globe in the first half of 2023, down 48% from 19,678 deals in H1 of 2022.
In total dollar terms, the drop in the VC market was also notable. PitchBook recorded $99.62bn of total capital in H1 this year, down 63% from the $272.85bn in the first half of 2022.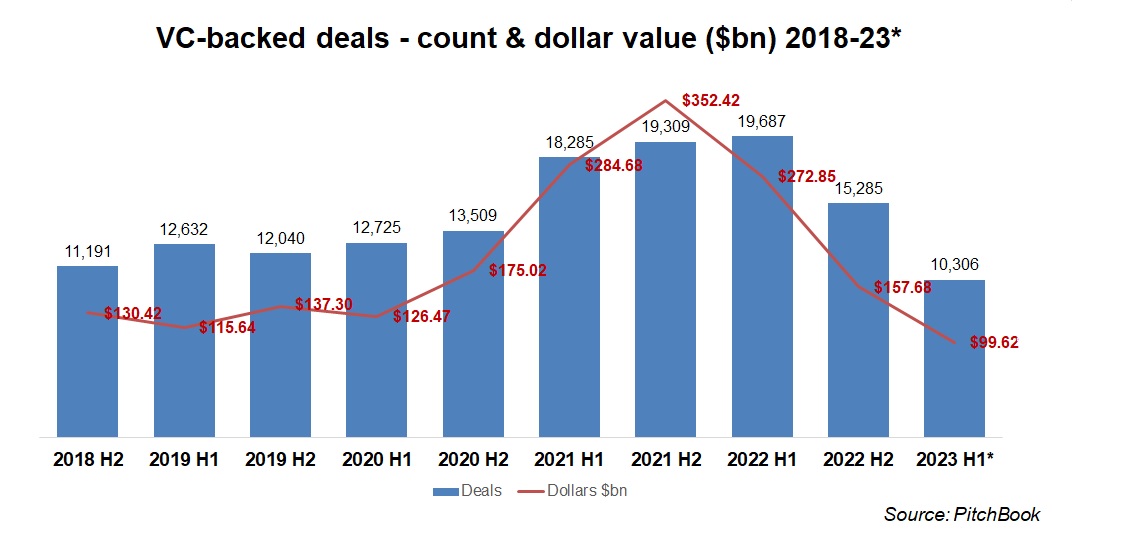 Events earlier this year, such as the collapse in March of Silicon Valley Bank, a major lender to the startup ecosystem, have contributed to the decline.
Migration to smaller deals
Another interesting indicator is the migration smaller deals. The relative share of large deals, above $100m in size, was shrinking in 2022 and continued to do so 2023, standing at just 8% of total deals.

Small deals, meanwhile, make up an estimated 43-46% of the total, or nearly half of all corporate deals with disclosed size.
This trend is also evident in the migration toward earlier stage (particularly seed) which we have noted through 2022. We continue to see this very much in play this year as well, with 20% of all deals we have reported so far this year being seed rounds.
Funds and exits continue to drop
There is a lower number of new funds, accelerators, incubators and other funding initiatives being created in 2023 than we saw last year. We've recorded 92 such initiatives announced so far this year, compared with 252 in the first half of 2022.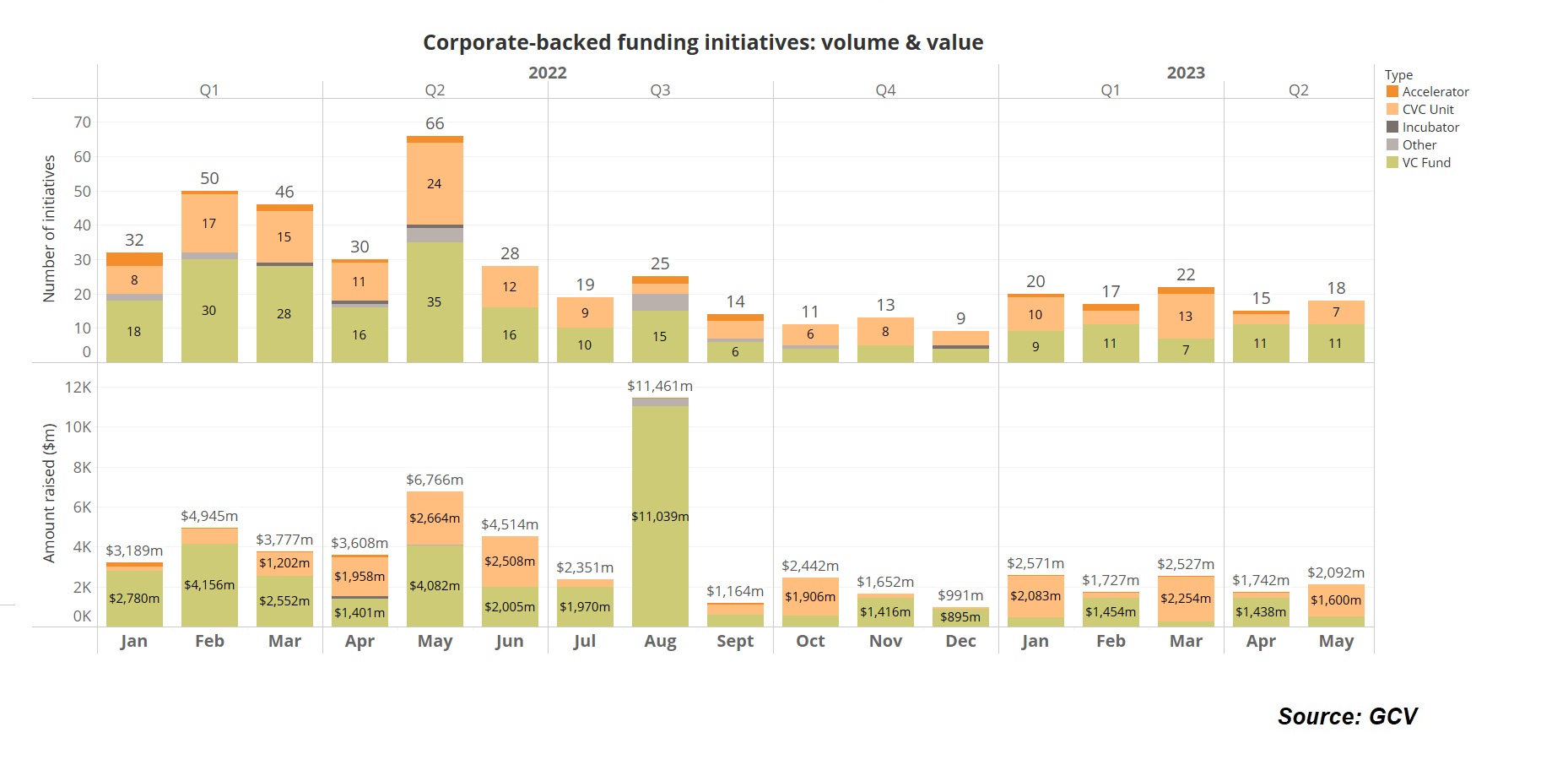 Geographically they were distributed mostly in North America, Asia Pacific and Europe, with Asia seeing the largest number.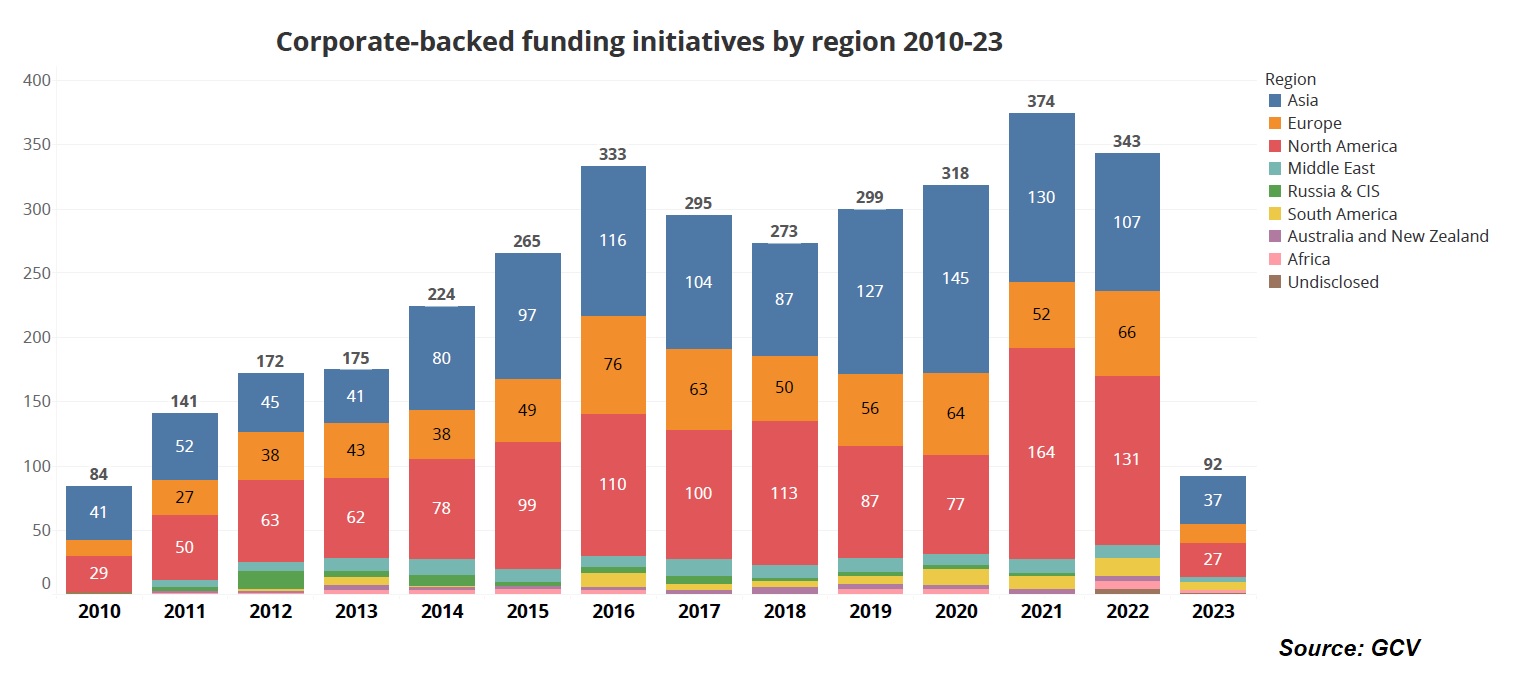 Where last year we saw a record 101 corporate venture units launched, this year is unlikely to see anywhere near that total, with just 23 new units created to date.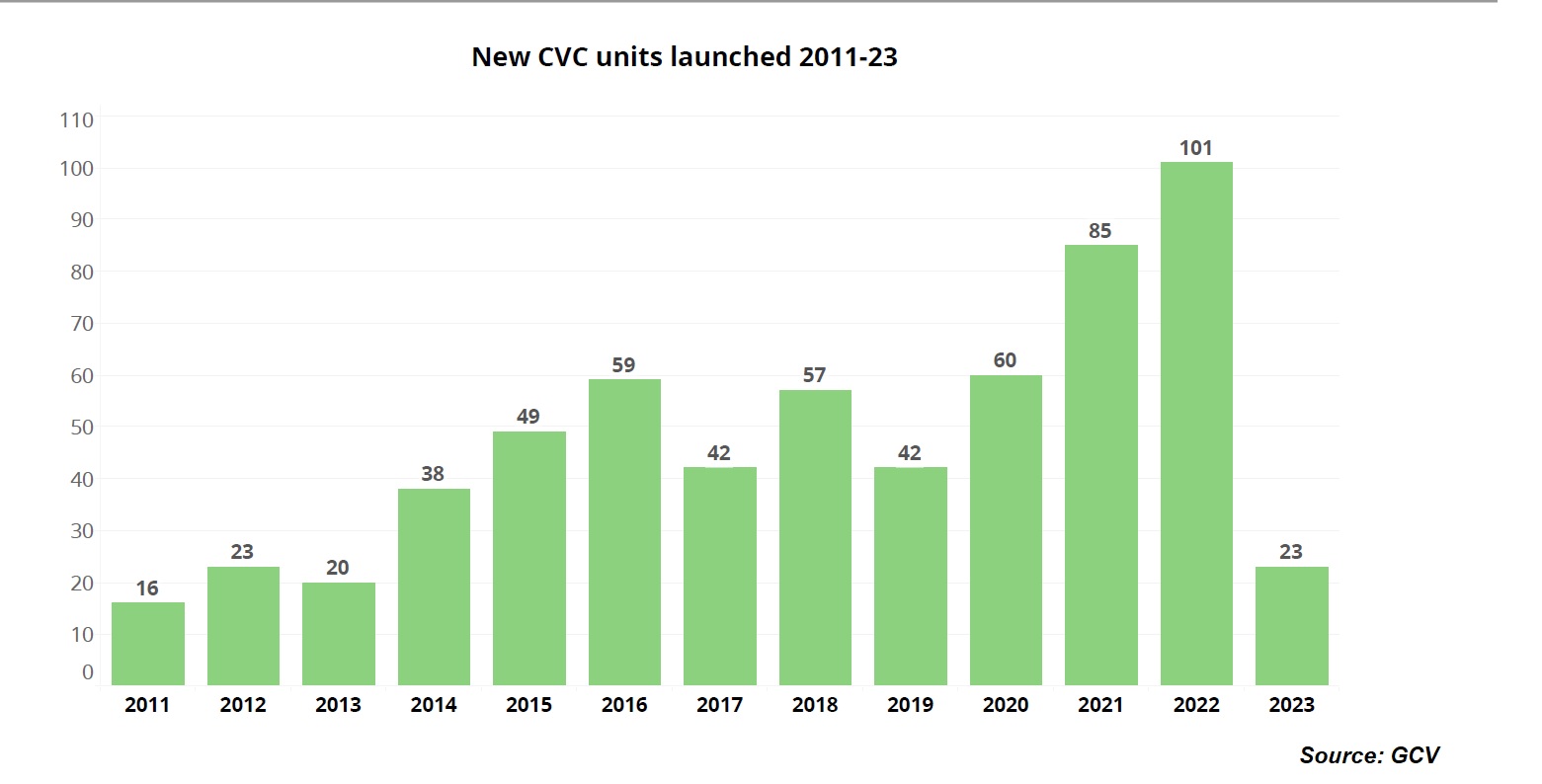 Blocked exits
Exits, in line with what the rest of the VC industry is experiencing, have also been limited for corporate investors.