The UK-based startup has developed a two way boned connection headset and communications platform that allows users to communicate in noisy environments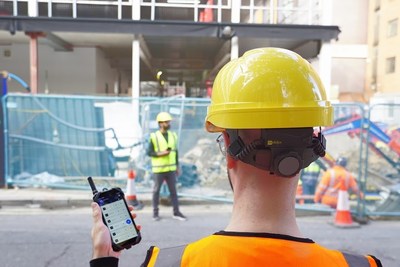 No one likes to be shouted at, but in some environments, the only way to communicate is by screaming from the top of our lungs. Industrial environments are known to get loud, with the average noise level in manufacturing industries ranging from 81-115 dBA (on the lower end it's akin to heavy traffic, with the louder end equivalent to a chainsaw), compared to an office space that reaches 60 – 65 dBA.
These harsh environments mean that factory workers are required to wear forms of ear protection that can make communication a challenge.
Not only do these harsh sound environments correlate to hearing impairment issues or even permanent hearing damage, but they can also lead to miscommunication, increased stress and reduced productivity. Communication equipment in this sector has received little to no innovation, with manufacturing workers largely relying on handheld radios – until now.
UK-based startup Mobilus Labs has created a hands and ear-free two-way bone conduction headset that is integrated into safety helmets allowing workers to communicate in extremely noisy and hazardous environments.
Their product, dubbed MobiWAN, sits behind the user's ear clipped onto a safety helmet and transmits audio through vibrations in the body, rather than the surrounding air. It allows the worker to communicate easily and efficiently, while still wearing standard safety equipment such as ear plugs and double hearing protection.
Jordan McRae, co-founder and chief executive, further details the complexity of the technology. "MobiWan sits on the mastoid bone of the skull allowing users to receive audio communication through micro vibrations transmitted through the user's skin and skull, which is then picked up inside the inner ear. This completely bypasses the ear allowing people to hear voices almost as if they are inside their head," he says.
In addition, MobiWan contains an input microphone that offers better audio quality performance by isolating voices in the presence of high background noise.
McRae says that the benefits of Mobilus' product include excellent listening capabilities in noisy environments, being highly effective in areas with poor signal and greater hearing protection. "Our product means you can have more protection wearing ear defenders on top of our device. In fact, the more hearing protection the better – our system improves the quality of sound whilst providing user protection."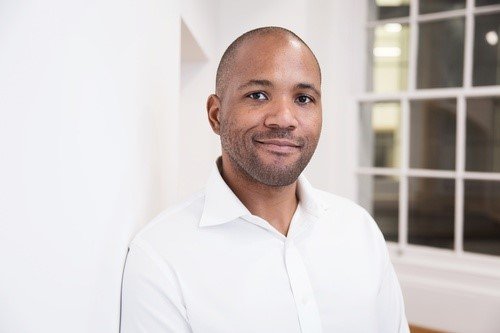 McRae founded the startup in 2018 after a driving accident that left it difficult for him to communicate. This gave him a push to find innovative communication alternatives. Prior to this, he acquired a bachelor's degree at MIT in aeronautical and astronautical engineering and received a Master's in the same field at Stanford University.
Digitally transforming the industrial sector
As of now, Mobilus is focusing on the industrial sector, but within the next five years believes that its product may hold even wider potential. McRae says that voice enabled technologies will become normality, but before that can occur the industrial sector needs to undergo a digital transformation.
"As we have transitioned into the digital world, some companies are still trying to catch up with how it will impact them," says McRae, "And digital development can be even slower in the industrial sector."
He continues: "We wanted to focus on the digitalisation of voice communications because we believe that voice is going to be a fundamental part of the whole digital platform. The concept of voice is so critical to the success of the upcoming digital movement and how humans and machines learn."
The aim is to solve the last metre problem that faces frontline workers, to ensure information is accurately processed. "The industry's current voice solutions are not very good, meaning communication issues are continuing. Lots of money has been wasted in this bottleneck because the individuals that need this information cannot act upon what they are receiving in a timely manner," says McRae.
In the future, Mobilus' product has the potential to be used in individuals' daily lives by hearing real world events whilst having audio augmented content to assist them.
"We can see a world in which you wake up in the morning and place a miniaturised version of our product behind the ear which acts as a simplified communication hub for lots of different things, whether it be calling a friend or ordering food" he says.
Other notable listening and voice communication startups include Orion Labs, a US-based voice-first enterprise communication platform that connects frontline workers and wider teams. Orion Labs has raised a total of $63m backed by Dell Technologies Capital, the corporate arm of Dell and Motorola Solutions.
Growing investment and attracting corporations
Since its launch, Mobilus Labs has raised $5.16m The most recent round in 2022 raised $2.7m from backers including Chevron's corporate venture arm, Chevron Technology Ventures, Ascension Ventures and Vinci BV.
Mobilus Labs also received corporate investment from Telefonica's corporate venture arm. "We first started conversing with Chevron as we demonstrated value to their business units which made it easy for us to facilitate a conversation for investment. So they were initially perceived as a client before we had an introduction to what they could offer with regards to investments," he says.
McRae says that the relationship between the startup and its investors has been fruitful in providing financial support and guidance in further improving and commercialising their technology.
"We are really happy with our investment strategy provided by our corporate backers," says McRae, "We have learned from working with these corporations; how reliable they can be with handling niche markets in the industrial space."
He continues: "Corporations are aware of the opportunities in the industrial space and have a better understanding of end-user problems. They can therefore help accelerate the process of demonstrating value proposition, investment and help to identify key leaders in the sector."
"Funding is never easy, but we are hopeful and excited to find the correct investment in the right fields in the near future," says McRae.