Some 51 new corporate-backed energy funding initiatives were launched in 2021, up from 21 the year before. The trend has continued into 2022.
There was a huge uptick in corporate-backed energy funding initiatives in 2021, with 51 new funds launched, compared with 21 in 2020. The trend has continued into 2022.
Numbers had been broadly flat between 2016 and 2020 but last year saw a big step change. The total estimated capital raised in those amounted to $8.32bn, up 64% from the $5.07bn in 2020. This coincided with post-pandemic boom of interest in energy sources, driven by a supply crunch of raw materials and other commodities.
---
---
In the full energy report:
Energy deals continue to boom despite market downturn
Value of corporate-backed energy deals quadruples
Energy funds are back in vogue
Wave of job moves amid energy bull market
Funding spikes for university energy spinouts
---
Corporate-backed fundraising for energy has remained strong even through 2022, with 36 funding initiatives with estimated capital of $$4.6bn were reported by the end of August this year.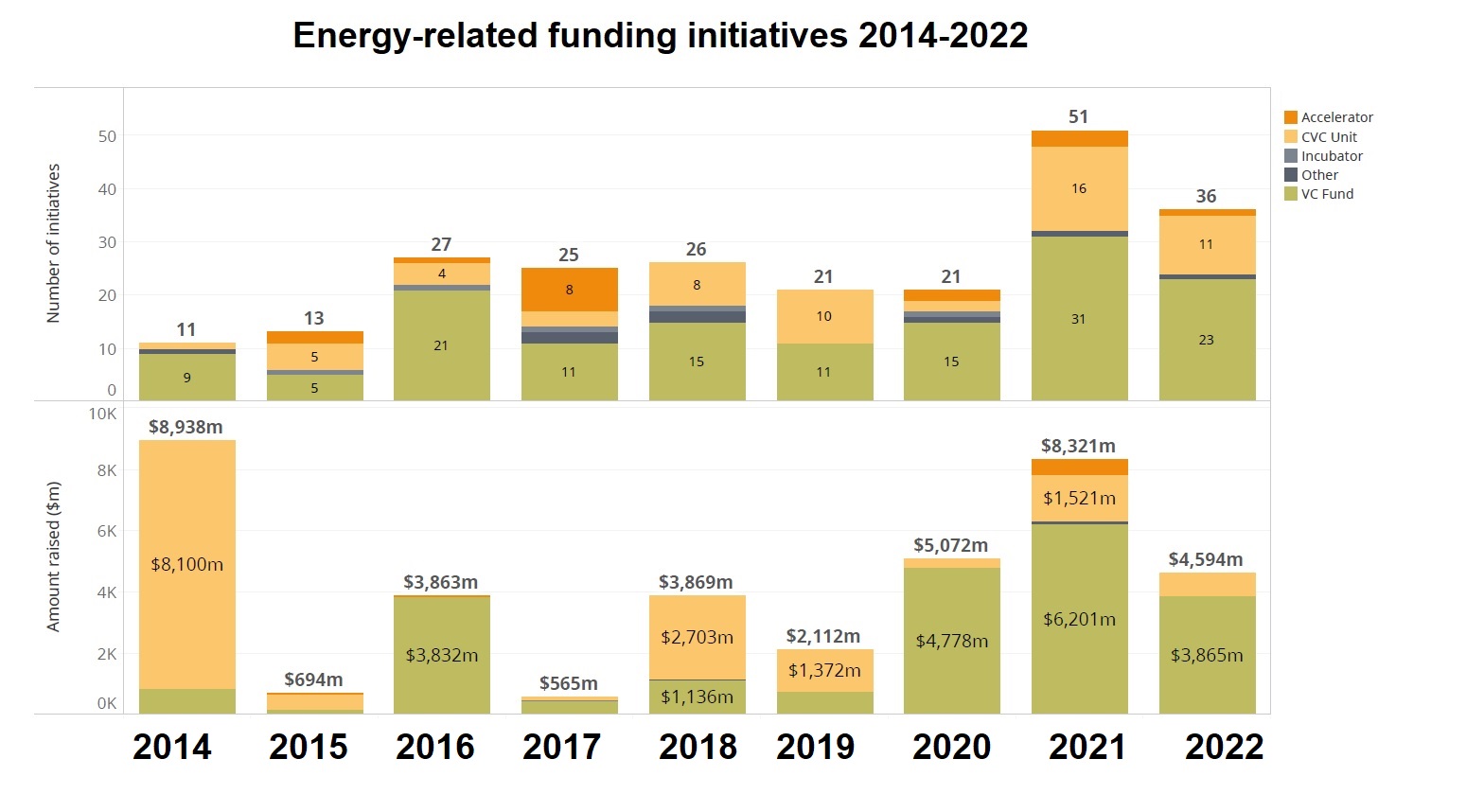 Many energy players were involved in raising or helping to raise a variety of funds with some energy spin to them – whether in the context of decarbonisation and electrification or simply boasting some kind of ESG element. ´

FirstEnergy, a New York-listed electric distribution company, made its second commitment to US-based venture capital firm Energy Impact Partners (EIP). As a limited partner in EIP Fund II, FirstEnergy joined with other utilities and companies to provide more than $1bn in capital commitments to invest in heating and air conditioning, transportation electrification, energy storage and carbon capture technology, grid hardening, cyber security, and smart home and cities programmes. The commitments were part of FirstEnergy's plan to achieve carbon neutrality by 2050, with an interim goal of achieving a 30% reduction in greenhouse gases within the company's direct operational control by 2030.
Munich Re Ventures, the corporate venturing subsidiary of Germany-headquartered reinsurance group Munich Re, closed its second fund at $500m, part of which will be focused on energy investments. Munich Re Ventures targets investments in developers of insurance, healthcare, transport, cybersecurity, climate, commercial and industrial equipment technology. The second fund will allow Munich Re Ventures to strengthen the portfolio development platform it set up to connect portfolio companies to executives at Munich Re and its partners. It will also extend the range of companies it backs.
Germany´s government and corporate-backed seed investor High-Tech Gründerfonds launched its fourth fund, HTGF IV, which had secured over €400 million in commitments at first closing. HTGF IV will focus on the fields of digital tech, industrial tech, chemistry and life sciences in early-stage. The new seed fund will complement the 'Zukunftsfonds' (Future Fund) modules, which the Federal Government launched in March.
Nio Capital, the China-based venture capital firm co-formed by electric vehicle (EV) manufacturer Nio, closed its second vehicle, Eve One Fund II, at about $400m. The fund's new and existing LPs included unnamed insurance firms, financial institutions, sovereign wealth funds, funds of funds, family offices, pension funds and foundations from China, the United States, Europe, the Middle East, Southeast Asia and Africa. Co-founded by Nio (then known as NextEV), VC firm Sequoia Capital and hedge fund manager Hillhouse Capital in 2016, Nio Capital's first renminbi-denominated vehicle had a target size of RMB10bn ($1.5bn). It focuses on early and middle-stage energy, mobility, supply chain and deep technology developers.
Germany-headquartered automotive manufacturer Volkswagen announced its intension to set up a €300m ($356m) corporate venture capital fund. The cash will be allocated to startup companies as well as decarbonisation initiatives, and Diess named robotic taxis, car sharing and vehicle electrification as crucial branches in the decarbonisation of the private transport sector. The still unnamed fund is the first to be formally launched by the carmaker. It has not been among the most frequent corporate venturers in the automotive space but has made several large late-stage investments.
CommerzVentures, the venture capital firm financed by Germany-based financial services firm Commerzbank, launched its €300m ($335m) third fund, which will be focused on the junction between fintech and climate technology, thus encompassing energy as well. The CVC also committed to arrange and fund what it describes as high-quality carbon offsets for its portfolio companies. CommerzVentures additionally intends to increase the size of its team by 50% as it looks to expand geographically, having made its first African-centred investment.
Energize Ventures, a US-based venture capital offshoot of power producer Invenergy, closed a $330m second fund, featuring a host of corporate investors as LPs. Invenergy anchored the fund and was joined by backers including energy management technology producer Schneider Electric's SE Ventures vehicle and industrial and power equipment maker General Electric's GE Renewable Energy subsidiary. Energy utilities American Electric Power, Equinor (through its Equinor Ventures subsidiary) and Xcel Energy also committed capital. Energize Ventures has over $700m under management and targets energy technology developers focusing on process automation, decentralisation, risk mitigation, electrification and asset optimisation.
France-based private equity firm Eurazeo has reached a second close of its Smart City Fund II sized at $175m, with limited partners including corporations Thailand-based cement group SCG and German electric utility SWK. The vehicle is targeting energy, mobility, property, industry and logistics startups around the world.
Kompas, a Denmark-headquartered venture capital partnership managed by former corporate venturers Sebastian Peck and Talia Rafaeli, formed a $160m first fund anchored by building materials manufacturer VKR Holding. Kompas' Fund 1 will target late seed to series A-stage startups across Europe, Israel and the United States working on smart city, climate, enterprise software and industrial automation technologies applied in the real estate, construction and manufacturing sectors. The initial ticket size will be between $1m and $5m per deal. Netherlands-based Peck had previously been managing director for InMotion Ventures, the investment arm of automotive manufacturer Jaguar Land Rover.
Robert Bosch Venture Capital (RBVC), the corporate venture capital arm of Germany-headquartered industrial technology producer Robert Bosch, launched a RMB1bn ($155m) China-based investment vehicle. Boyuan Capital will be located in the city of Shanghai and will provide funding for deep technology developers. It will be headed by RBVC investment partner Hongquan Jiang as chairman and managing director. Areas of interest for the fund include automotive and mobility services, smart manufacturing, artificial intelligence, semiconductors, carbon neutrality and internet-of-things technology.
There were also some notable pure-play energy funding initiatives.
Impact firm Lightrock, part of the Lichtenstein-based LGT Group, launched its Climate Impact Fund, dedicated to climate impact. It received $77m commitment from Thailand-listed energy corporation Gulf Energy. The fund will invest in five major themes – energy transition, decarbonisation of industries, sustainable transportation as well as sustainable food and agriculture.
UK-based impact investment firm Systemiq Capital confirmed the $70m first close of its second fund, targeting $200m. Deutsche Post Foundation, a foundation formed by postal services firm Deutsche Post DHL, was among the limited partners that helped Systemiq Capital to reach this first close. The vehicle will back early-stage climate tech entrepreneurs, building on the success of the first fund, which has been launched in 2018. Fund I deployed $30m of capital and achieved three exits.
Venture firm Silver Lake Partners closed $50m in commitment for its seventh fund, dubbed SLP VII, which will be heavily focused on investing in renewable energies. The vehicle will seek to back new technology companies within that ecosystem and it was backed by insurance firm Cathay Life Insurance.