Ten corporate investors were part of a $380m series C round this week, including Fortescue, United Airlines, Rio Tinto, Amazon, Microsoft and BP.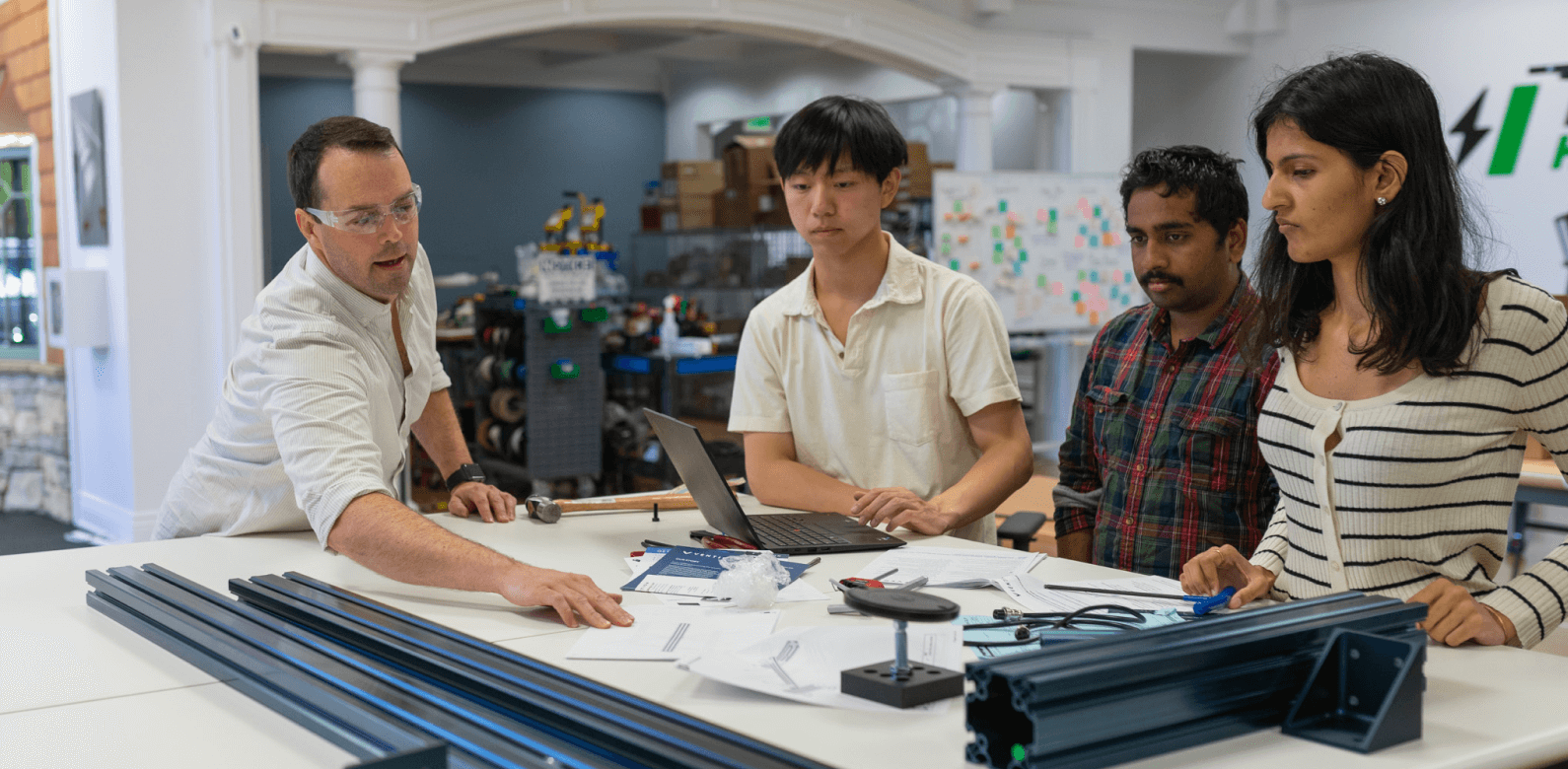 Ten corporate investors were part of a $380m series C round this week that made Electric Hydrogen (EH2) the first hydrogen technology developer to achieve a $1bn valuation. The variety of companies backing the deal shows the wide range of strategic interest there is in hydrogen.
Fortescue co-led the round, which included fellow mining company Rio Tinto, engineering equipment maker Mitsubishi Heavy Industries, Microsoft's Climate Innovation Fund, United Airlines' Sustainable Flight Fund and Amazon's Climate Pledge Fund, as well as Kajima Ventures, Fatima Holdings USA, Equinor Ventures and BP Ventures, on behalf of construction firm Kajima, trading group Fatima and oil and gas providers Equinor and BP respectively.
EH2 has developed industrial-scale electrolyser systems which generate green hydrogen — hydrogen produced using renewable energy — at costs it claims are lower than its competitors. Its 100 MW facilities can generate almost 50 tons of hydrogen per day and the company plans to begin installing them for industrial customers next year.
The round comes weeks after EH2 sealed a deal to provide a system for gas provider New Fortress Energy that is set to be operational in 2025 and which could be upscaled to 200 MW. The company will put the funding into completing construction of a gigafactory which will assemble its products, in addition to funding R&D and expanding its sales and marketing capabilities. There's a reason it's the first hydrogen unicorn.
"We believe they are one of if not the furthest along in terms of electrolyser technology being developed," Andrew Chang, managing director of United Airlines Ventures, tells Global Corporate Venturing, adding that Electric Hydrogen represents an exception to the unit's usual investment approach, which generally goes up to series B stage.
Hydrogen's decarbonisation potential makes it a natural fit for industrial corporates
Hydrogen technology has been one of the bright points in a venture capital market that has been comparatively slow in 2023. This year is likely to have fewer funding rounds than the 58 closed last year, but the total amount of capital invested has already reached a new high of over $1.1bn, comfortably surpassing 2022 when the amount raised surpassed the four previous years combined.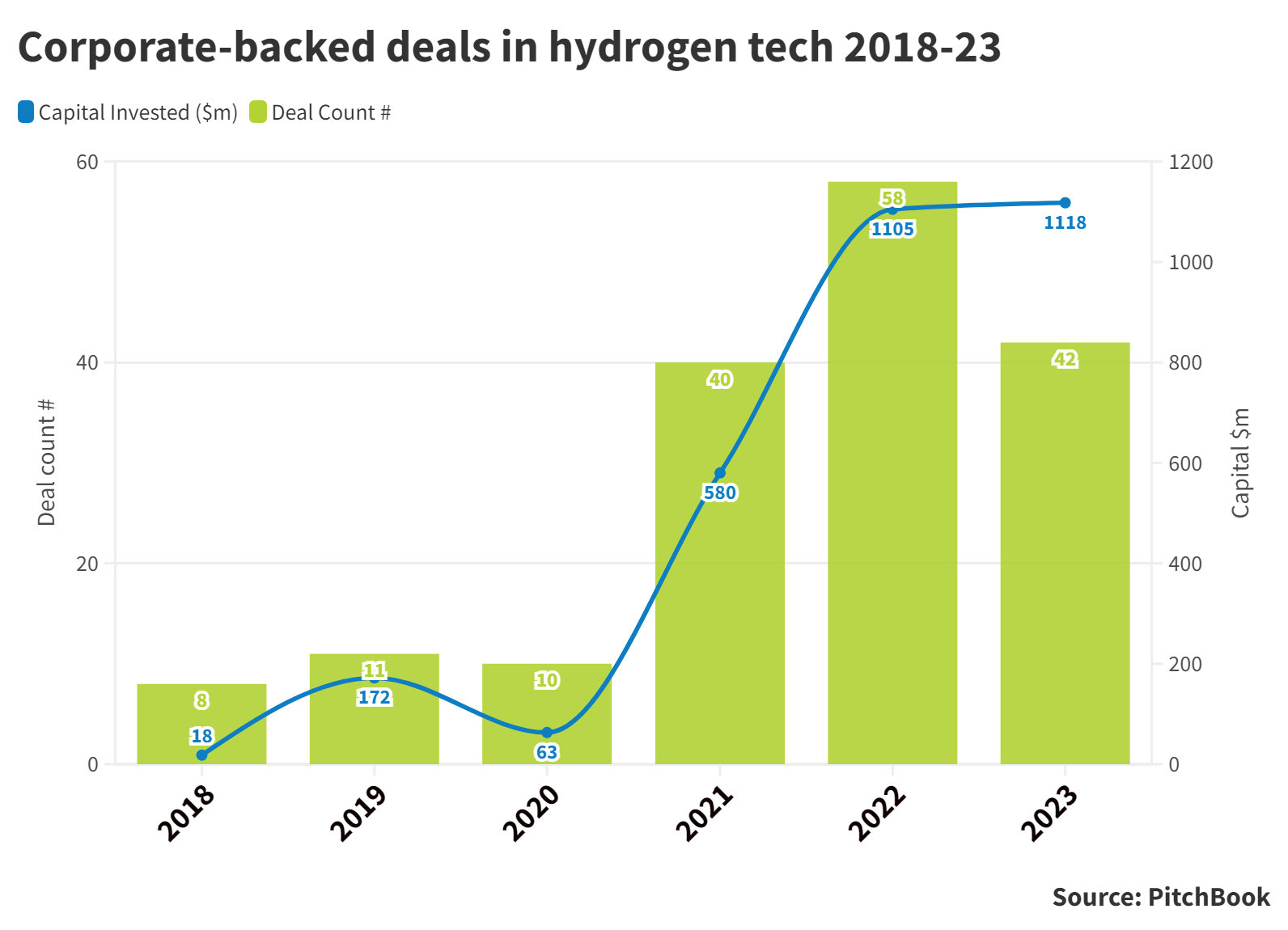 "There appear to be multiple tailwinds for hydrogen right now to fulfil its promise as a potentially major piece of the decarbonisation puzzle," says Jason Mortimer, senior vice-president of sales for EH2.
"They include supply-side incentives like the Inflation Reduction Act here in the US, and some mandated demand-side incentives like RED II and RED II in Europe, and potentially forthcoming incentives in countries that have to import energy, such as Japan and Korea."
The other factor is a need for more sources of green fuel and clean energy, as large industrial and infrastructure-focused groups look to meet net-zero carbon emission targets.
Hydrogen's potential use as a green energy source for industry means there is a wide range of corporate investors who can also be customers. Fortescue, for instance, is not just co-leading the round, it has signed a framework procurement agreement to buy 1 GW of EH2's systems.
The other series C investors are yet to make similar moves, but Mortimer expects many of them will eventually want either electrolyser capacity or hydrogen from developers utilising EH2's technology.
"They are all after different things," he tells GCV. "In mining, there is an opportunity to significantly decarbonise the mining of minerals and metals using hydrogen and hydrogen derivatives relative to the thermal methods used today."
Another example, Mortimer says, could be the use of hydrogen in the direct reduction of iron, a process in which hydrogen is used to reduce iron ore into a form where it can be melted to create steel. EH2 also sees potential in the fertiliser industry, where green hydrogen can help create cleaner forms of the ammonia that makes up the core ingredient of many fertilisers.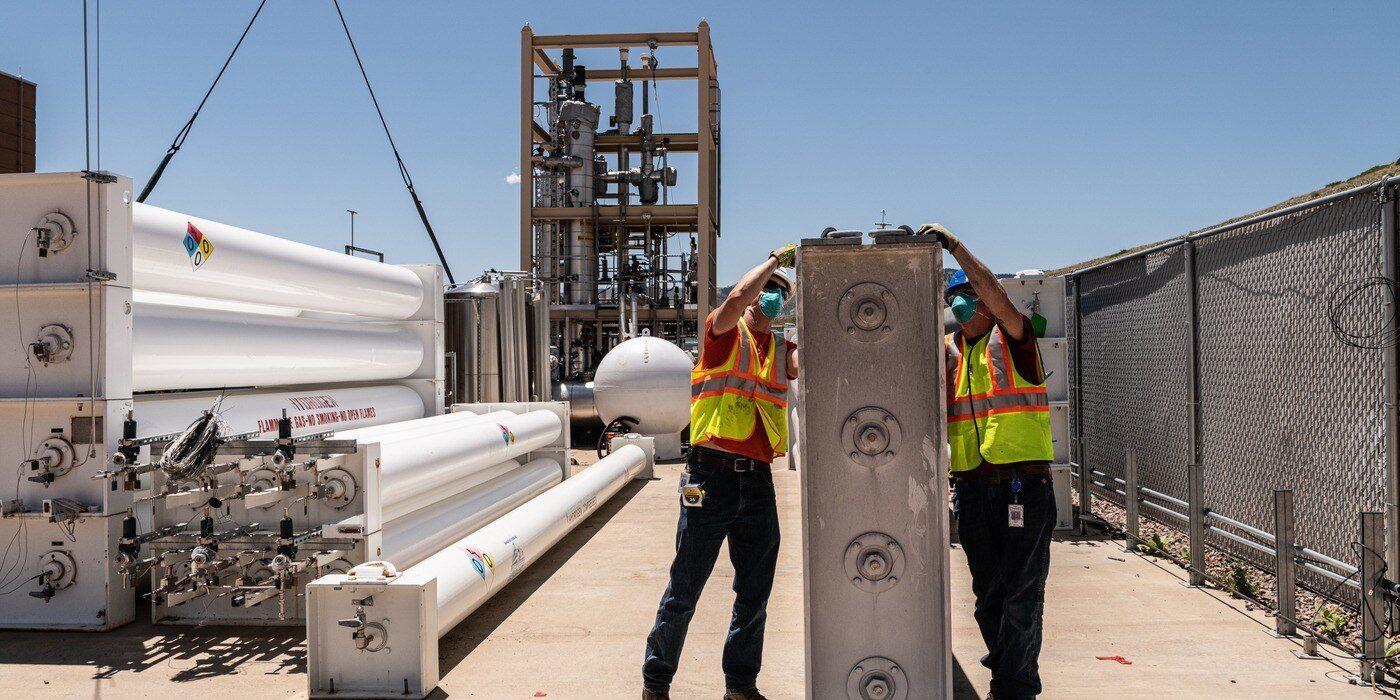 "What's interesting about hydrogen is that the total addressable market is quite broad," adds Chang. "It's not industry specific or narrowed to certain applications. There are multiple industries that can utilise green hydrogen, full stop.
"In the aviation sector it's a building block, a component. But if you look at speciality chemicals, other industrial applications using hydrogen as a fuel source, other transportation industries…the possibilities for hydrogen are much broader, and that's why there has been so much interest."
As with all forms of alternative energy however, cost is the major factor. Hydrogen-powered vehicles have been responsible for much of the hype, but EH2 sees cars as a less viable use case for hydrogen than industrial decarbonisation where it could replace natural gas in many processes without breaking the bank.
"The trick is making it at a low enough cost that it's a viable substitute," Mortimer says. EH2 has more than 5 GW of capacity in its order book and it is looking to cut the amount of rare metals it uses in its systems and further increase production efficiency. If more companies in the sector can follow suit, expect to see a raft of billion-dollar hydrogen companies in the coming months and years.