MDI Ventures CEO Donald Wihardja tells us why local service providers can prosper where big multinationals can't, and why his firm is set to facilitate a new wave of corporate VC in Indonesia.
"Uber couldn't localise," says Donald Wihardja, recalling the ill-fated attempt by the ride hailing company to establish a presence in Indonesia before pulling out in 2018.
"I worked with Uber, Grab and GoJek as Uber died. Their local team were incredibly smart people but as smart as they are, they did not have the regional support to localise their solutions. They just got outcompeted, even with so much money."
These days Wihardja is CEO of MDI Ventures, formed as the investment arm of telecommunications company Telkom Indonesia. They are about to launch a new fund together next year, with several more in the pipeline that will be formed with other Indonesian state-owned enterprises (SOEs).
But the same lesson about localisation that he learned from ride hailing applies to the way he invests now. Wihardja looks to invest in digital services where local companies can work their advantages, rather than 'bleeding edge tech', he tells Global Venturing.
MDI Ventures has built a portfolio of more than 60 startups. According to Wihardja, what an Indonesian tech company offers in practice will be 90% similar to those in other emerging markets, but the other 10% is what makes or breaks its product.
"The flavour of the play here is in just the right amount of technology to tackle an operational problem: transportation by coordinating a lot of gig workers, delivery, agriculture for smallholder farmers, that kind of stuff," he says. "Not metaverse or social media – those are too easily won by global players."
An Indonesian startup may not have the firepower to compete against a global player like Google or TikTok owner ByteDance in an area that large. But when it comes to areas like e-commerce or package delivery those metrics are reversed because local operators know how to find an edge.
"When your job is to win an operational war, localisation is the key and the team must really be on the ground," he says.
Corporate versus state-owned enterprises as investors
Indonesia's economy is dominated by SOEs in each industry, with Telkom the national telecoms operator. But MDI Ventures has branched out and its next fund will source 60% of its capital from a domestic bank and a Korean bank. It has also opened up to work with other state-owned companies.
"We are fielding a lot of requests from other state-owned enterprises to run their VC arm," Wihardja says. "Telkom has been with us for seven years now, but we now have funds that are not only funded by Telkom but by other external, private investors."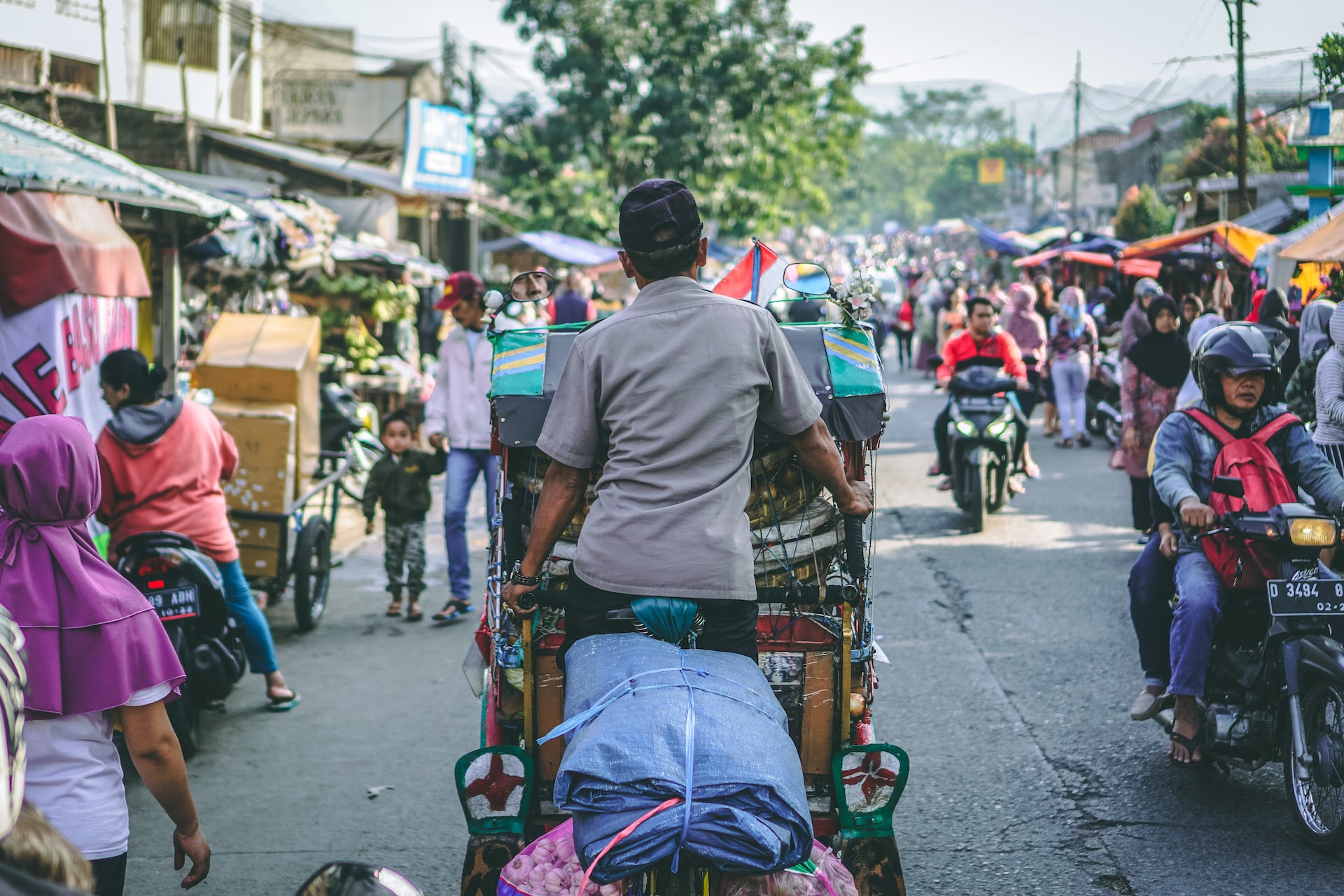 Indonesia's president, Joko Widodo, urged state-owned enterprises to become more involved in the country's' startup ecosystem in September, and the country's state-owned enterprise ministry has begun directing them to MDI Ventures.
"With the success of MDI as well as other state-owned CVCs, suddenly its become hot for corporates to have a CVC'," Wihardja says. "But venture capitalism is not easy and it must be done professionally.
"Before it got to be the wild west, with everybody who doesn't know what they're doing making and mismanaging something they called a CVC, the Ministry of State Owned Enterprises said: 'Everybody who wants to do venture capital has to go through one of the few experienced VC firms'" he says. The firm has formed fund partnerships with drug producer Bio Farma and oil and gas provider Pertamina this year and is continuing to talk to other state-owned businesses.
MDI Ventures doubled its funds from four to eight in 2022 and, with a siloed investment team for each one, is busily hiring as it seeks to expand further. The bank-anchored fund is next on the agenda but there are others planned for next year.
"We are also launching an impact fund and we are going to launch vertical funds with three, if not four other SOEs in biohealth, energy, agriculture and maybe film," Wihardja says. "Hopefully, someday we'll be able to catch up with [Singaporean state-owned VC firm] Vertex and some other ex-CVCs that have grown out, like Telstra Ventures or Deutsche Telekom Ventures."
What startups need to get through a winter for founders
Although deal numbers in the Indonesia startup market have largely held up in 2022, the country is not immune from the turbulence that has affected valuations and round sizes this year, as the chart below shows.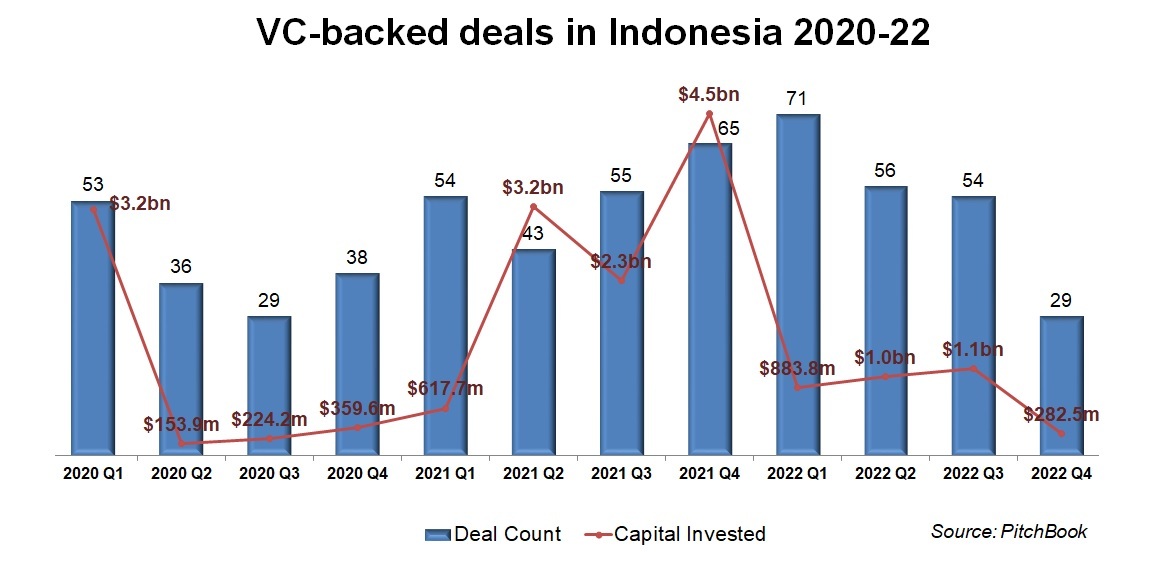 That means some of MDI Ventures' portfolio companies are going to have to make some difficult decisions in 2023.
"At this moment, a lot of our startups are in the process of looking inwards and making themselves more efficient," Wihardja says. "The ones that survive will be the ones that successfully accept and embrace the challenge of better unit economics, being humble and understanding what works and what doesn't.
"And that's a good thing. Before, in 2021, money was too cheap in Indonesia and around the world. They just got sloppy. This time, their challenge is to look at their business to see what works and what doesn't. That makes them more mature."
The shortage of easy money for startups means the ones that emerge will generally be the ones that know they can survive a year without a funding round, Wihardja says, but they will ultimately come out stronger.
"We're still working with founders to get an acceptance of what the new valuation multiples are," he adds. "They have to accept the money and the multiple they got last year was too high.
"In the beginning they weren't accepting it, but now they're starting to accept it. Therefore, we're going to see more rounds as the VCs and startups start to see eye to eye."
Photo of Donald Wihardja courtesy of MDI Ventures