Corporates have dramatically slowed down the rate at which they invest in startups, except in these two sectors.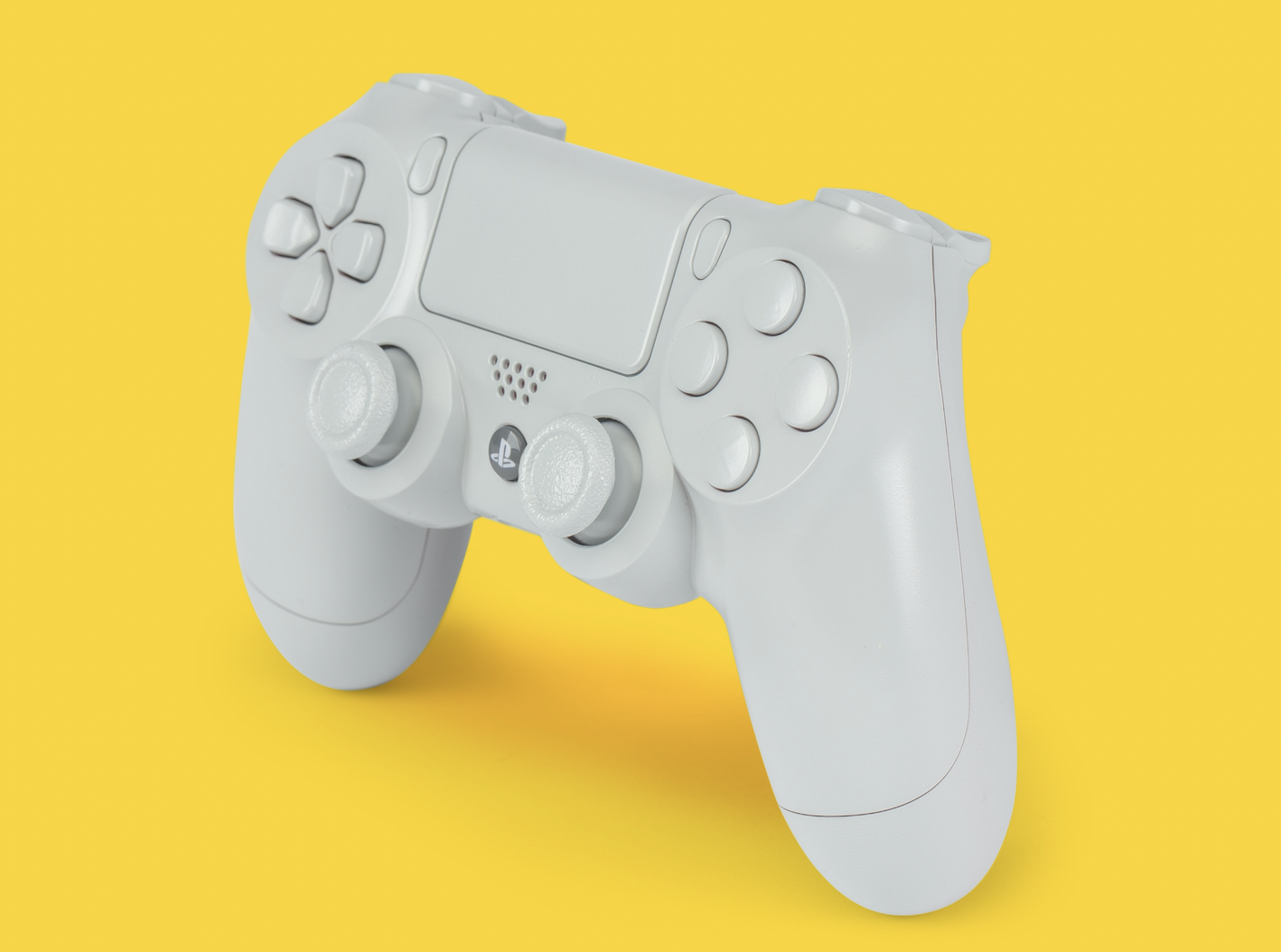 Corporate investors continue to slow down the pace at which they are investing in startups. The number of deals in July and August fell to 807, down 11% from the same period last year, with gaming and energy transition-related deals emerging as the only exception to the general downward trend. Investment value stood at $26.29bn in total estimated capital – less than half of the $58.52bn of the same period in 2021.
Deal numbers have continued to trend downwards each month, from 445 deals in June to 419 deals in July and just 388 in August.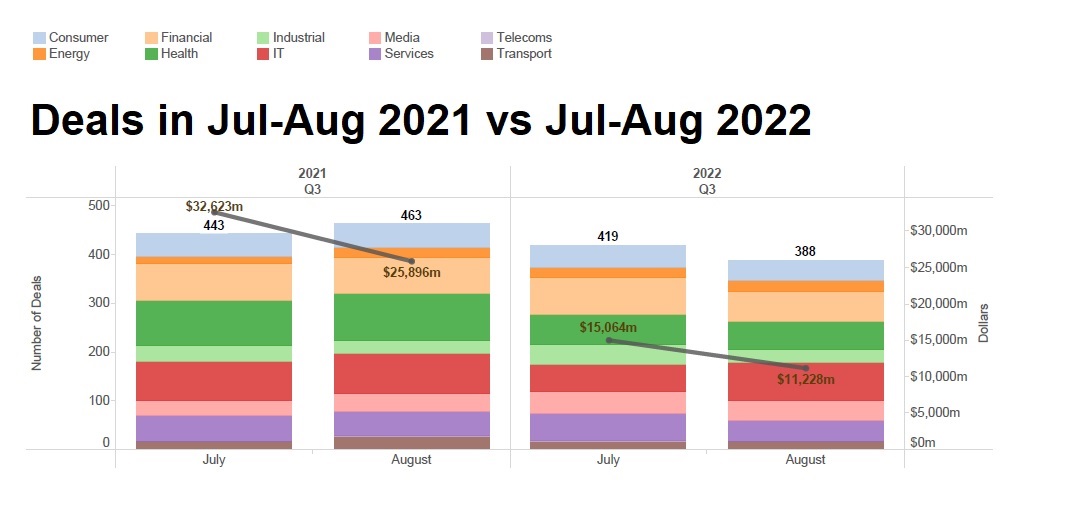 Corporate venturers appear to be following the same fear narrative seen in the public markets, where, despite a a short-lived recent rebound, there is growing concern about the possibility of a recession ahead and energy troubles are besetting Europe.
Exits for corporate investors are down too, at around half the level of stock market listings, sales and other liquidity events as seen in the same period last year.
However, gaming — particularly non-fungible token (NFT) and metaverse — as well as energy transition-related tech, such as batteries for electric vehicles and new nuclear power, bucked this overall trend. Both of these saw higher deal numbers than last year.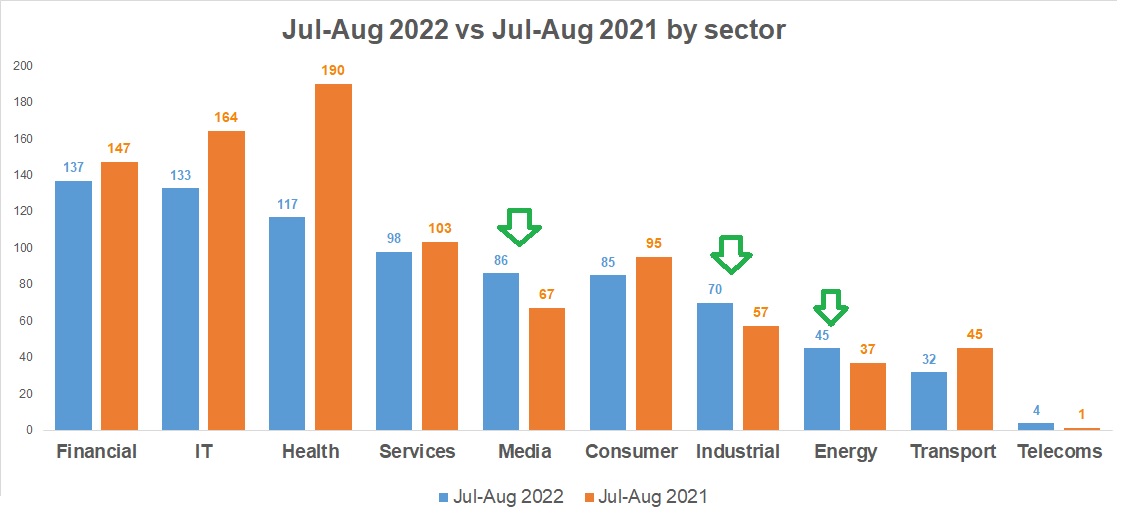 Energy deals
Energy transition deals came in at large ticket sizes, especially electric vehicle and battery-related deals.
The largest of these was China-based electric car manufacturer Hozon, which was reported to have raised a total of $1.5bn in its series D round (and all of its extension and tranches). The round was backed by internet security company 360 Security Technology and battery maker CATL.
Swedish EV-focused lithium-ion battery developer Northvolt raised $1.1bn of funding in the form of a convertible note, backed by carmaker Volkswagen and Goldman Sachs. Northvolth has developed lithium-ion battery for electric vehicles, and is building a number of factories across Europe.
China-based Sunwoda Electric Vehicle Battery, an EV battery subsidiary of Chinese battery producer Sunwoda Electronic, received RMB6bn ($875m) in a series A round from a number of investors including food delivery service provider Meituan. Launched in 2014, Sunwoda EVB develops EV battery cells and management systems, operating 11 production bases in China and India with technical and customer service centres in the US and Europe, according to Deal Street Asia.
US-based nuclear technology developer TerraPower raised $750m venture funding led by industrial manufacturer Gates and conglomerate SK Group, among other investors. Terra has developed a technology designed to provide an affordable, secure and environmentally-friendly form of nuclear energy. The company claims its technology to improve the reliability of nuclear plants. It intends to use the funds to develop small-scale nuclear reactors.
Chinese lithium-ion battery materials maker RT Advanced Materials closed a $740m series D round from investors, including Shang Qi Capital – the private equity arm of China's state-owned carmaker SAIC Motor. RT develops and produces anode materials for lithium-ion batteries and is also involved in recycling of lithium-ion phosphate batteries (known for longer life span) that are used across numerous sectors including automotive and 5G.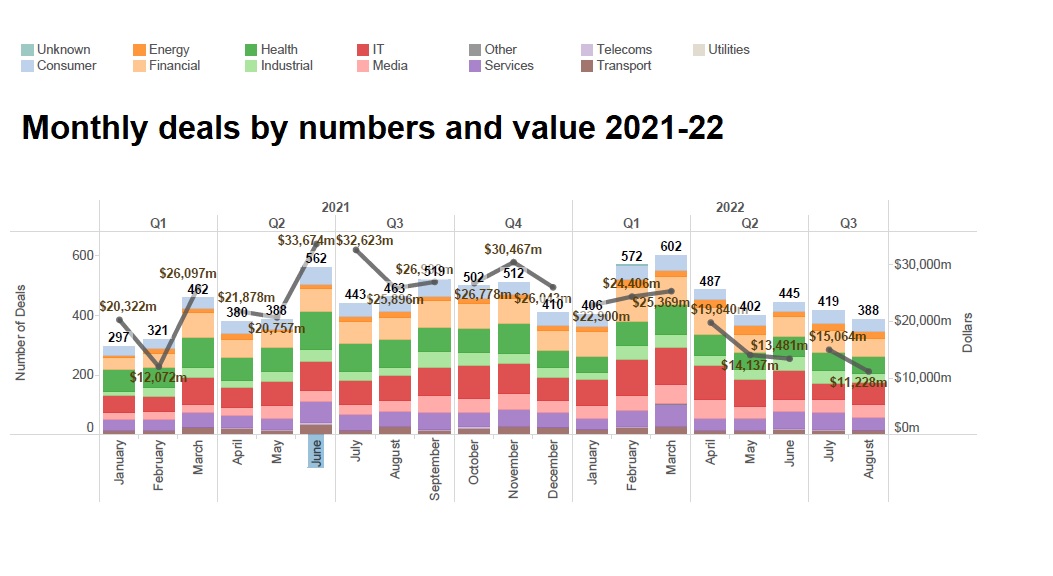 A number of other big energy transition deals — outside of cars and batteries — also boosted numbers.
UK-based Octopus Energy received $550m of development capital from utilities Origin Energy and Tokyo Gas, along with the Canada Pension Plan Investment Board. Octopus is the producer and supplier of renewable solar, wind and tidal energy. It plans to use the funds to further improve its platform and invest in products and solutions that can help drive renewable energy generation.
US-based energy company Lunar Energy raised $300m of financing led by SK Group and photovoltaic solar energy generation systems provider Sunrun. Lunar has developed a home electrification technology intended to transition homes to 100% clean energy.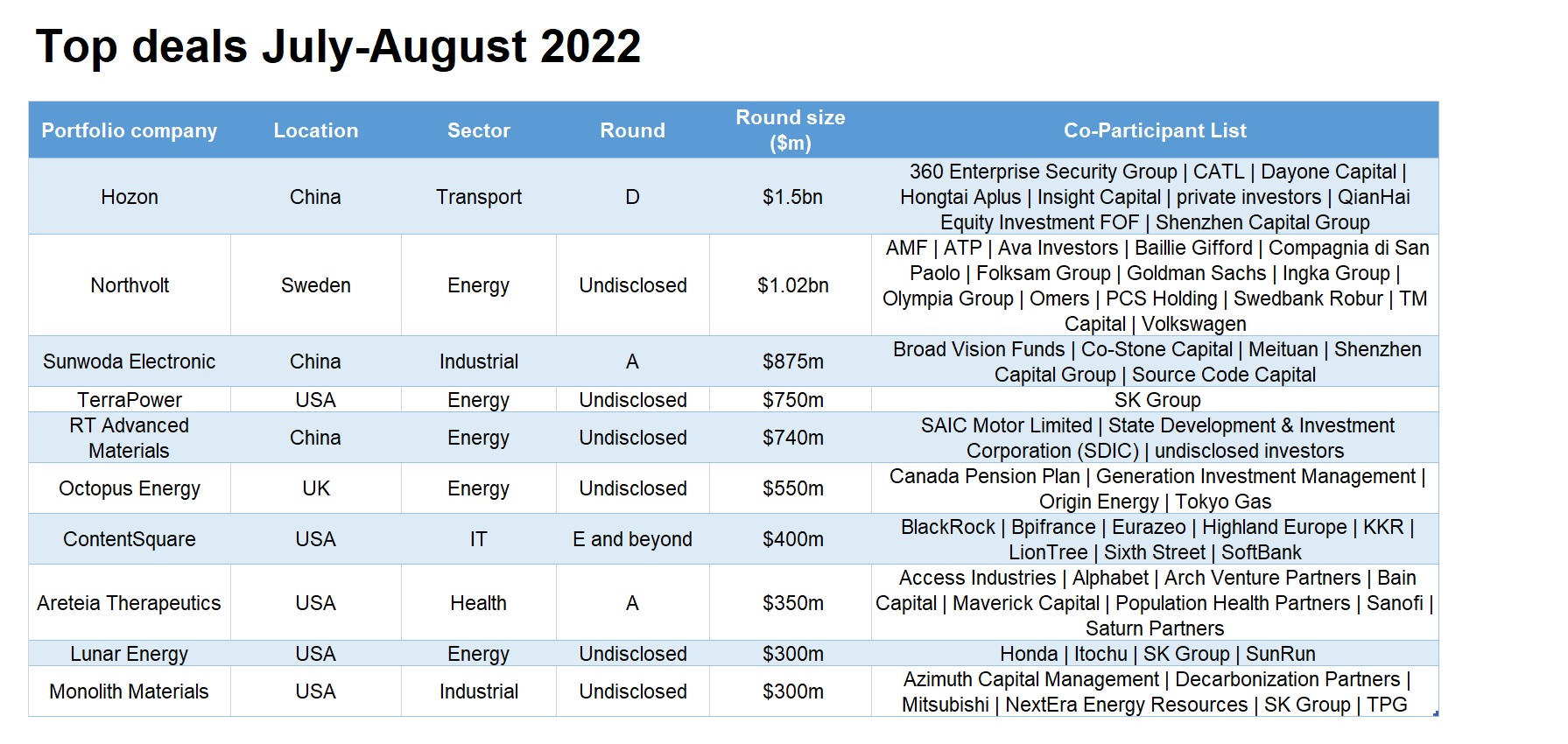 Media deals
The media sector saw a large uptick in the number of deals, with 86 transactions in July and August, compared with 67 in the same period last year. Gaming — where corporates are continuing to invest in NFTs and the metaverse — accounted for much of the growth.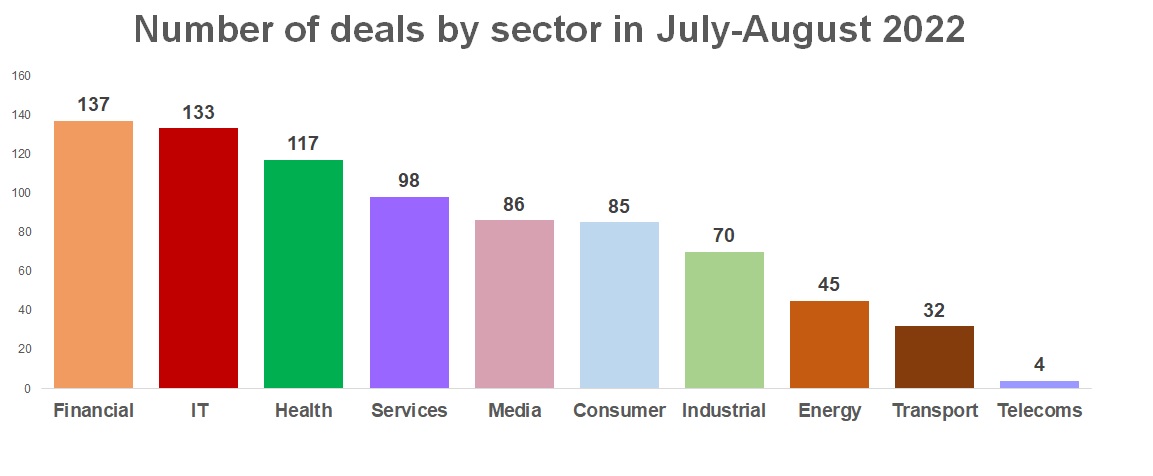 One of the biggest deals in the sector was the $263m round for Japan-based FromSoftware, a video game subsidiary of publisher Kadokawa, backed by internet and gaming company Tencent and electronics producer Sony, through their Sixjoy Hong Kong and Sony Interactive Entertainment subsidiaries. The company is engaged in the development of video games like Elden Ring, Dark Souls and Sekiro.
US-based NFT game publisher Limit Break, meanwhile, raised a $200m round which featured crypto exchanges FTX and Coinbase as backers (the latter via Coinbase Ventures). The company has developed a multiplayer gaming platform intended to replace IPO-style fundraising with free mint games. It allows game creators to sell parts and earn titles based on blockchain technology, enabling players to play games, collect tokens and generate income.
Geographic breakdown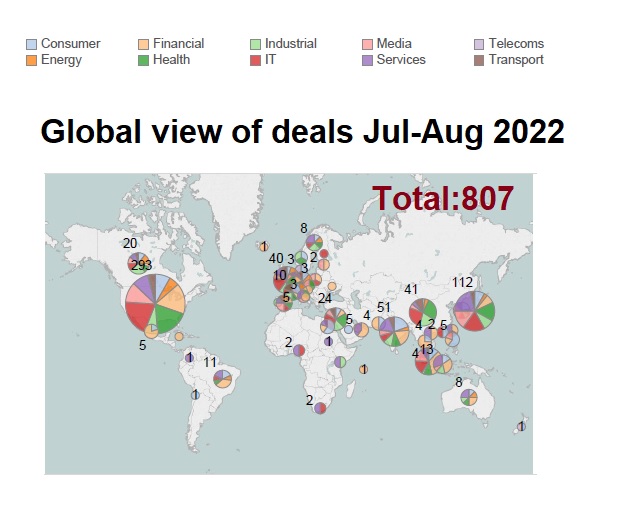 The US came first in the number of corporate-backed deals, hosting 293 rounds, while Japan was second with 112 and India third with 51.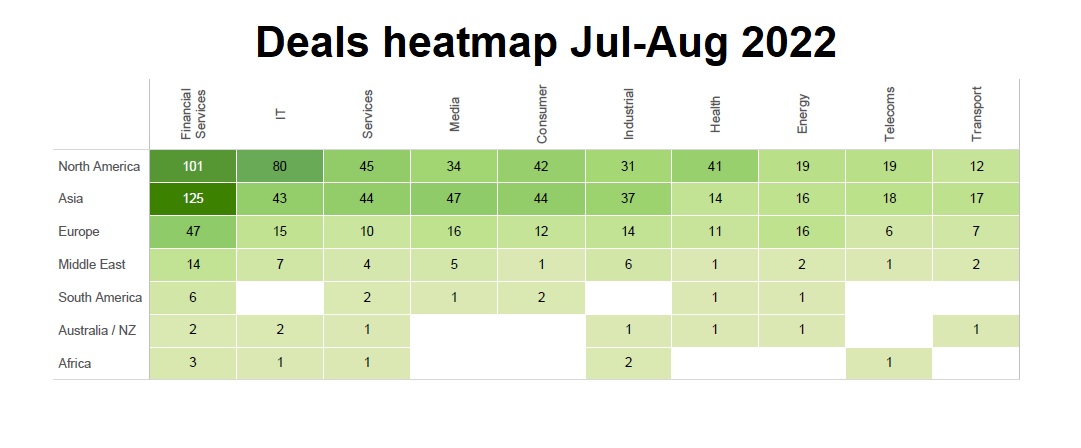 Most active investors
The leading corporate investors by number of deals were internet conglomerate Alphabet, telecoms and internet conglomerate SoftBank and crypto asset exchange Coinbase. In terms of involvement in the largest deals, Alphabet was on top along with Electric battery maker CATL and industrial conglomerate SK.
New investment vehicles
GCV reported 19 and 23 corporate-backed funding initiatives in July and August, including VC funds, new venturing units, incubators, accelerators and other. These figures were lower than the one from June 2022, which had registered 27 such initiatives. The estimated capital, however, jumped up considerably to $11.46bn in August but that was due to the gargantuan G42 Expansion fund sized at $10bn.
United Arab Emirates-based artificial intelligence (AI) and cloud technology provider G42 launched a $10bn venture capital fund with the government-owned Abu Dhabi Growth Fund providing most of the cash. The fund will target computing, communications, mobility, cleantech, renewables, digital infrastructure, new materials, multiverse, financial and healthcare technology. It will run as a private equity investor, with a significant focus on high-growth regions.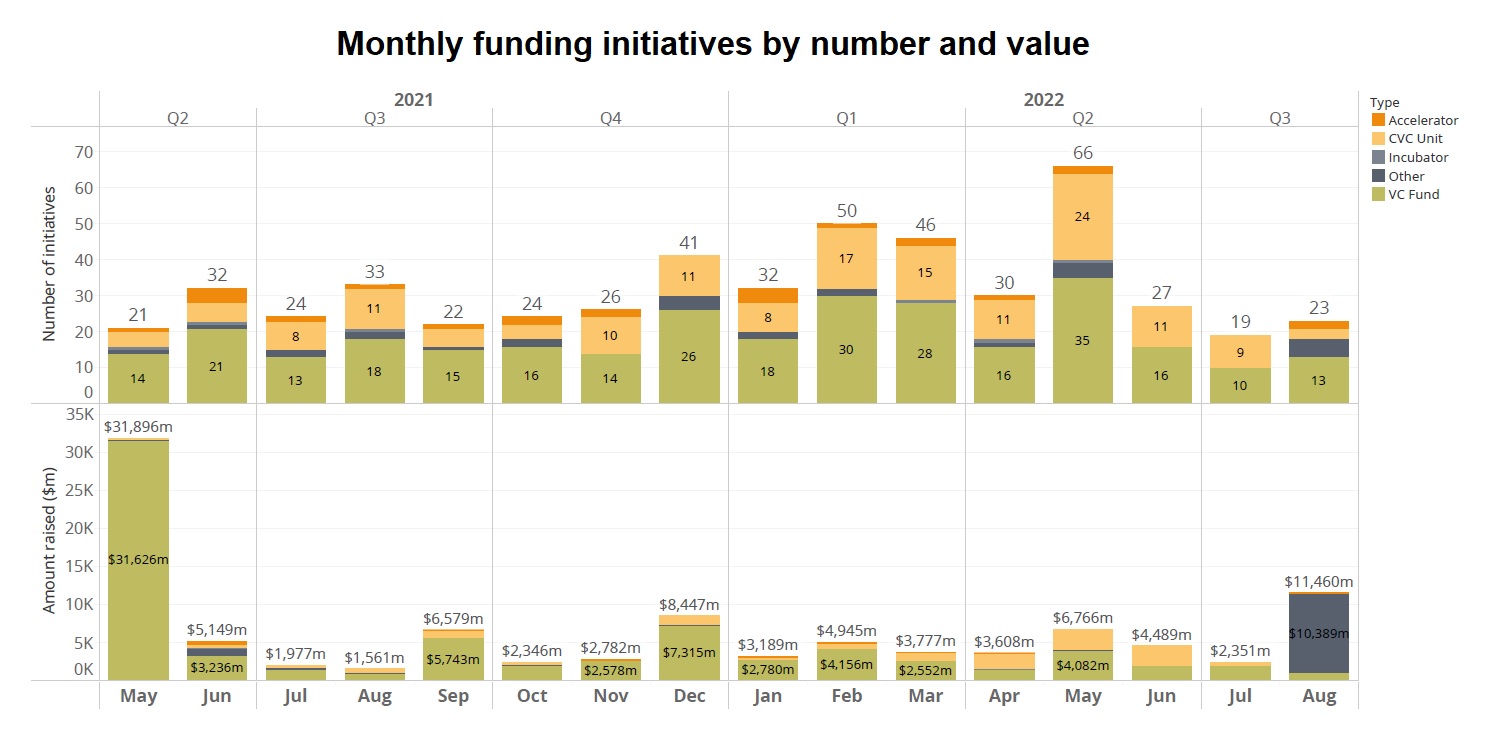 Exits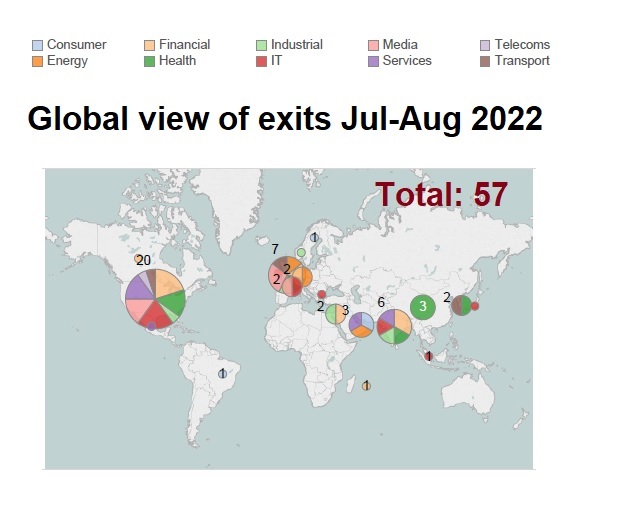 The number of exits has dropped significantly. GCV Analytics tracked 57 exits involving corporate venturers as either acquirers or exiting investors in July and August. The transactions included 46 acquisitions, five initial public offerings (IPO), four other transactions and one merger. This is compared with 109 exits in the same period last year.
The same downward month-on-month trend was evident here as in the number of deals. The exit count in both months (19 and 38) was significantly lower than the June 2022 figure (51). The total estimated exited capital dropped to $497m and then bounced back to $5.29bn, though the latter figure was still considerably smaller than the $22.73bn and $6.1bn from the same months last year.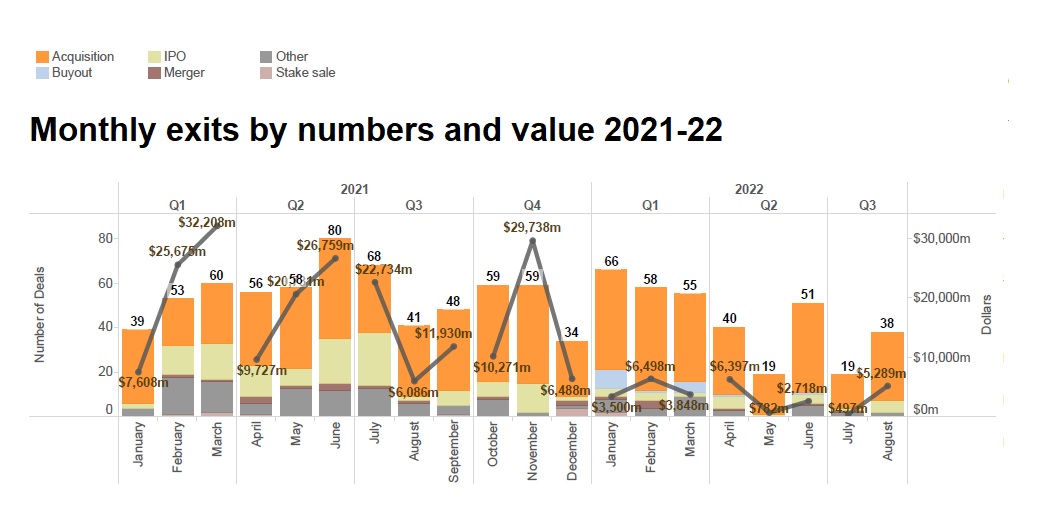 Around half of the biggest exits were in life sciences businesses, which tend to work countercyclically to the rest of the market.
Chinese medical imaging company United Imaging Healthcare went public on the Shanghai Stock Exchange and its price soared in its first day of trading, with shares jumping 65%. The company raised 11 billion yuan ($1.6bn), according to Bloomberg. Previous backers of the company include investment firm Maidexin Yiliao and grocery stores chain StarMarket. United Imaging provides medical imaging equipment and radiotherapy products, among other solutions.
Pharmaceutical Gilead Sciences reached a definitive agreement to acquire UK-based therapeutics company MiroBio for $405m. The company was previously backed by SR One, the venture firm spun out of pharmaceutical company GSK. MiroBio is developing novel therapeutics for auto-immune diseases. Its therapeutics activate natural mechanisms to regain control of overactive immune responses triggering these diseases and leverage natural signalling mechanisms to restore immune system balance.

Drug producer Vertex Pharmaceuticals agreed to buy ViaCyte, a US-based developer of stem cell treatments for diabetes, in a $320m deal which will allow advanced materials producer WL Gore and pharmaceutical firms Johnson & Johnson and Pfizer to exit. ViaCyte is working on stem cell-based therapies for type 1 diabetes and will use the funding to further develop its lead assets.
Legend Capital, the venture capital firm formed by conglomerate Legend Holdings, exited China-based contract clinical services provider R&G Pharmastudies in a $174m IPO on the Shenzhen Stock Exchange's Chinext market. R&G PharmaStudies is a clinical trial outsourcing service provider, offering a full-chain clinical research services, serving global pharmaceutical and medical device companies and scientific research institutions.
MicuRx Pharmaceuticals, a China-based antibiotic developer backed by conglomerate Legend Holdings' Legend Capital affiliate, listed on Shanghai Stock Exchange's Star Market. The company raised RMB960m ($142.2m) by issuing 130 million shares priced at RMB8.16 apiece. MicuRx develops novel antibiotics to combat drug resistant bacterial infections.
A handful of non-life science businesses also made the top exits list.
Internet group Prosus agreed to buy the 33.3% stake in Brazil-based portfolio company iFood it did not own, from fellow food delivery service Just Eat for €1.5bn ($1.5bn) in cash and an additional contingent consideration of up to €300m. iFood runs an online platform that allows customers to order food from a network of more than 50,000 restaurants.
Cox Enterprises agreed to acquire its portfolio company Axios reportedly for $525m, with plans to expand the digital news site's coverage. Cox had invested in Axios back in 2021. Axios publishes a mix of original and narrated coverage of media trends, technology, business and politics news with detailed analysis.
Credit card management services provider Cred acquired Smallcase, an India-based wealth management platform backed by e-commerce group Amazon and financial services firm HDFC Bank, for roughly $400m. Smallcase runs an online trading platform, offering investment products that help to build a low-cost, diversified and long-term portfolios.
Gym management software provider ABC Fitness Solutions agreed to acquire Glofox, an Ireland-based fitness engagement software provider backed by investors including social media tracking service NewsWhip, for about €200m ($204m). Glofox has developed a gym and studio management software, covering multiple business processes such as member management, class scheduling, payments, reporting and e-commerce.
Private equity firm Clearhaven Partners paid over $100m for a controlling stake in SundaySky, a US-based video creation software producer that counts mobile network NTT Docomo and mass media groups Comcast and Liberty Global as investors. The company has developed a video engagement platform designed to engage people with personalised brands.