Helium's $30m series B attracted several international corporates, and its healthcare software suite is an example of how Nigeria's companies are moving on from traditional areas like fintech.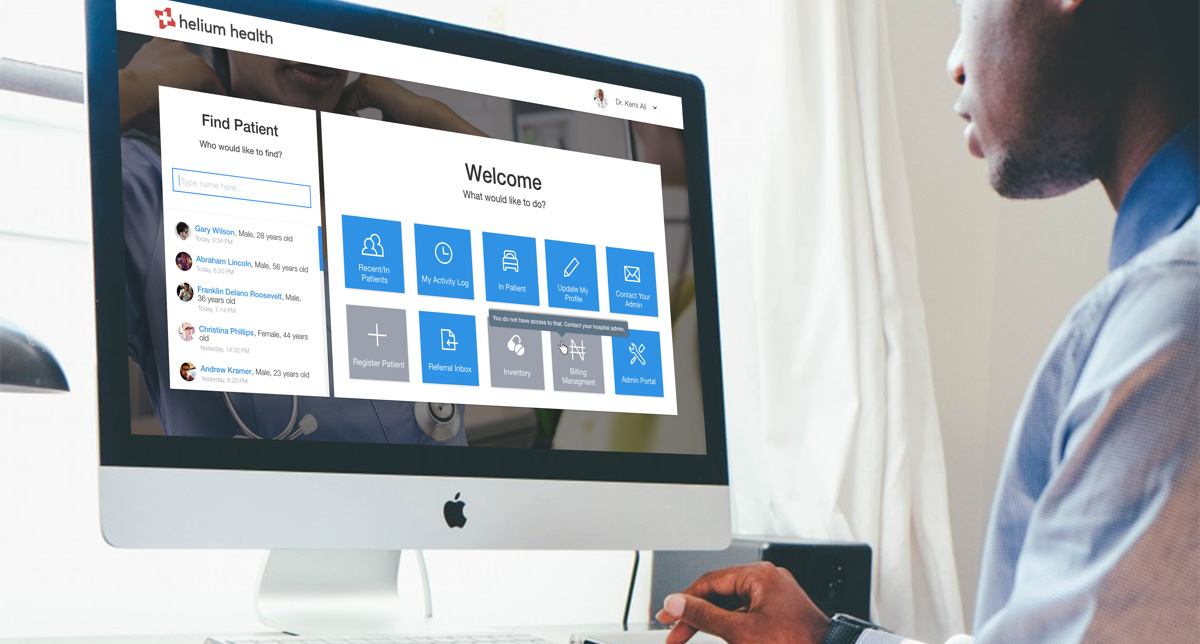 Helium Health secured in a $30m series B funding round led by insurance group Axa this week – one of a new breed of Nigerian startups attracting backing from corporate investors.
The Lagos-based company offers a telemedicine and medical appointment booking service, HeliumDoc, as well as an electronic medical records product called HeliumOS for use in hospitals and medical practices, and it offers loans to healthcare providers through digital lending platform HeliumCredit.
With Africa's healthcare facilities severely undercapitalised and mostly still running on paper records,  Helium Health has an enormous market opportunity both in finance and digitalisation.
Insurance group Axa led the round through asset management subsidiary AXA IM Alts and was joined by a number of other corporate backers, including China-based internet group Tencent, Japanese drug producer Ohara Pharmaceuticals and Taiwanese chemical provider LCY Group.
But Helium Health is just one of several startups to have closed substantial early-stage rounds with corporate investors recently.
Social commerce giant Shopify backed business management and payment platform Nomba's $30m pre-series B round at a $150m valuation early last month, before digital commerce infrastructure provider Sabi Am doubled that valuation in a $38m series B featuring Commerzbank subsidiary CommerzVentures a fortnight later.
While Nigeria has not been immune to the global downturn in VC funding, in recent years funding for startups has increased significantly. Last year the number of rounds hit a new high of 189 – more than the total from 2015 to 2019 combined – and although the volume of capital dipped from 2021, it remained comfortably higher than any previous year.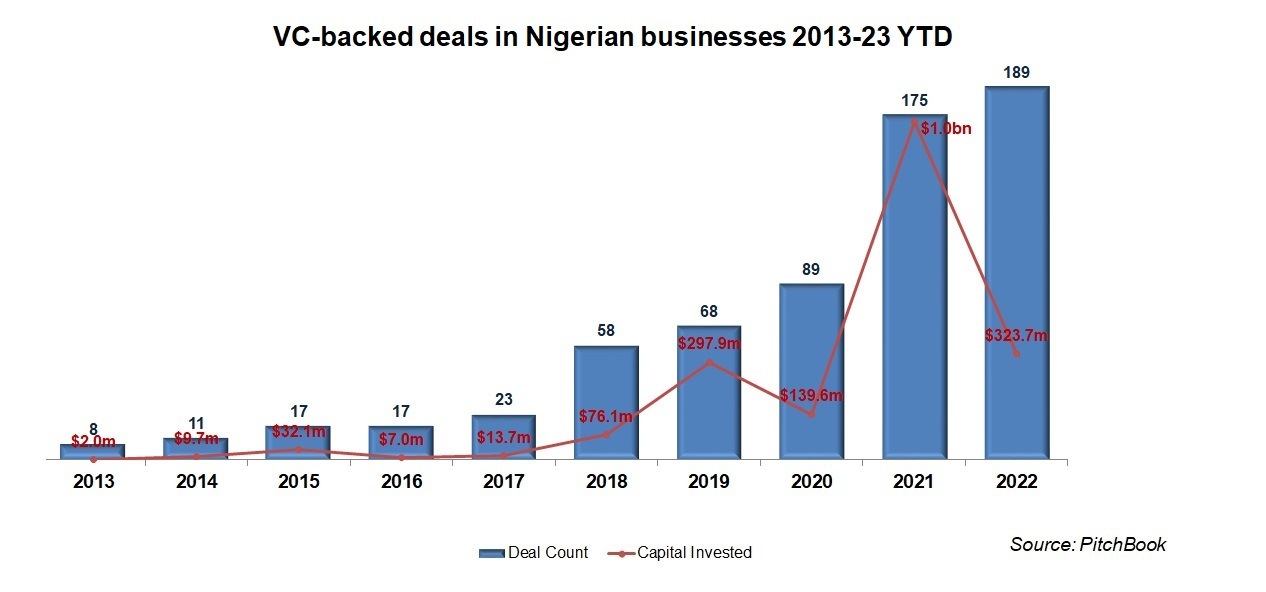 There are certain sectors that have thrived in developing markets in the past decade, most prominently fintech, as digital products take hold in countries where customers may have a smartphone but no conventional bank account.
This is particularly true in Nigeria, the home of digital payment platforms OPay and PalmPay among others, as the list of the biggest VC deals in the country since the start of 2020 shows: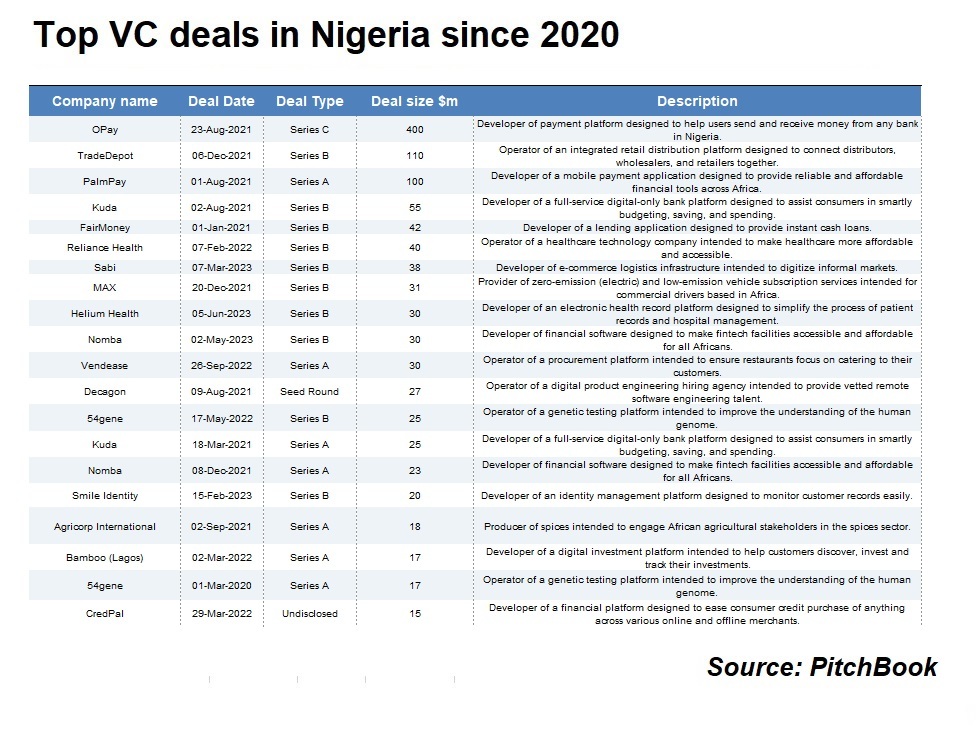 But the table also gives a sign of the next evolution of Nigerian startups, from payment apps and consumer offerings to healthcare. Importantly, these are not just copycats of established products from other regions, they are in many cases products that are being developed for African users.
Smile Identity offers onboarding and identity verification tools tailored for African tech companies. Decagon is recruiting what it claims is the top 0.5% in software engineering talent from the African cities in which it operates, in order to build applications for global giants like Nike or Mastercard. 54Gene is looking to cut the disparity in African genomics data to develop precision medicine for African patients.
It is also notable that all but one of the rounds in the list are series B or earlier: these are all relatively new companies and they have substantial room to grow.
Helium acquired Middle Eastern medical booking platform Meddy 18 months ago, and its next step will involve more geographical growth. HeliumDoc is set to add East Africa to its existing markets of Nigeria, Qatar and United Arab Emirates as HeliumOS expands from Africa to countries in the Middle East's Gulf Cooperation Council.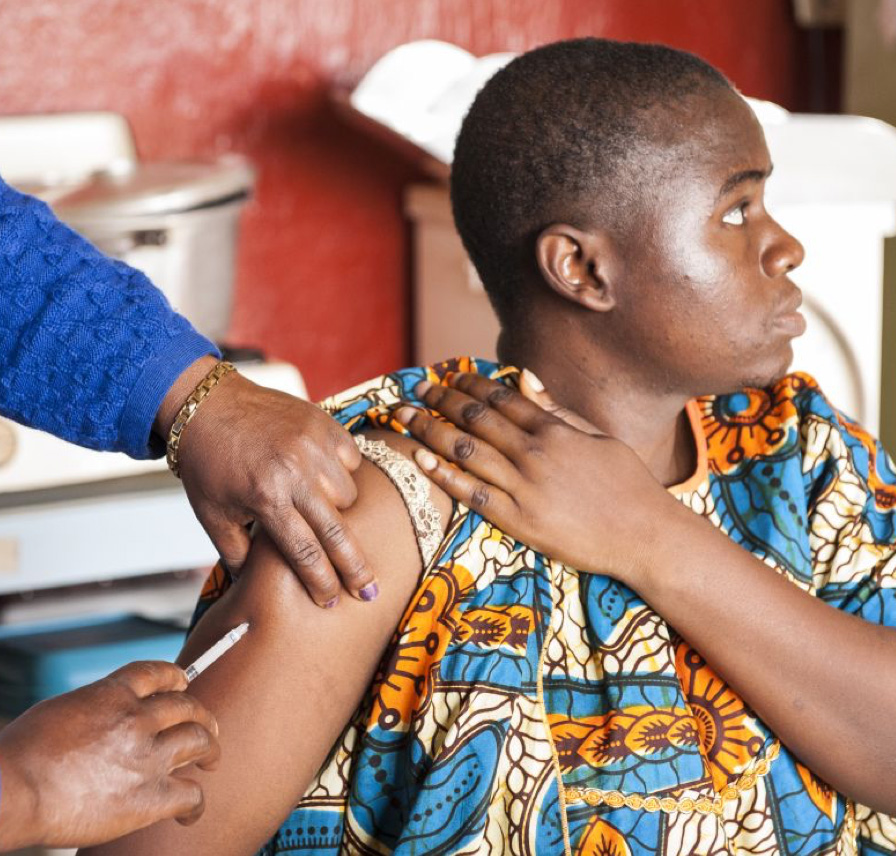 While Helium's software is helping to modernise medical practices in the region, the big differentiator could be HeliumCredit.
The company estimates Africa's healthcare financing deficit runs to $66bn per year as clinics and hospitals struggle to find equipment or medical supplies. The series B funds are expected to support the growth of HeliumCredit from 200 healthcare facilities to 1,000 through an expansion into Kenya and a partnership with the US International Development Finance Corporation.
Companies like Helium are also changing the investment habits of corporate VCs. Ohara has owned a 20% stake in Nigerian drug manufacturer Fidson Healthcare since 2019 and counts Kenya's Revital Healthcare as a portfolio company, but while Tencent and Axa IM Alts have both backed African startups before, they have generally been in the fintech sector. This is the first healthcare VC deal for either on the continent.
There is an even newer wave of Nigerian companies coming through, and they're doing it with corporate backing. Delivery and warehouse services marketplace Haul247 and cold-chain delivery service Figorr were both part of Google for Startups' Black Founders Fund and both closed their seed rounds in the past month. Figorr was also one of several African startups to get prize money from a programme run by Chinese ecommerce group Alibaba.
Traditionally, corporate investors have concentrated on consumer offerings in developing regions, leaving technology deals to more developed markets.
But with the growing awareness that there is no one-size-fits-all model in many cases, there is ample space for this new wave of companies developing enterprise and tech products for African businesses. And with Tencent and Axa just two of the companies still early on in their expansion into Africa and the Middle East, they may well be harnessing corporate capital to grow.