The digital coaching app developer pushed its overall funding past $330m in a series C round co-led by SoftBank Vision Fund 2.
Telecommunications and internet group SoftBank's Vision Fund 2 co-led a $200m series C round for digital coaching service CoachHub having already become a client, the Germany-based company's co-founder and managing director, Matti Niebelschuetz, told Global Corporate Venturing.
CoachHub has built an online platform which combines artificial intelligence with a pool of more than 3,500 certified business coaches spanning 60 languages to enable companies to develop personalised and scalable coaching programmes for their workforce regardless of seniority.
"The service we are offering is quite unique," Niebelschuetz said. "In the world I've come from, coaching was accessible mainly only to the top executives, 0.1% of the organisation, and now the world we are in is rapidly changing and digitisation is everywhere.
"At the same time, new generations of talent are asking for more support at an individual level and companies are realising that the old way of doing things – sending people to a seminar and maybe to a nice castle for a few days, that one-size-fits-all model – just doesn't work anymore. It's been proven those things just don't stick."
The round was co-led by investment firm Sofina and included HV Capital, the venture capital firm backed by publisher Holzbrinck, in addition to fellow existing investors Molten Ventures, Speedinvest, Signals Venture Capital and Silicon Valley Bank's SVB Capital subsidiary.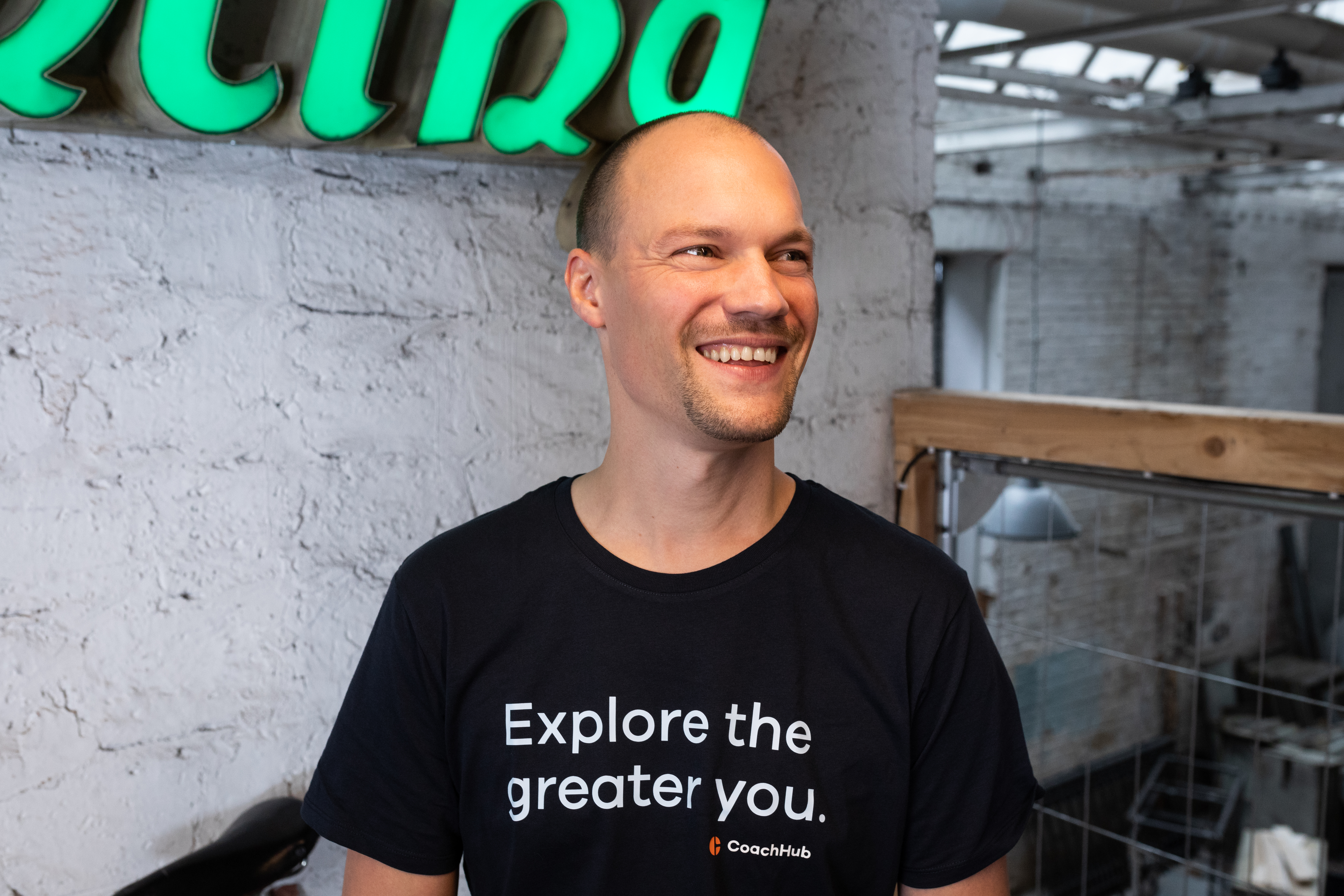 Although he did not provide firm details on valuation, Niebelschuetz confirmed to GCV that the round took CoachHub's total funding to over $330m. With a 68,000-strong workforce that stretches across multiple continents, SoftBank was a client before an investor, he said, and that helped give them the conviction to make the leap.
"What [Vision Fund 2] is bringing to the table on the one hand is a very strong international network, which obviously is really interesting for us because we're a corporate solution and have benefitted very much from the network of our existing investors in the past," Niebelschuetz said, adding that the company has already benefitted from its backers' knowledge of the technology space.
"We made two acquisitions in Europe, this year and last year, and those wouldn't have been possible without the expertise and knowledge of our investors. That's also something we're expecting to get in the way of support from our new investors.
"Lastly, we really appreciate the geographics of SoftBank. We're rooted in Europe and have a very strong footprint there, but we're growing as a global company."
Niebelschuetz spoke to GCV from a park in New York, where he was visiting his brother Yannis, CoachHub's co-founder and CEO, who was hot off client conferences in Australia and Singapore. The company has 150 employees each in the US and Asia-Pacific regions and will split the series C funds between global expansion and technology development.
"This is such a young industry, and it is still being shaped," Niebelschuetz said. "So, we are collaborating with our clients and actually have a team of 150 engineers, behavioural scientists, machine learning experts and product managers who are further improving our product, our research, our science and our platform. It is obviously a massive product investment.
"The second is internationalisation: we are quite established in some markets and are just entering others. We are definitely going to double down on our international category leadership."
Photo of Matti Niebelschuetz courtesy of CoachHub.