What are the benefits of running a venture unit with two managing directors? Wipro Ventures' Venu Pemmaraju and Bipla Adhya bring contrasting experiences and two pairs of eyes.
Venu Pemmaraju and Biplab Adhya launched IT services firm Wipro's corporate venture capital (CVC) arm and have spent seven years running it together, but how does having two managing directors work in practice?
"Every investment we do, we do jointly," Adhya says. "There are two pairs of eyes looking at it and once an investment is done, one of us will take on the job of managing it, being on the board as an observer or just developing a relationship with the company and CEO."
The two come from markedly different backgrounds. Pemmaraju had been an investment director at semiconductor technology producer Intel's corporate VC unit since 2000, while Adhya came from within Wipro where he held a range of technical roles. They say that combination is part of what makes Wipro Ventures tick.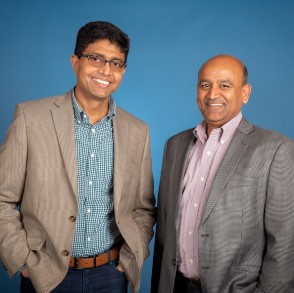 "I joined Wipro in 2015 after 15 years at Intel Capital," Pemmaraju says. "And prior to that, I had roles in product development, technical marketing and product marketing, so that was my background."
Adhya adds: "Venu came in steeped in a CVC background and I came in primarily from an operational role; prior to Wipro I was in the enterprise application space.
"So, when we got started, it was a mix of two sets of experiences that helped us launch Wipro Ventures: me primarily looking at how technologies we are evaluating would make sense from a strategic rationale, and Venu bringing in the contacts and perspective of corporate investing into the decisions we make."
Pemmaraju says: "It is helpful having someone like Biplab as my co-managing partner because I could bring some perspective of the industry outside. To be successful as strategic investors we have to take solutions to market, so understanding how Wipro works and how a global systems integrator works – getting those things together has helped us in the last seven years of our careers."
"We need to be close to where our customers are"
Wipro Ventures has made investments in 27 companies along with some quiet commitments to enterprise-focused funds. Although Wipro itself is headquartered in India, the unit is based in Silicon Valley, reflecting the fact half the company's business stems from the US. It also makes sense given Wipro Ventures' aim to help portfolio companies sell their products through the Wipro ecosystem.
"To deliver that objective we need to be close to where our customers are so we can help them with the solutions we invest in," Adhya says. "And to where the startup ecosystem is more prominent, where enterprise innovation is happening. Silicon Valley is the most logical choice for that.
"The other thing is that we have a very small team and we cannot spread ourselves across the globe. Our strategy was always to evaluate deals better – two pairs of eyes – so we had to look at them in one place.
"Having said that, we know enterprise innovation is happening in different parts of the world – in say, Seattle, New York where it's coming on pretty strong, Israel is very prominent – and the way we are expanding ourselves is through LP relationships with a few smart managers in those areas, so we can talk to them, understand what they're doing and co-invest with them as appropriate."
The unit started off with $100m in capital before Wipro added $150m for a Fund II in early 2020. It has gradually evolved into a later-stage growth investor, as evidenced by commitments to big rounds by the likes of Securonix and Immuta in recent months.
"We see a lot of new areas…that we continuously evaluate"
Wipro Ventures did however set up a third fund last year with $50m which is explicitly earmarked for earlier bets on edgier technologies. That vehicle has so far made two investments, backing a $13m round for operational intelligence startup NetSpring and providing $1.2m for cybersecurity software developer SquadCast.
"We can look at companies that are pre-revenue," Adhya says. "Not the first institutional money but probably the second, and they are not ready to go to market with a large strategic investor like us. But they are important trends, and we believe they would become a useful trend to be partnering with two or three years from now. That is the mandate."
Pemmaraju adds: "We have two investments from that emerging technology fund but we see a lot of new areas, in cybersecurity for example, that we continuously evaluate.
"Cybersecurity has been one of the most active areas for us. In fact, of the 27 investments we have made, nine have been cybersecurity. Four have exited the portfolio but we still have about five."
The increased participation in larger rounds comes amid a heady two years for the tech market but Wipro Ventures has maintained a policy of three to five new investments per year, and the MDs cited discipline as a key factor in their approach, together with trust, value-add for portfolio companies and support from the senior levels of the organisation.
Both were recruited by Rishad Premji, who took the impetus to initiate the unit as chief strategy officer before moving up to chairman of Wipro. They continue to meet with him and Wipro chief executive Thierry Delaporte and are currently reporting to the company's chief financial officer, who has also worked with them from the start.
"One external perception about CVCs is that their mandates change with leadership changes," Adhya says. "But in our case, we have remained steadfast to our vision that was established when we were incorporated, and continue to get support and help to make sure we deliver on that value-add we promised, where small companies can work with a large corporate like Wipro."
Photo of Venu Pemmaraju and Biplab Adhya courtesy of Wipro Limited.