Sustainability and customer experience are on the agenda for transportation CVCs in 2023.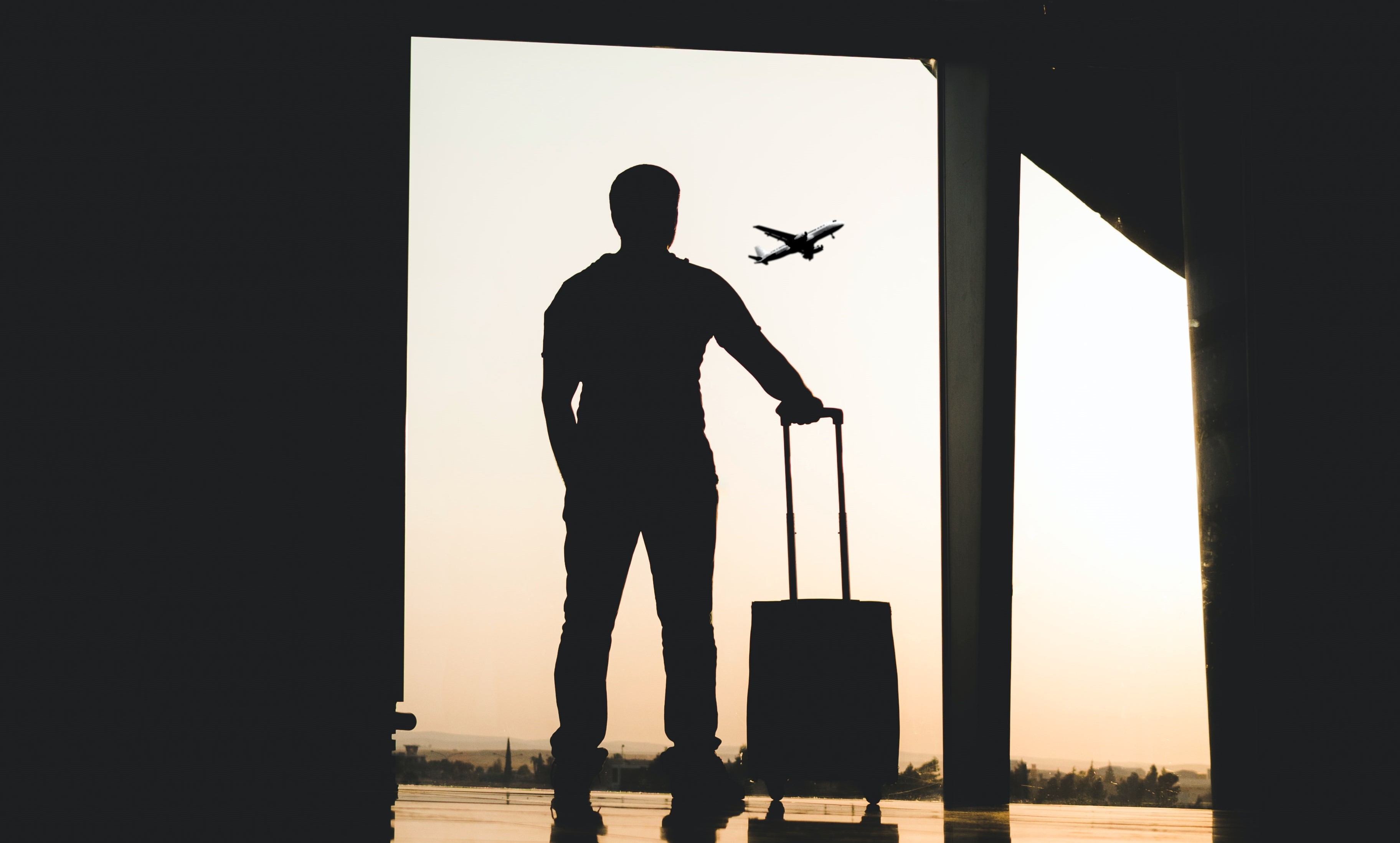 For Amy Burr, president of JetBlue Ventures, the CVC of the US airline, the interest in transportation innovation has never been stronger.
"For us being a corporate venture capital firm for a travel company, this has been a really great year. I know that others maybe have had different perspectives in different sectors, but we've seen such strong demand. There's lots of interest in travel technology and travel startups," says Burr.
"Demand has been strong. We've come out of this latest phase of the pandemic and people have really doubled down on travel. Airlines are still ramping up in their recovery from covid, from the capacity constraints this summer."
As the graph below shows, corporate-backed deals in transport technology have largely reverted to the mean of the past five years following the anomaly that was 2021. Deal flow was higher as of December than it had been for every year prior to 2021, while investment dollars nearly halved from 2021, but was still higher than any other year except for 2017.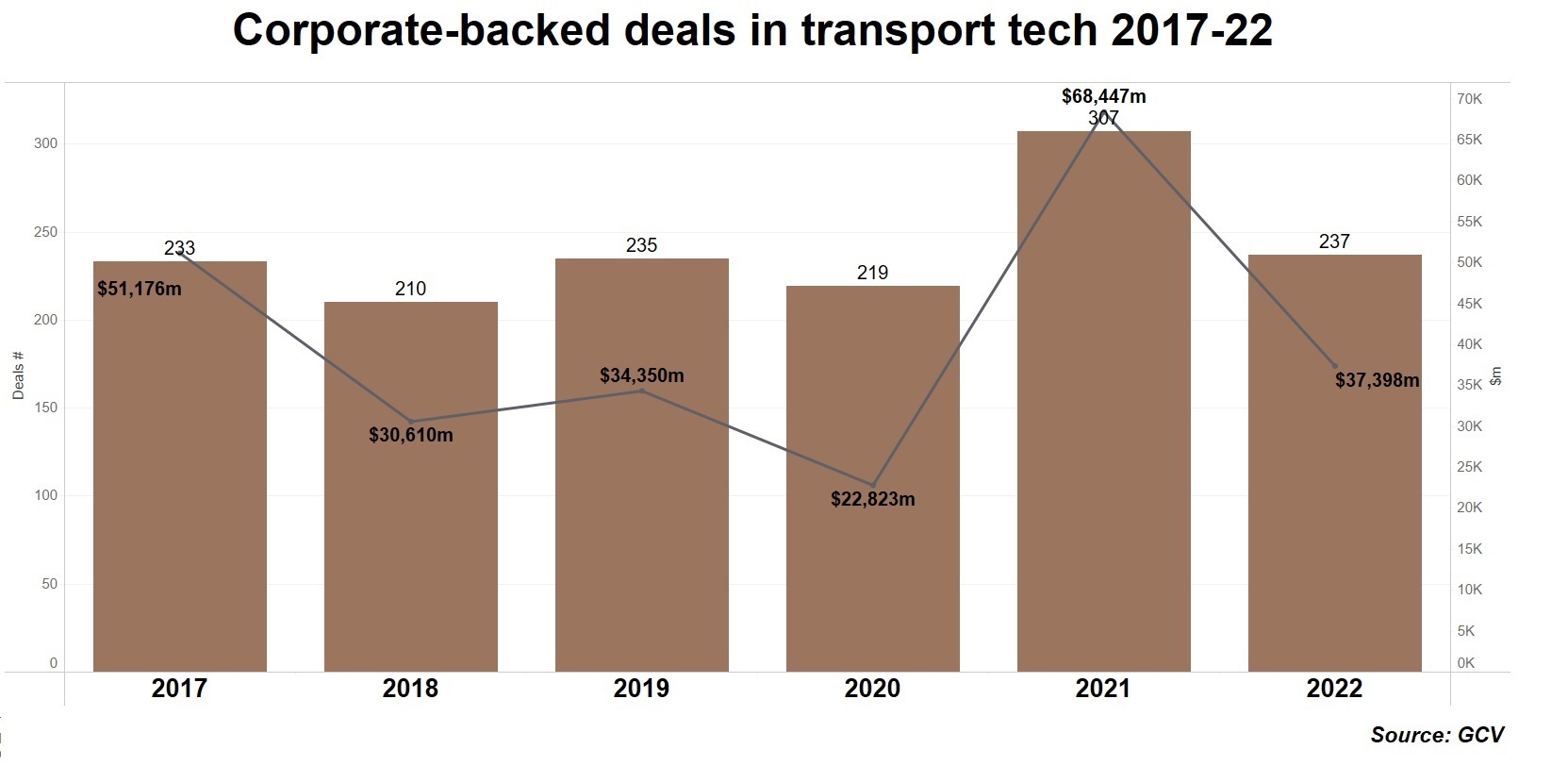 Despite the weaker year for VC investments generally, investors in transport tech have still been keen to deploy capital, though perhaps with a hint more restraint.
"All the deals we've been in, they've certainly had plenty of interest. I think people are a little bit more cautious in the sense that they're looking for the right terms and they're looking for the right valuations, but I don't see that they're not investing. Maybe that'll change or maybe that'll dip a little bit in early 2023, but I haven't seen it and we've certainly been full steam ahead on investing," says Burr.
The aftermath of the pandemic and the global economic cooling have made investors more keenly focused on their core themes and opportunities. In the airlines sector that overwhelmingly means doubling down on sustainability.
For United Airlines Ventures, the CVC of the US air carrier, the priority going forward for a business so notoriously difficult to decarbonise is to find alternative and sustainable aviation fuel. The climate provisions in the US Inflation Reduction Act (IRA) also provide big opportunities for airlines to invest in clean energy technologies.
"Ninety-eight percent of our greenhouse gas emissions come from the consumption of jet fuel. So, it is a very easy problem to identify, but it is a very difficult problem to solve. We're one of the hardest to abate industries," says Andrew Chang, managing director of United Airlines Ventures.
Alternatives to jet fuel such as electric batteries lack the necessary energy density to be a viable, he says, while hydrogen – though promising – also lags behind hydrocarbons in terms of energy density and, because of the amount of space that would be necessary to store the hydrogen in the aircraft, would potentially also mean reducing seat numbers and therefore revenue.
"We've identified alcohol to jet [fuel], carbon capture and hydrogen as three of our top investment focus areas. I think with respect to the IRA, clearly carbon capture and hydrogen are big winners. It's making it more economic and it's got more support with alcohol to jet," says Chang.
It is not the only airline confident its course is the right one, and that sustainability is a flagship focus area.
"We are going to see continued interest in sustainability tech, which is a big theme for us," says Burr, adding that AI and blockchain-based technology, as applied to the transport sector, is something the unit is interested in for future investments.
It is not just sustainability in the crosshairs, though. The customer journey is something that has been improved, but not revolutionised, since commercial air travel really took off midway through the 20th century.  
Logistics technology comes into focus
"When you think about aviation over the last four or five decades, we really have not done a good job innovating. You really do travel in much the same way," says Chang, giving the simple example of accommodating slightly late arrivals to flights – something for which logistics technology is crucial – as something that improves the experience.
"In the past, you had to close the gate, close the door because you'd lose your job if you didn't get out on time. Well, gosh, let's do the right thing – how can you manage the logistics and the system? Maybe you do hold a plane for five minutes so that another six to 10 passengers make their connection. Saves people money, you still get there on time."
For cars, which are becoming increasingly complex technologically, the possibilities for onboard capabilities for any car-related service – such as insurance purchase and payment mechanisms for parking, dealership services or crash analysis directly from the vehicle – present growth potential.
"The biggest opportunity is definitely in-vehicle services and subscription. These vehicles are changing and they're becoming like phones," says Vito Giallorenzo, chief operating officer of BlackBerry's IoT business and head of the BlackBerry IVY Innovation Fund. "That creates platforms where it is going to be very easy to add services into these cars, services that can generate a significant amount of revenue for the automakers and for people who work with them. There's going to be a lot of opportunity, the same way in the early 2000s when the phones became smartphones."
The long-term nature of projects acts to protect some investors and startups from shorter-term economic turbulence.
"The automotive industry, especially for [software] solutions, these are three, four, five-year projects. They're looking now at the software systems that go in cars that are going to be shipped in 2025 and 2026," says Giallorenzo.
Given the necessity of transitioning to electric vehicles by 2030, carmakers, and by extension technology providers like BlackBerry, don't seem to have cut budgets for innovation.
"Our customers cannot afford to just say, 'Oops, there is one year of potential downturn, let's stop all these projects,' because these are long, complicated projects. So I think we're more insulated."