Kratos Studios and Chaos Labs each secured $20m, part of a raft of rounds this week showing corporates are still backing new Web3 startups despite the FTX fallout.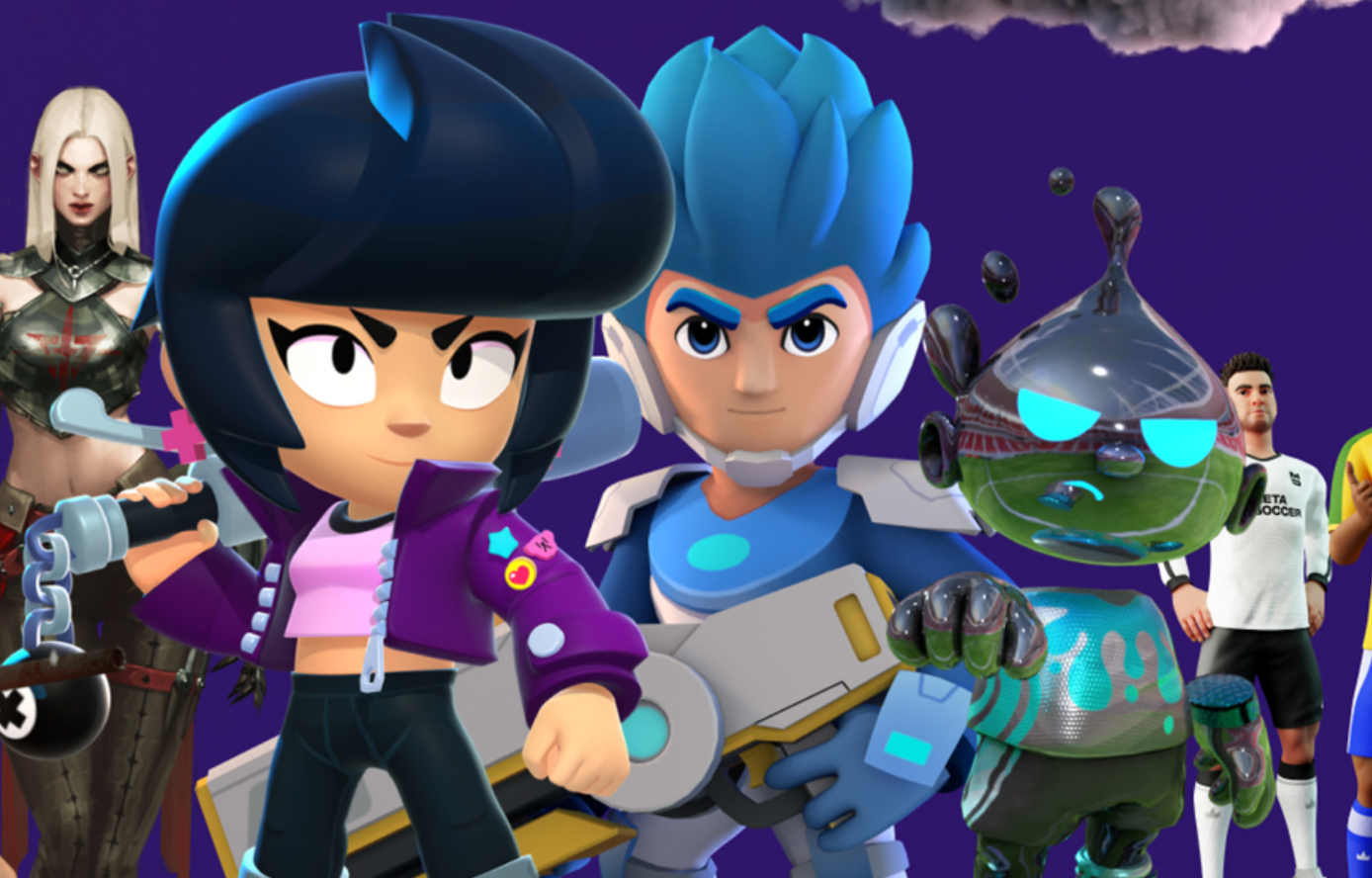 Web3 gaming startup Kratos Studios came out of stealth yesterday with $20m in seed capital from investors including corporates Prosus and Nazara Technologies. The fundraising caps a week that showed the FTX debacle is not halting early funding for Web3 startups.
Cryptocurrency exchange FTX collapsed last November with billions of dollars of customer deposits going missing, just a few months after raising cash at a $32bn valuation. CEO Sam Bankman-Fried is set to stand trial for criminal fraud this October, and there was a wider worry the case could affect confidence in a sector already hit by declines in crypto token prices along with the value of digital assets like NFTs.
However, Kratos is one of nearly a dozen Web3 startups to announce early-stage corporate-backed rounds this week, indicating that while more established companies may find it difficult to raise cash at higher valuations, early-stage funding is still going strong.
Kratos owns a decentralised autonomous organisation focusing on online gaming which it runs through IndiGG, a brand it acquired from gaming guild YGG. Web3 games operate on the blockchain, in theory making them unhackable and allowing users to earn or win digital assets by playing,
The company is looking to develop games as well as the infrastructure to distribute them in emerging markets. It raised the cash at a $150m valuation in a round featuring Prosus Ventures, the investment arm of ecommerce holding group Prosus, and Nazara, the gaming and sports media platform where Kratos co-founder Manish Agarwal used to be CEO.
Agarwal said in a statement: "We are providing the 500 million-plus gamers of India an opportunity to leverage their time and skill to become creators of digital goods on the blockchain for global games. This can enable India to transform into the digital goods' factory for the world."
A bumper week for Web3 seed funding
Kratos was not the only company in the space to disclose a $20m seed round this week. Chaos Labs, the creator of an automated economic security system for crypto protocols, disclosed a round led by digital payment processor PayPal through its PayPal Ventures unit that included fellow corporates Coinbase and Uniswap.
Elsewhere, the recipients of corporate-backed seed funding included TipLink, which allows users to transfer digital assets through links; Unagi, a developer of NFT fantasy sports games; blockchain infrastructure node provider Gateway.fm and Web3 cybersecurity startup Stelo Labs.
As figures from Pitchbook (below) show, seed round volume for Web3 startups is not what it was at its spring 2022 peak but funding has largely held up since November and deal numbers have not declined significantly. It is still early but it looks as if a mooted collapse in confidence in the sector has not occurred.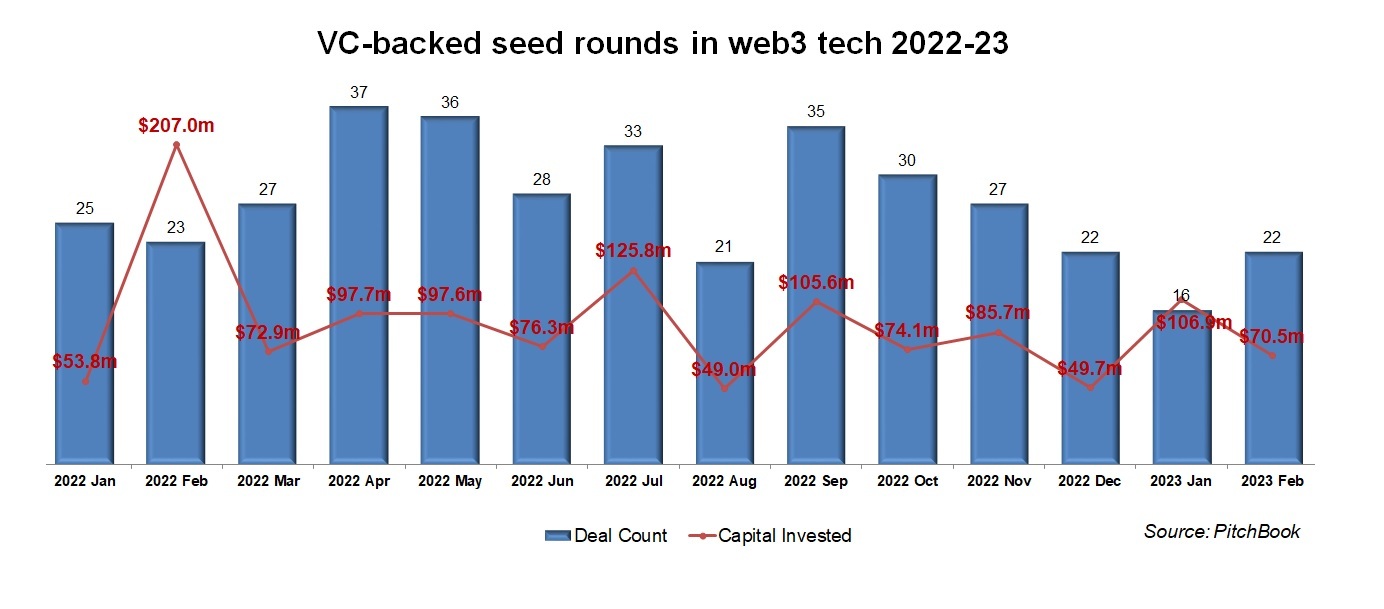 There are several possible factors contributing to the trend. One is simply that established venture capital firms have continued to be active in the sector. The Kratos round was led by Accel while Lightspeed Venture Partners, Bessemer Venture Partners, Sequoia Capital and Andreessen Horowitz, owner of the $600m A16z Crypto fund, were among the big-name VCs backing the others.
Lightspeed and Sequoia were also among FTX's investors, and Sequoia is one of the defendants in a class action lawsuit accusing it of giving the company an "air of legitimacy" through its promotion, but the big names in VC still hold substantial influence which encourages other investors to come onboard.
Another plus point is that Web3 has always been a sector where the big companies are unafraid to back new entrants. Crypto exchange Coinbase took part in two of the rounds this week, as did Capital Markets Trading's CMT Digital Ventures unit, while others in the sector like Binance or Animoca Brands are continuing to make their presence felt even if they aren't hitting the machine gun pace of their 2022 activity.
Investors also say that there are unmet needs that core Web3 technology – in the form of decentralised applications, blockchain infrastructure or digital assets – can address. While hyped-up NFTs or cryptocurrencies may see interest fall away, the core technology has a use.
Kratos in particular can claim that while specialist play-to-earn games may not have made the traction they were expected to at this point, they could potentially find their market in emerging economies where the rewards for users may be proportionately higher.
The startup's added focus on infrastructure could perhaps also pay dividends in future. Electronic Arts CEO Andrew Wilson declared blockchain games to be the future of the industry a few months back while Tencent, one of the world's largest game distributors, unveiled its Web3 Ecosystem Support Program this week. Kratos is a company that can fill a niche, and it might be the harbinger of the next wave of Web3 startups.
Lead image courtesy of Kratos Studios