Ensoma's $135m series B was one of five big rounds for early-stage drug developers week despite a pharma sector that is becoming ever more selective.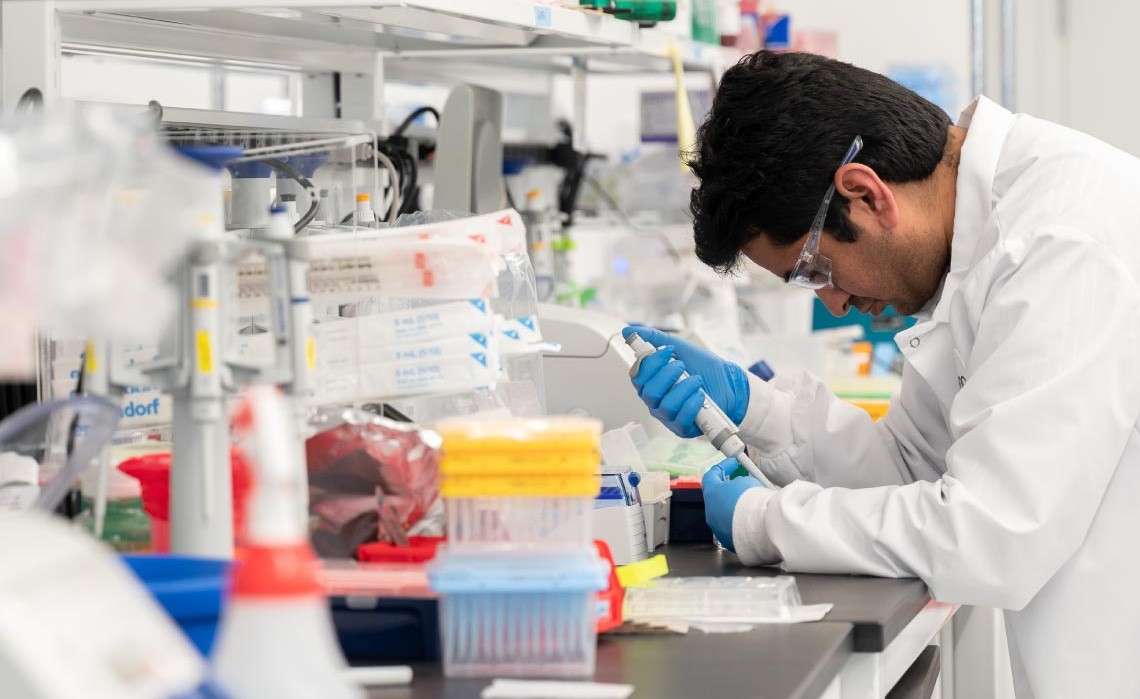 Genomic medicine developer Ensoma hiked its series B round to $135m this week with $50m from investors including biotechnology company Kite, heading a number of recent hefty rounds for early-stage pharmaceutical companies.
Kite, a subsidiary of biopharmaceutical firm Gilead, was joined in the round by Bioluminescence Ventures, Delos Capital and SymBiosis, adding to a January first close featuring corporate venture units Takeda Ventures and Alexandria Venture Investments.
Five early-stage pharma companies closed corporate-backed rounds sized above $80m this week, with Ensoma being joined by Ray Therapeutics, which completed a $100m series A led by Novo Holdings, and Boundless Bio which raised the same amount in a series C co-led by Leaps by Bayer, as well as Coherent Biopharma and OMass Therapeutics, which each closed extensions to their series B rounds.
This level of activity is increasingly becoming a rarity, as the chart below shows. Only 23 pharmaceutical startups have raised money in corporate-backed rounds up to series C since the start of April, totaling $1.1bn. If that investment rate continues, the amount will be the lowest in a financial quarter for more than two years.
Looking at the overall state of early-stage funding for drug developers, the picture is even clearer: capital has not disappeared but it has declined in each of the past six quarters (see chart below). The number of series A to C rounds fell to 157 in Q1 2023, half of what it was for the last quarter of 2021.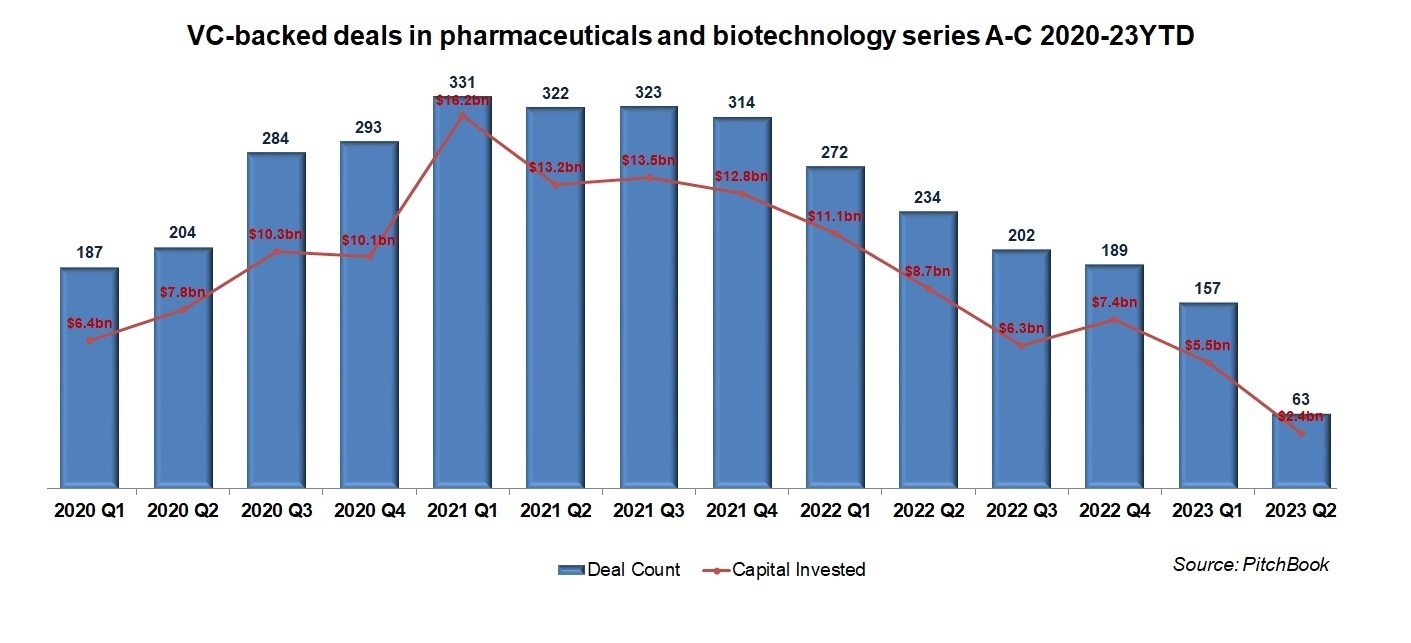 The most imminent reason for the decrease is that the rise in activity during 2020 and early 2021 was kickstarted by covid-19 and the attendant rush to get a useable vaccine, in turn putting a rocket underneath the pharmaceutical sector in general. Now the immediate need has passed, activity has slowed accordingly.
Another issue is that drug developers, which have traditionally relied more on flotations than M&A deals to get exits for their investors, are suffering from a squeezed IPO market, meaning those investors are less eager to invest big sums early because the chances of an exit appear lower. And of course, startups in general are experiencing a downturn in early-stage funding.
A lot of this was predicted by our panel of healthcare CVCs in their 2023 preview a few months back, but it's not all bad news.
Medical technology continues to move forward and advances in areas like RNA research – which helped create the Pfizer–BioNTech covid vaccine – genomic sequencing and antibody-drug conjugates are playing a part in the new wave of therapeutics startups. Extend that to technology development: artificial intelligence is already being used to identify biological targets for new drugs and simulate the effects different compounds could have on specific types of disease.
There is plenty of early-stage research being conducted, but that research costs serious money, meaning pharmaceuticals, like new energy technologies, often require significant funding early on in their lifecycles. With less capital to go around and the number of companies being able to raise substantial amounts at early stage reduced, that essentially means these startups have to show something special to differentiate themselves.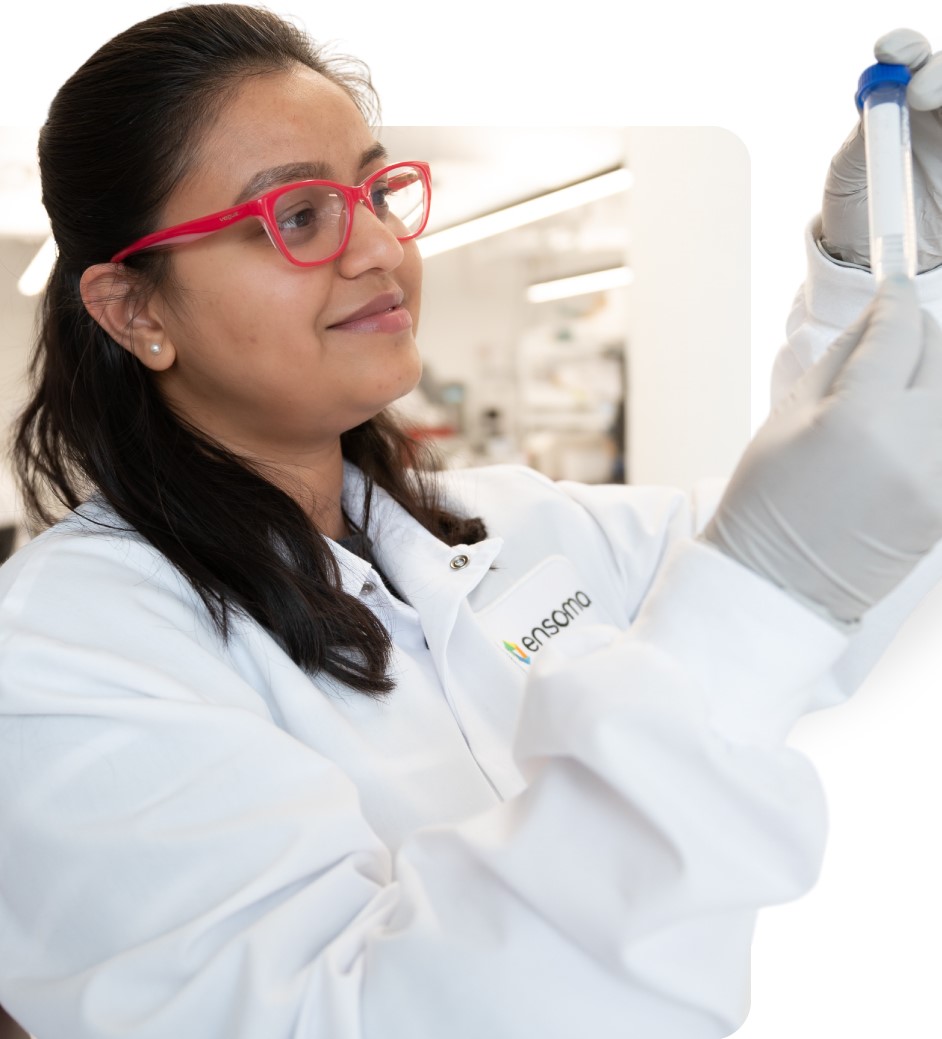 Take Ensoma, which is seeking to create what it refers to as 'a new therapeutic category', combining in vivo delivery and genome engineering technology to fight illnesses like cancer and autoimmune diseases.
Ray Therapeutics, one of only eight pharma startups to raise a nine-figure series A this year, is meanwhile working on a gene therapy that will deliver a light-sensitive protein to cells in the retina to restore a patient's sight. These are breakthrough areas when it comes to medicine.
The other factor is diseases and disorders that still have large unmet need. And cancer, which is set to be responsible for more than 600,000 deaths in the US alone this year, tops the list: Boundless Bio is focused on forms of cancer that are amplified by certain genes, while Coherent is working on drug conjugates for breast cancer, solid tumours and prostate cancer.
In other words, there is still money for certain kinds of pharmaceutical startups at early stage. The deeper problems may be for older startups. Microbiome therapeutics developer Vedanta raised nearly $107m in late-stage funding last month but rounds for drug developers past series C have been few and far between this year.
With the IPO window still more or less shut, that means some pharmaceutical companies are going to hit the funding wall sooner or later. Startups like Ensoma may be able to get cash at early stage, but they need to hope there's still financing available when it comes to getting their candidates through clinical trials.
Images courtesy of Ensoma, Inc.